Hey MiniWargamers, Taranis here with another installment of a weekly article I will be doing about some of my favorite miniatures. This week, I'll be introducing you to Gilligan. Say hello.
This is a Tyranid Carnifex that I finished in June. I remodeled him today though and just thought that would be a good excuse to post him up.
He's painted using an old scheme that I was working with in June. The pieces I added today were the Stranglethorn Cannon and the Tusked head and I painted them in that old scheme so that they would match the rest of the model. I originally had the Heightened Senses head and a Heavy Venom Cannon, but then I realised that the extra BS from the head was no longer an available upgrade. So I replaced it with this much more menacing visage.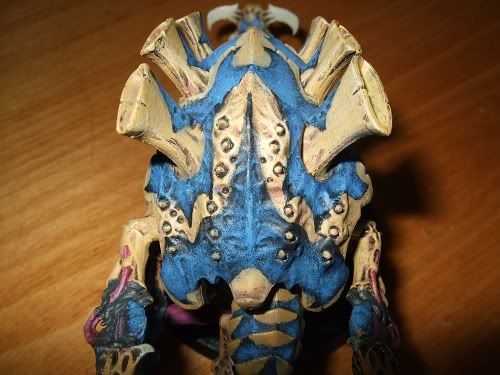 Here's a good shot of the carapace detail I did for this guy. This looks a little more impressive than the Hive Tyrant's details from my last post, but I wanted the Tyrant to have a darker, more subtle detail.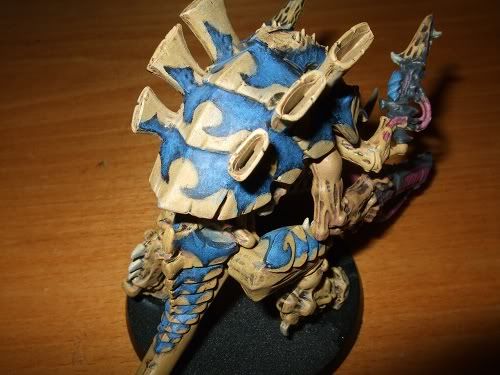 Carnifex's are big, so I had to take another shot to get the rest of the carapace, and I owe it all to a very small brush.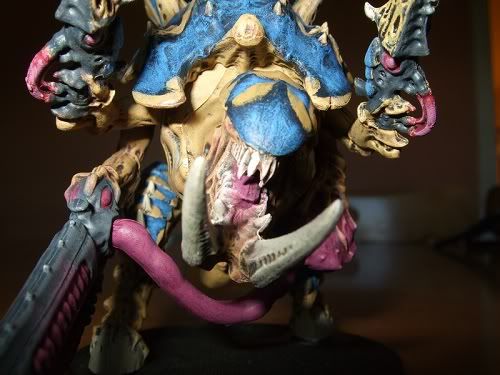 A lot of people have been saying that they don't really like playing Fex's anymore, that they're too expensive now. This one costs 200 points and, so far, has been an absolute demon on the table in the small skirmishes I've had with friends. Extremely resilient and towing a lot of firepower, he has been the turning force of most of our conflicts. Or maybe I don't now what I'm talking about. Ragnarok doesn't have a Trygon yet.
Anyway, that's all for now. Next week I'll be showcasing the bulk of the fleet.