Well Hello hello
I know i have not posted anything in a while.........
But that means i have been working very hard to paint my ENTIRE ork army.....
Wheeeeww.........thats a lot off orks
In this tutorial i am gonna show you how i painted forgeworld ork kommandos squad one NOB, 12 boys, 2 of them are burnas.
Great kit from forgeworld, super detailed, i love it.
From now on i always prime my orks white. I know its a pain in the ass to paint dark minis from white base, but the style that i speed paint with made me prime white.
Also the orks are pinned to the resin bases BUT NOT glued, this will help me in the future to paint the bases better.
Paint i will be using:
Reaper:
True Blue
Sky Blue
Olive Green
Radiant Platinum
GW Paints(OLD RANGE, sorry i dont have any new paints yet but i can link to the comparison chart from old to new:
chart
)
Chaos Black
Adeptus Battlegrey
Astronomican Grey
Skull white
Mechrite Red
Blood Red
Calthan Brown
Snakebite Leather
Bleached Bone
Dheneb Stone
Washes:
Badab Black
Devlan Mud
Thraka Green
Primer: white
I start the paint by priming minis w/o bases with white primer
Second step i call 3 colors up and a wash, which means i will add 3 base colors and usually cover the whole model with badddab black, this will actually will work AMAZING on shadow areas and fix your models entire view. AND i use a looooooot of wash, but i get amazing quality minis in fast time range.
I start with reapers true blue on legs: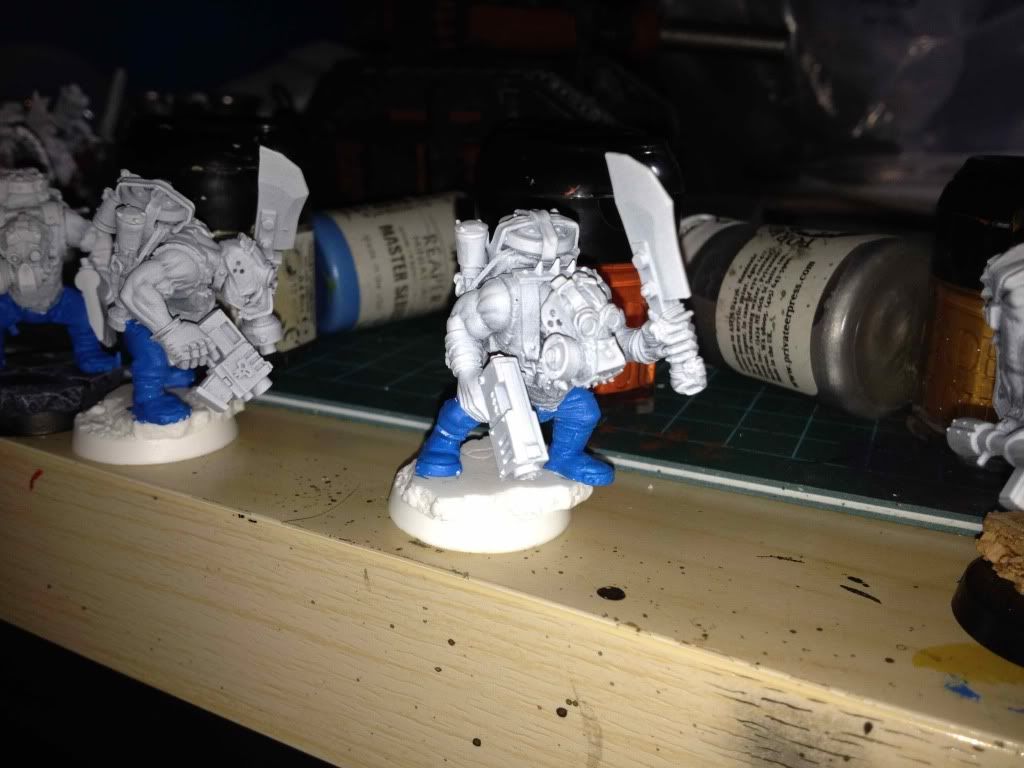 Then i paint all of the skin with olive green and wash it with thraka green, if i have to i wash it twice to add more depth
next i paint all clothes chaos black since i want to have like a leather jacket effect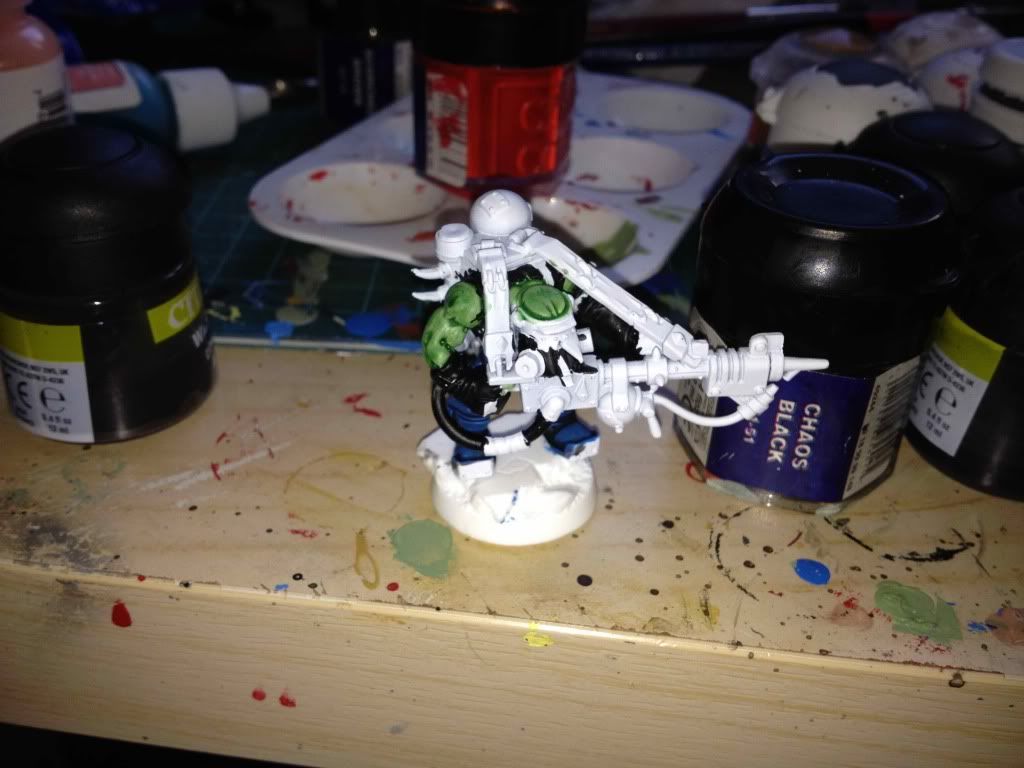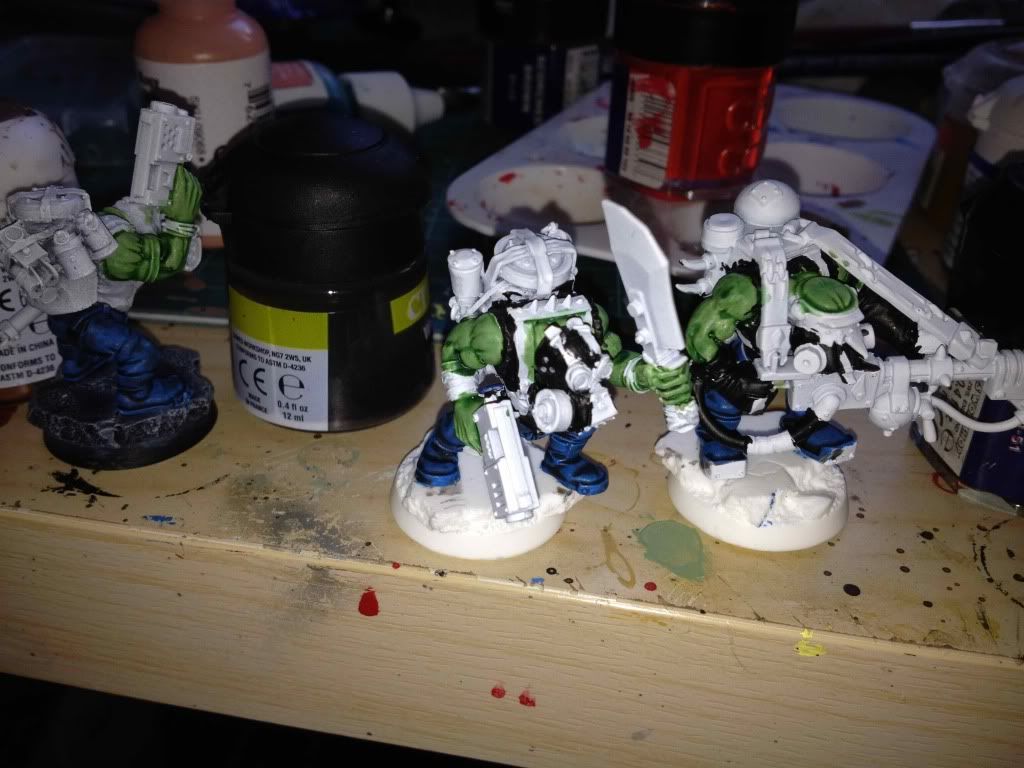 Paint metal with radiant platinum, dont worry if it doesnt cover all white, do only one coat, the wash will take care of the rest, same time paint all leather straps and belts with calthan brown, also paint all the teeth and nails and bones with calthan but dont wash them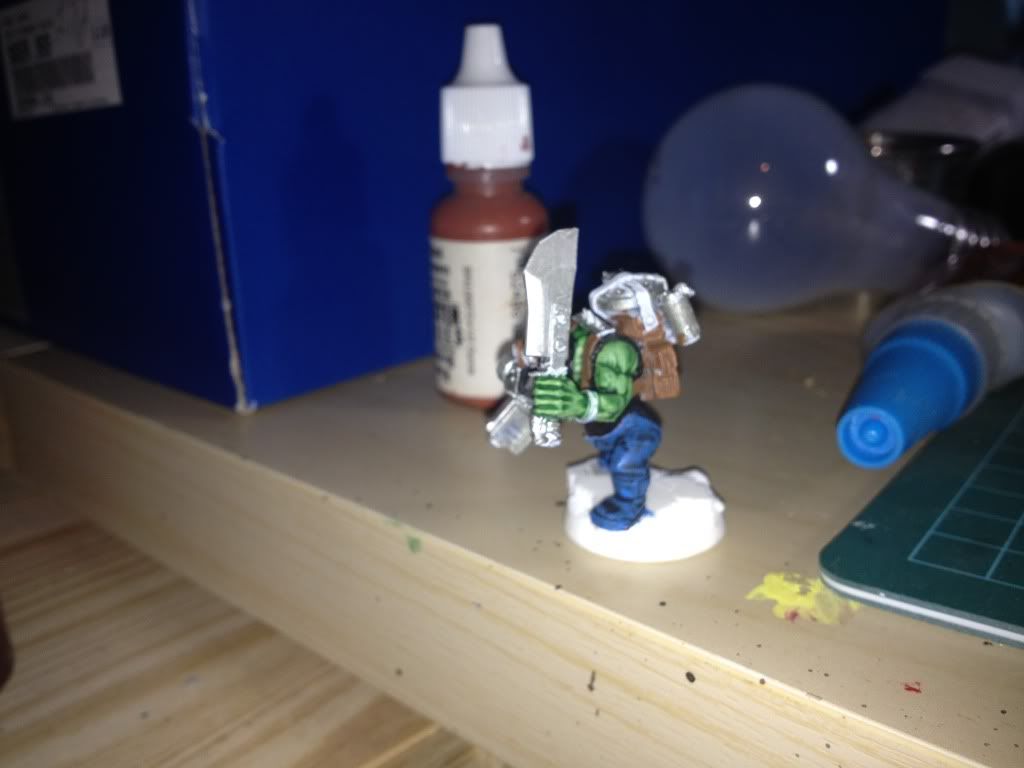 Wash all blue and brown and metal with badab black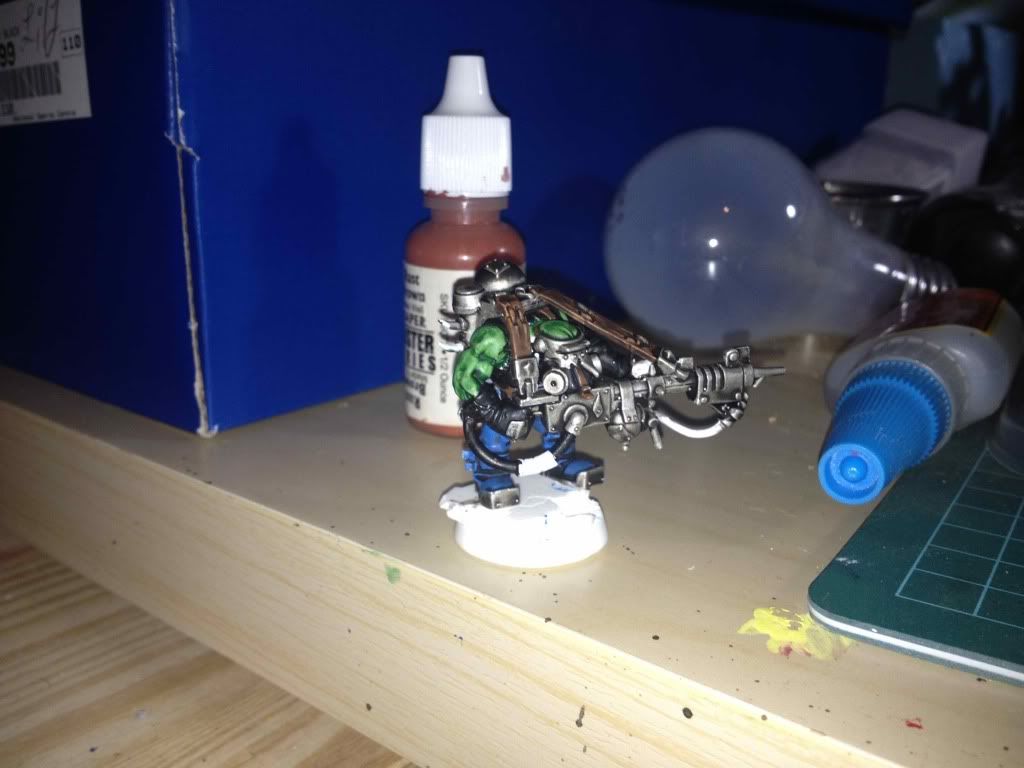 Paint small red details with mechrite red and wash it with baddab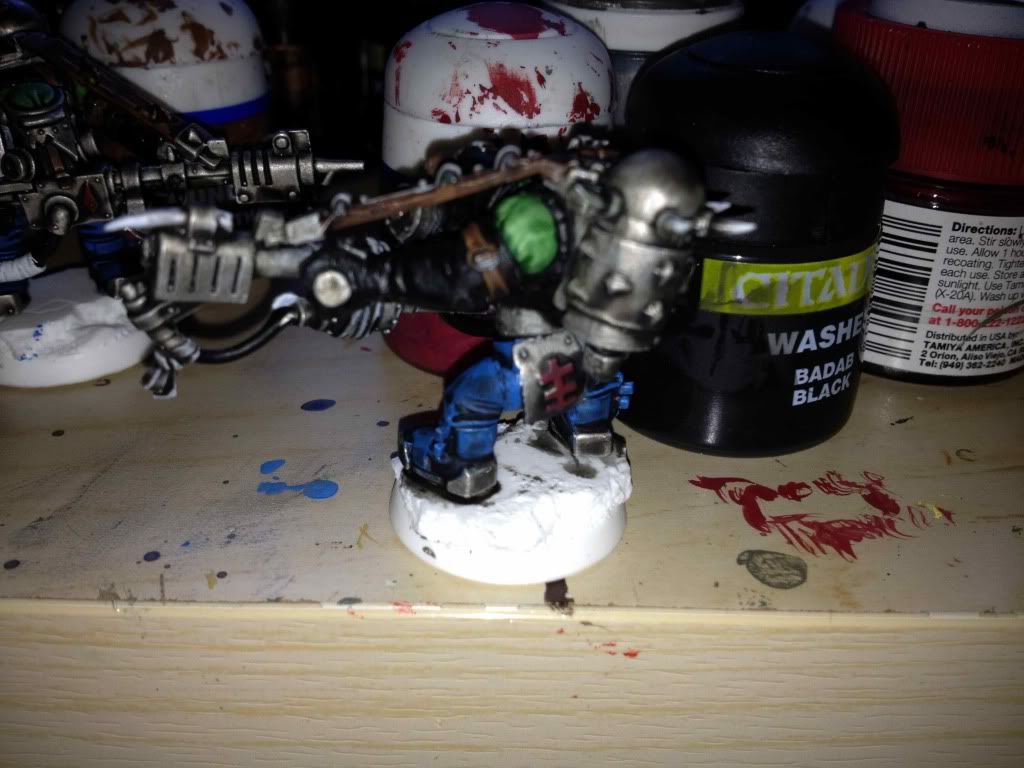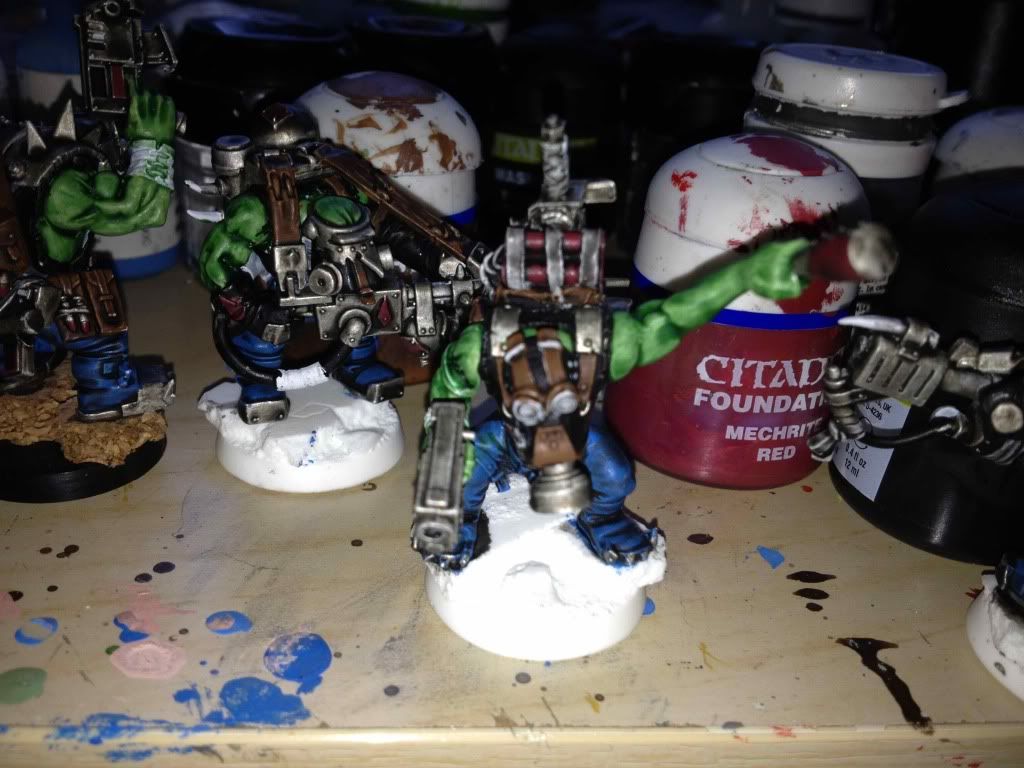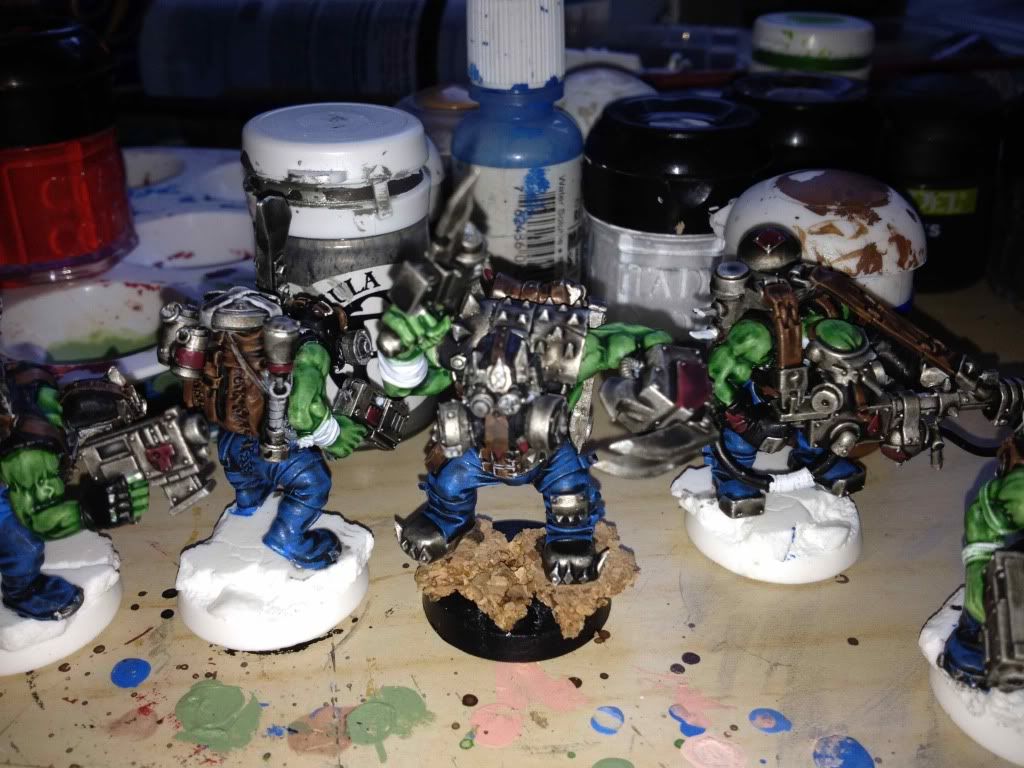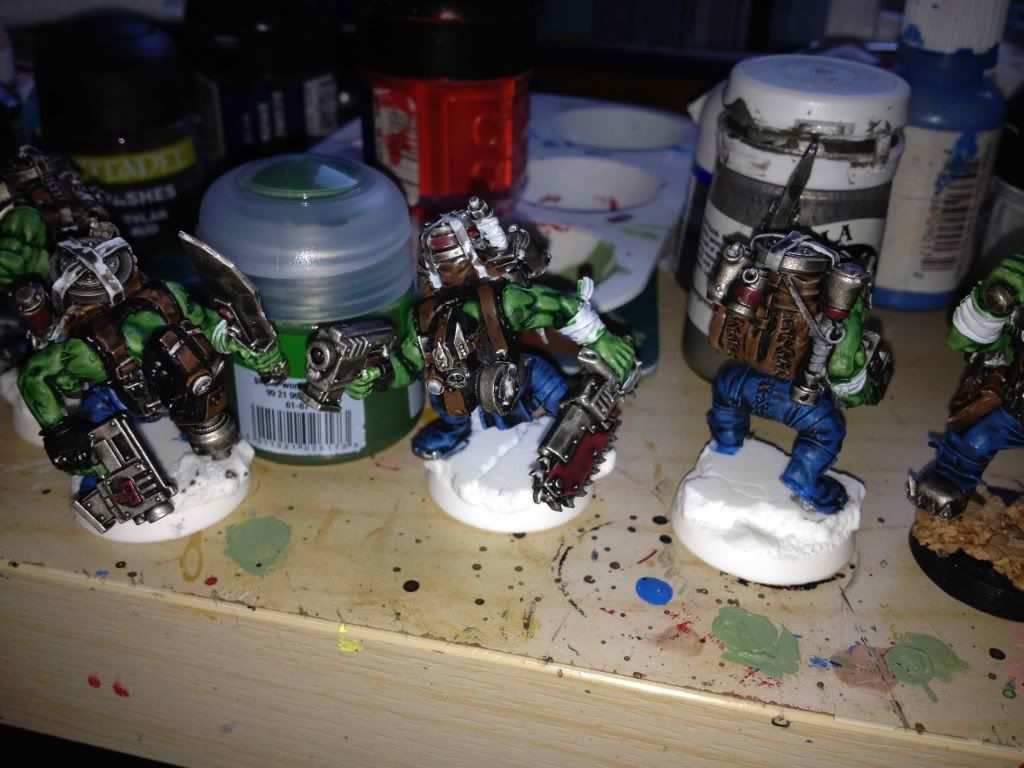 Paint the other rope like straps with dheneb stone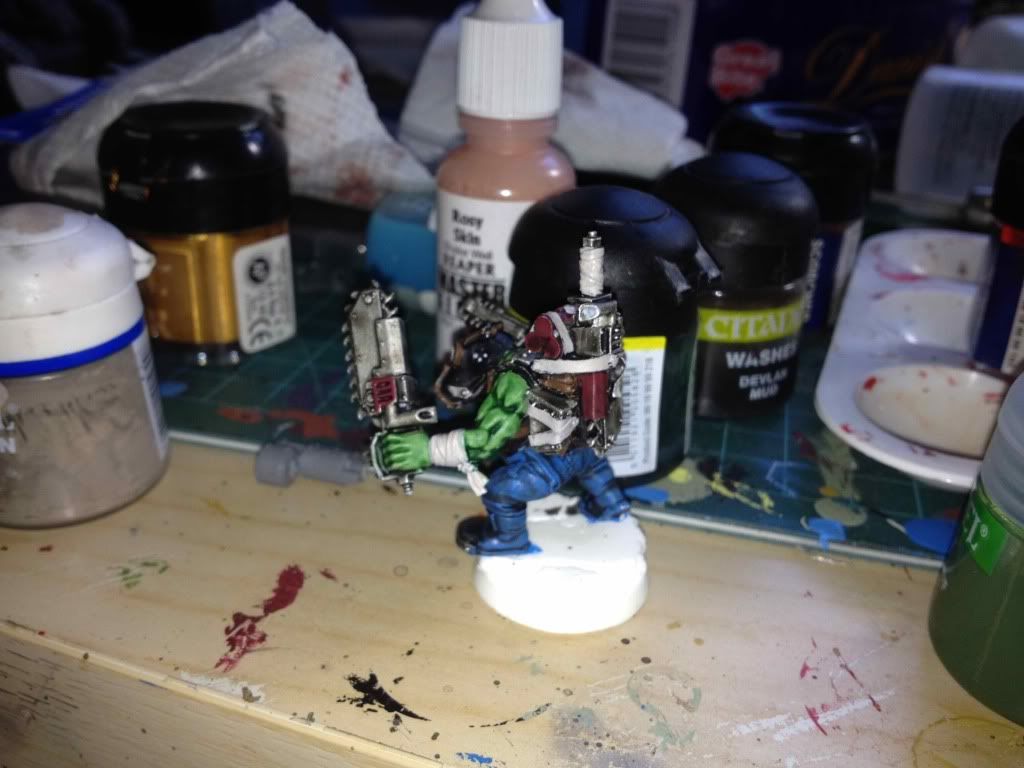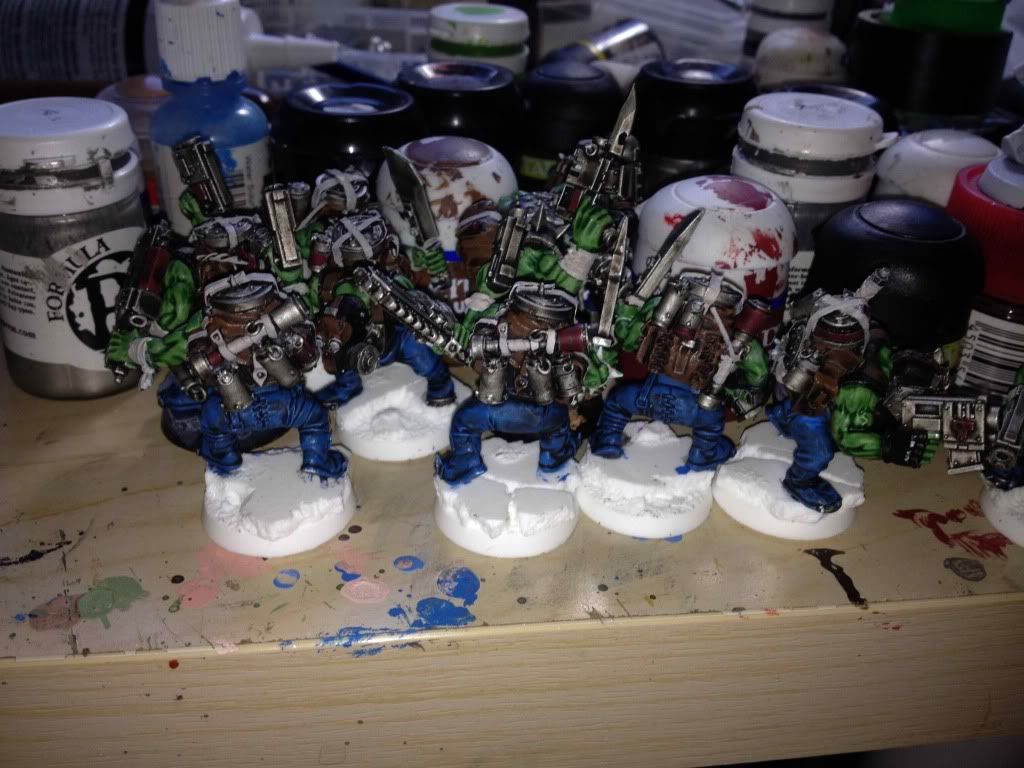 Give them a wash with devlan mud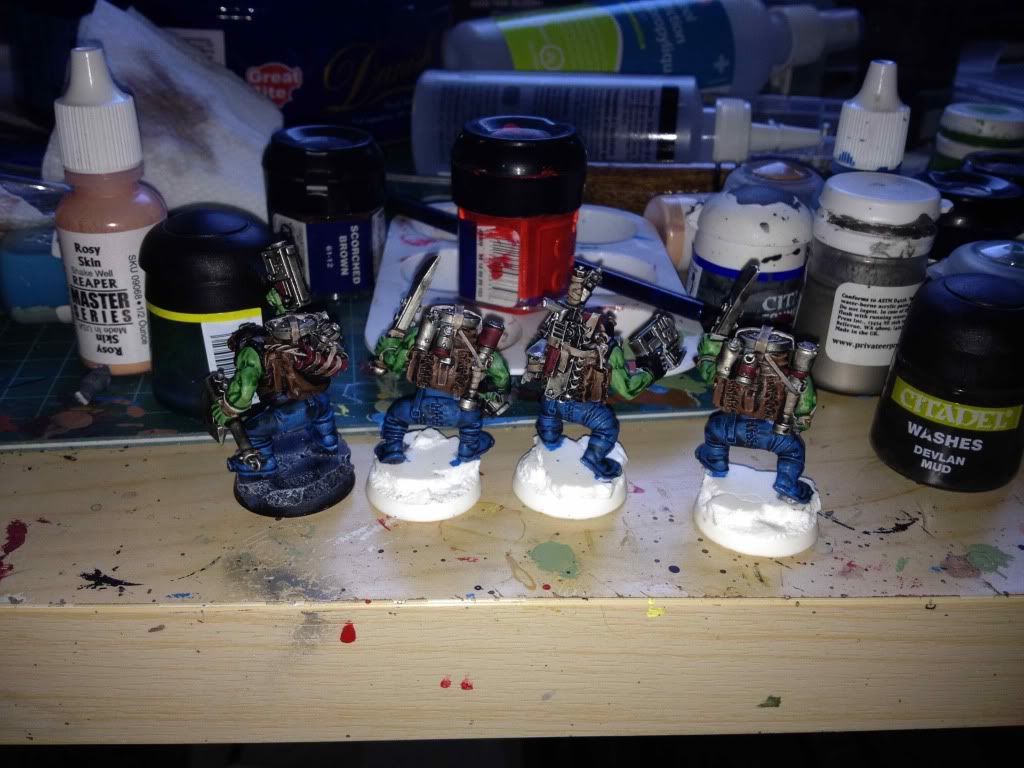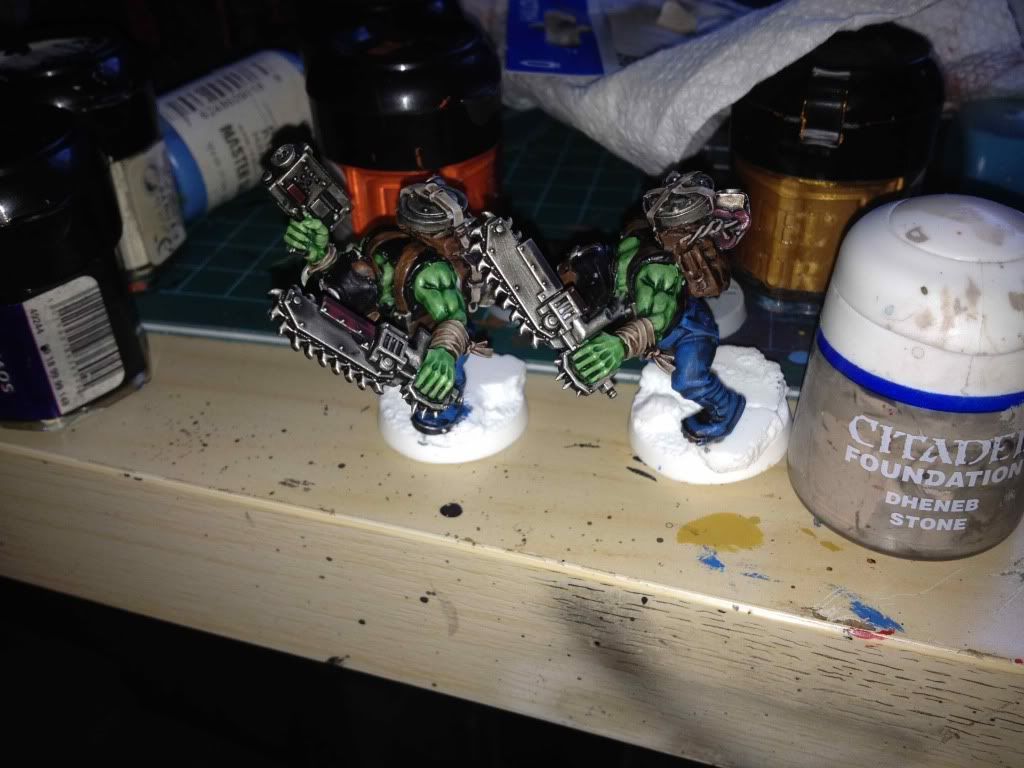 Paint the insides of the red with watered down blood red, give it couple of coats, make it look nice more red in the middle less on the edges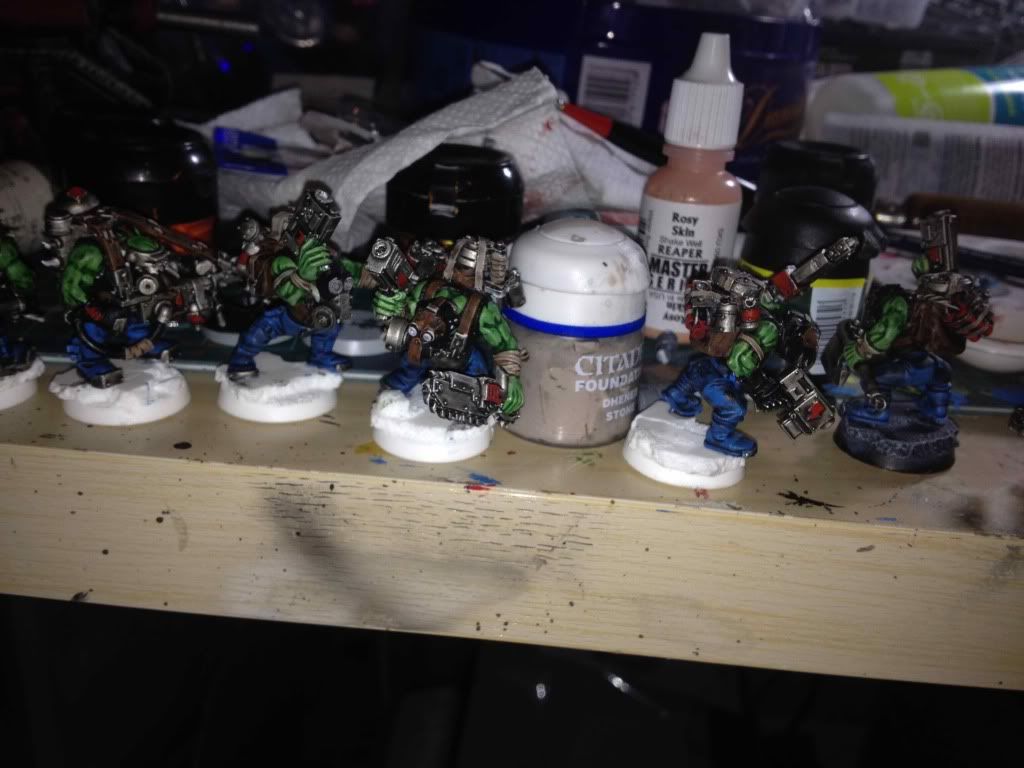 Paint the brown leather on the edges with snakebite leather, making it look rubbed off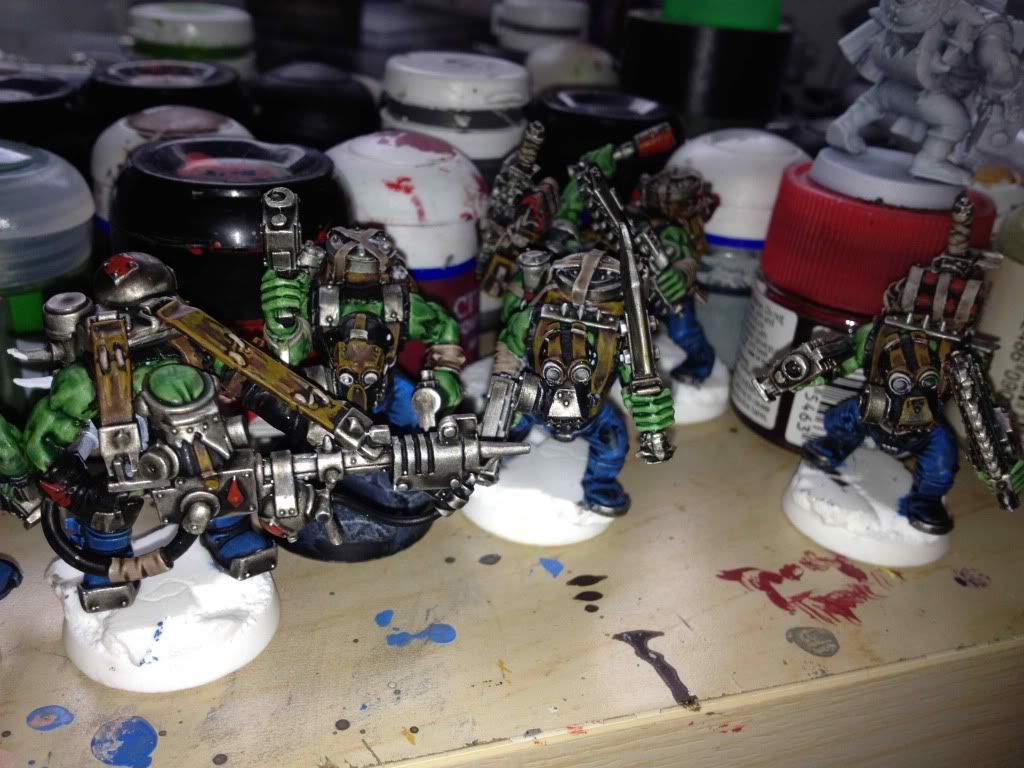 Start working on the black leather highlight the areas with adeptus battle grey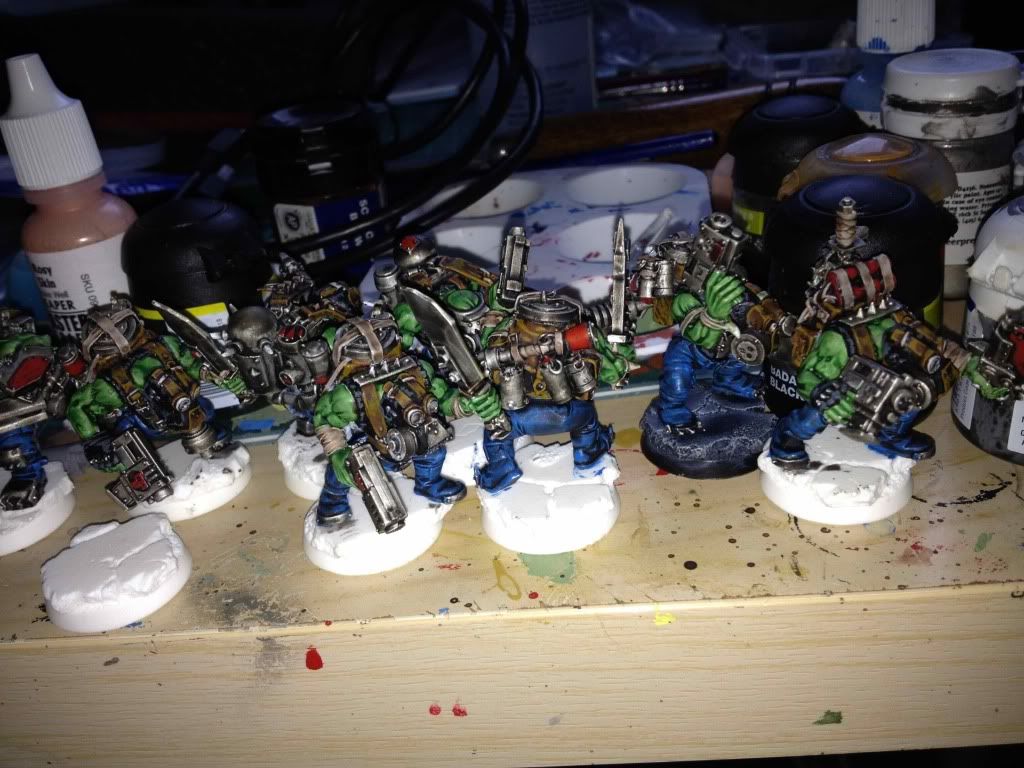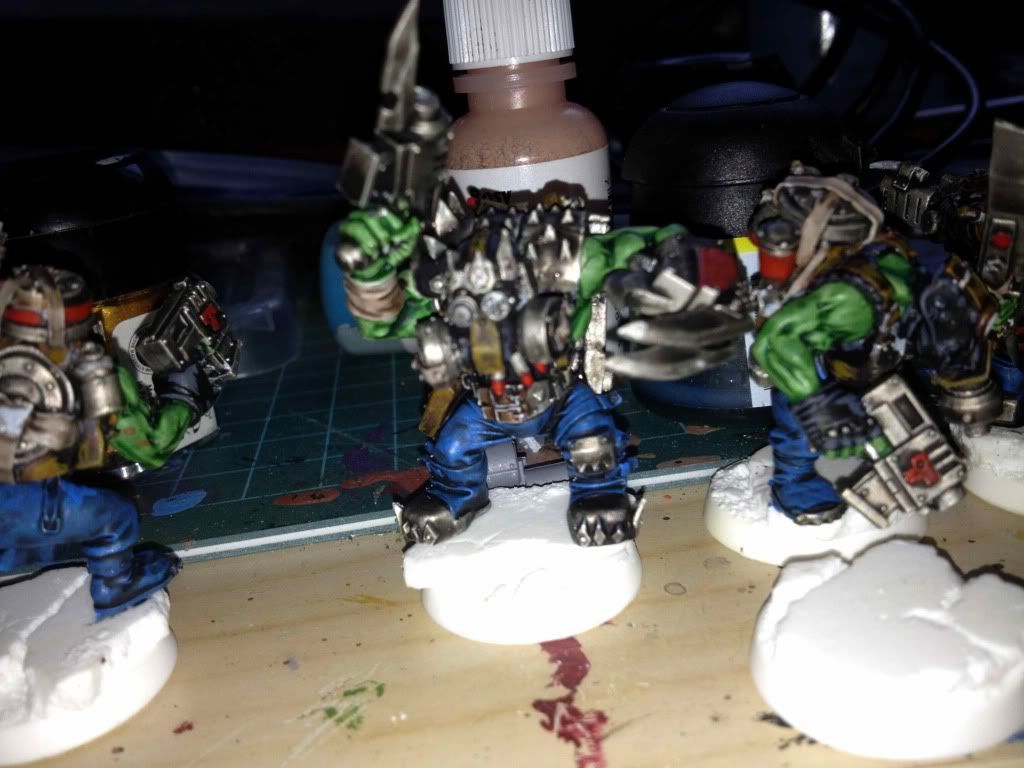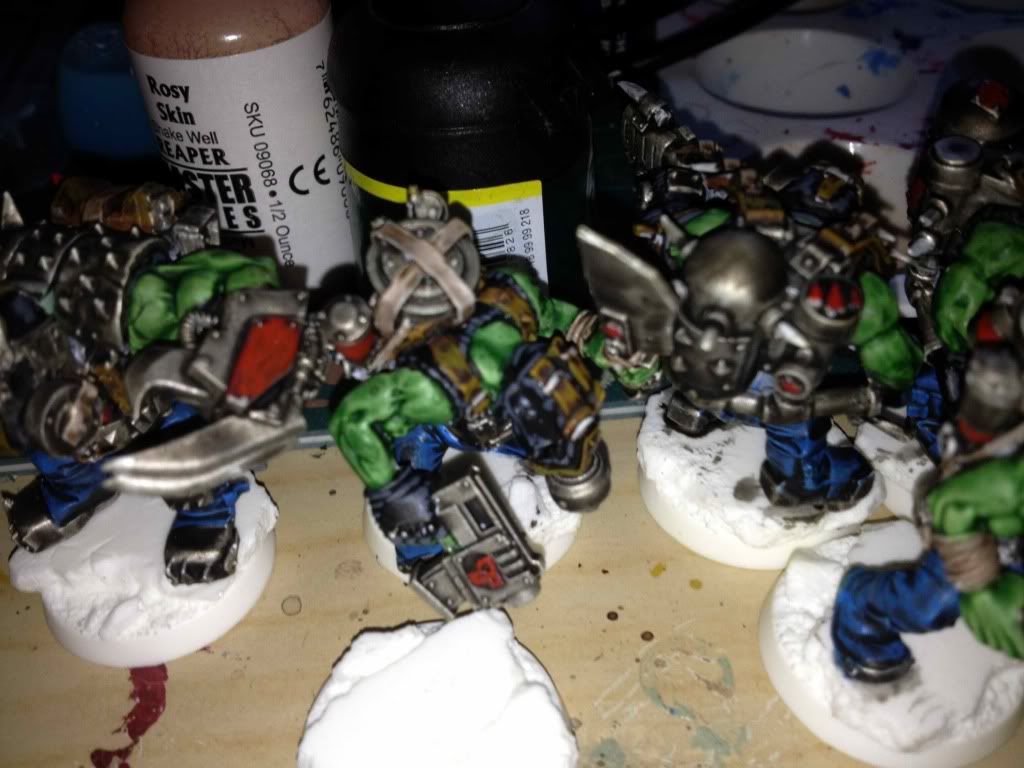 Now highlight it even further with astronomican grey, it will make it rubbed off but same time shineeeeyyy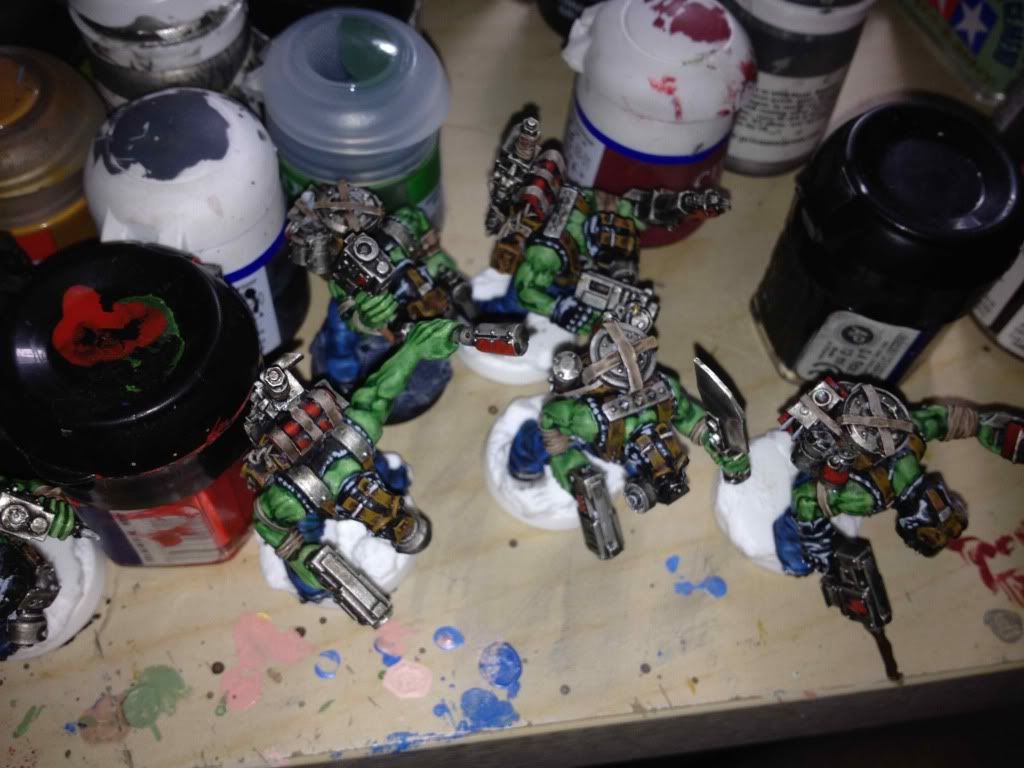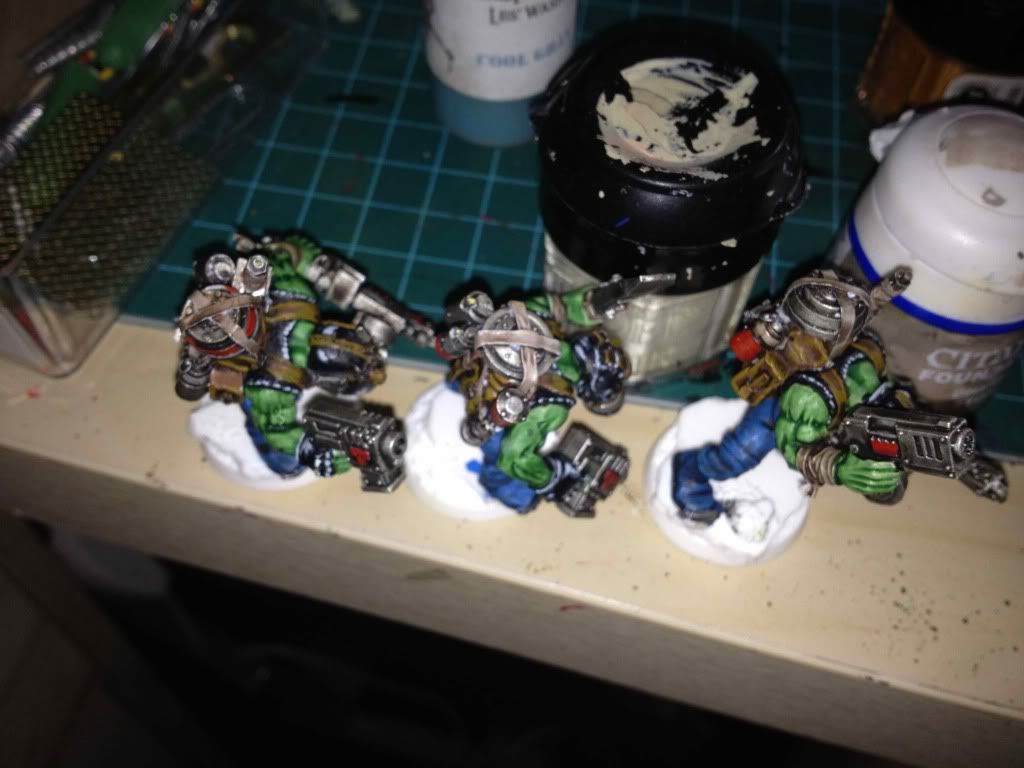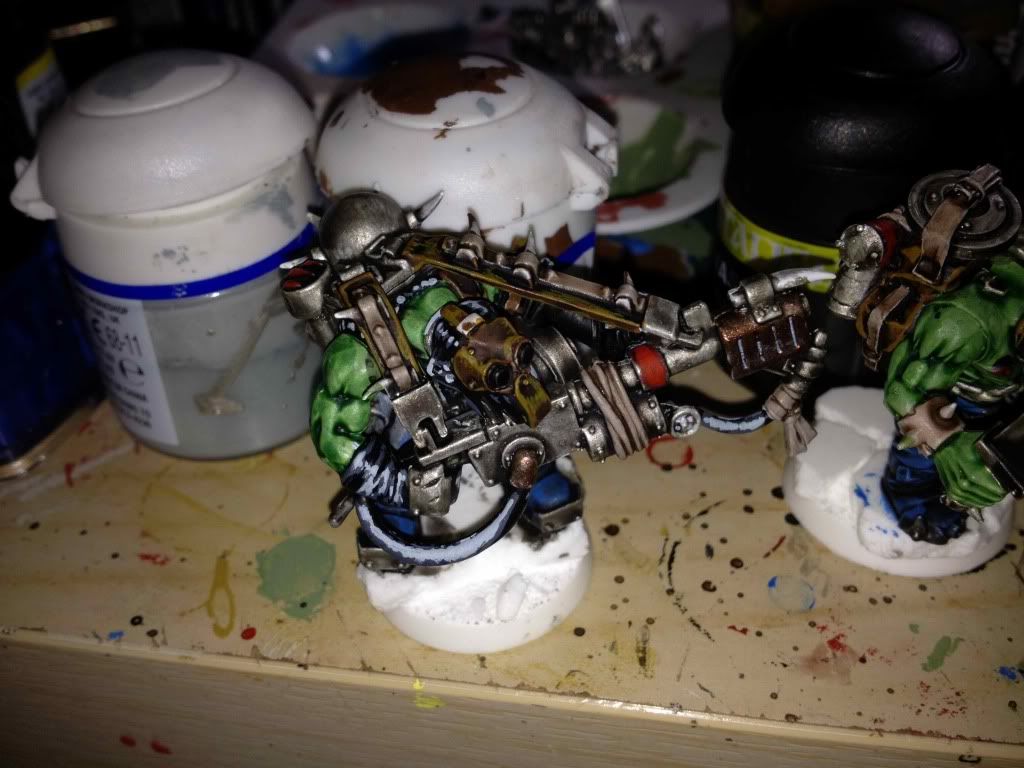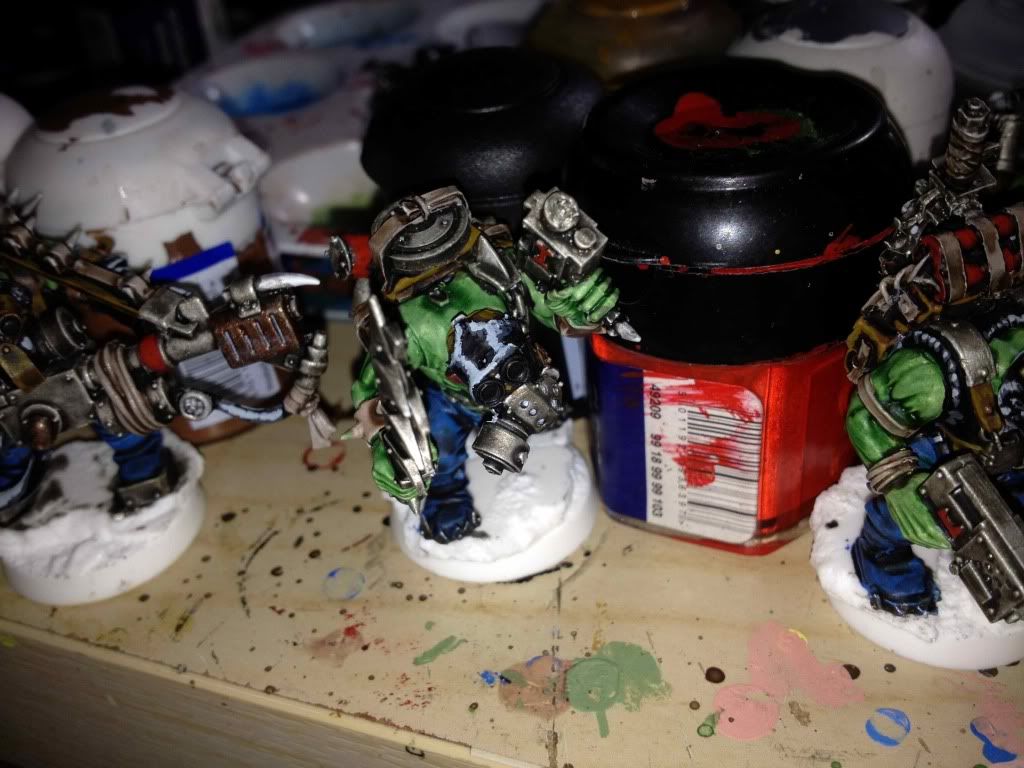 i pant the lenses black, then do a true blue from the middle down and sky blue a little on the bottom then add a little dot skull white on tops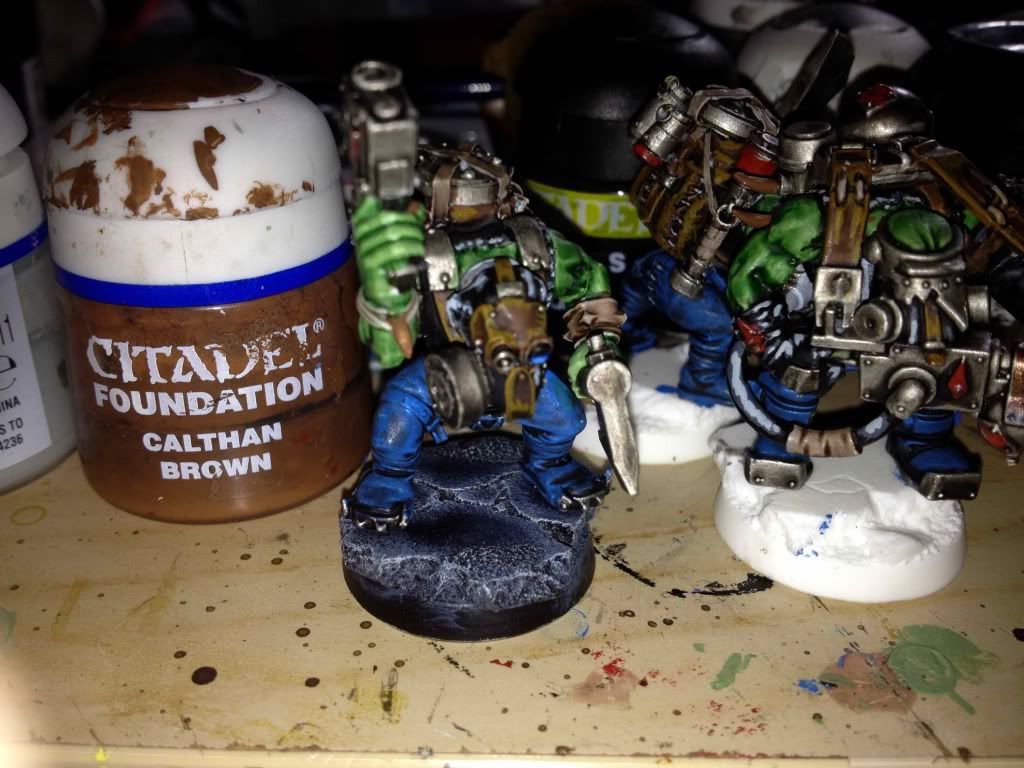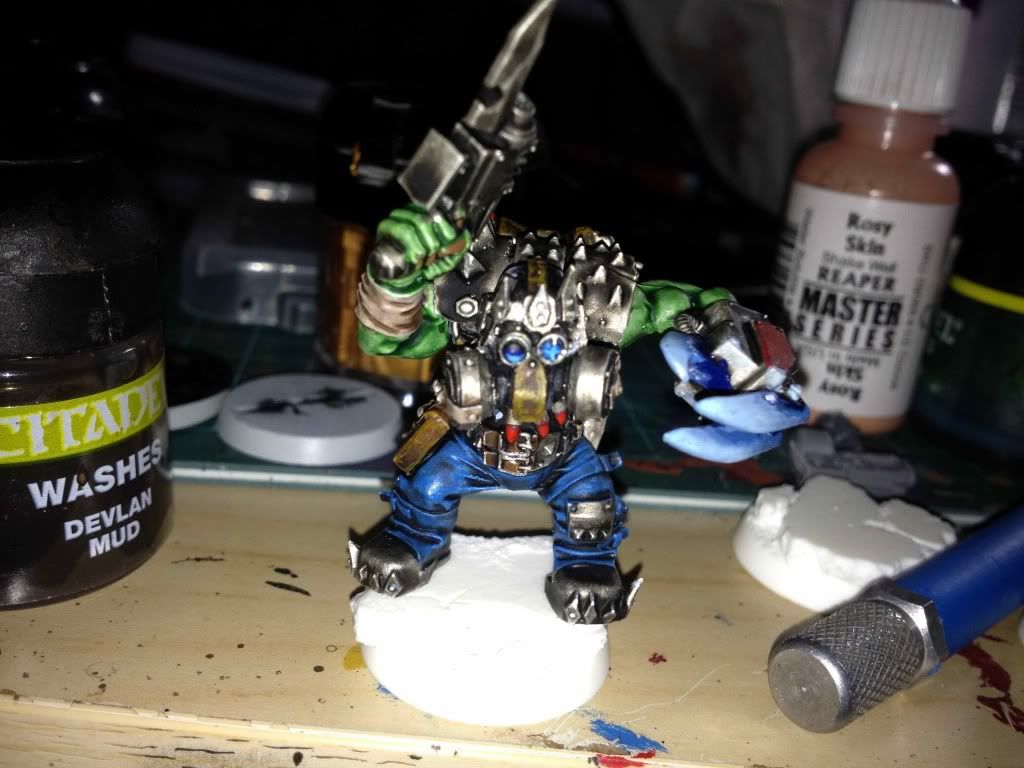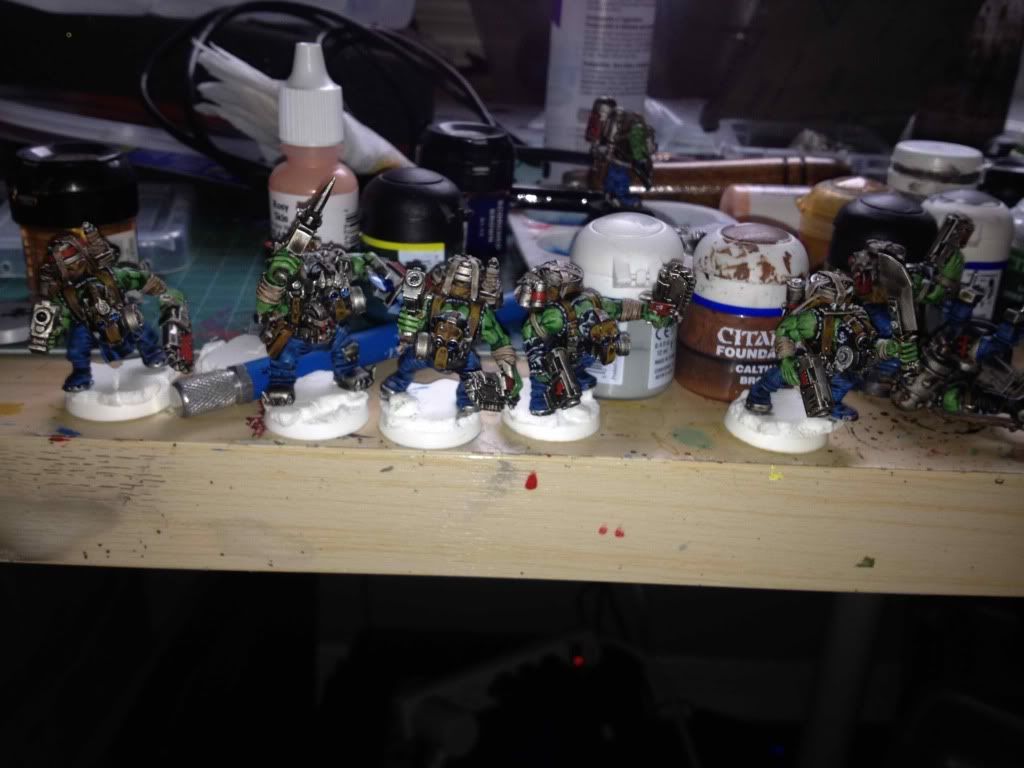 I painted the powerclaw same way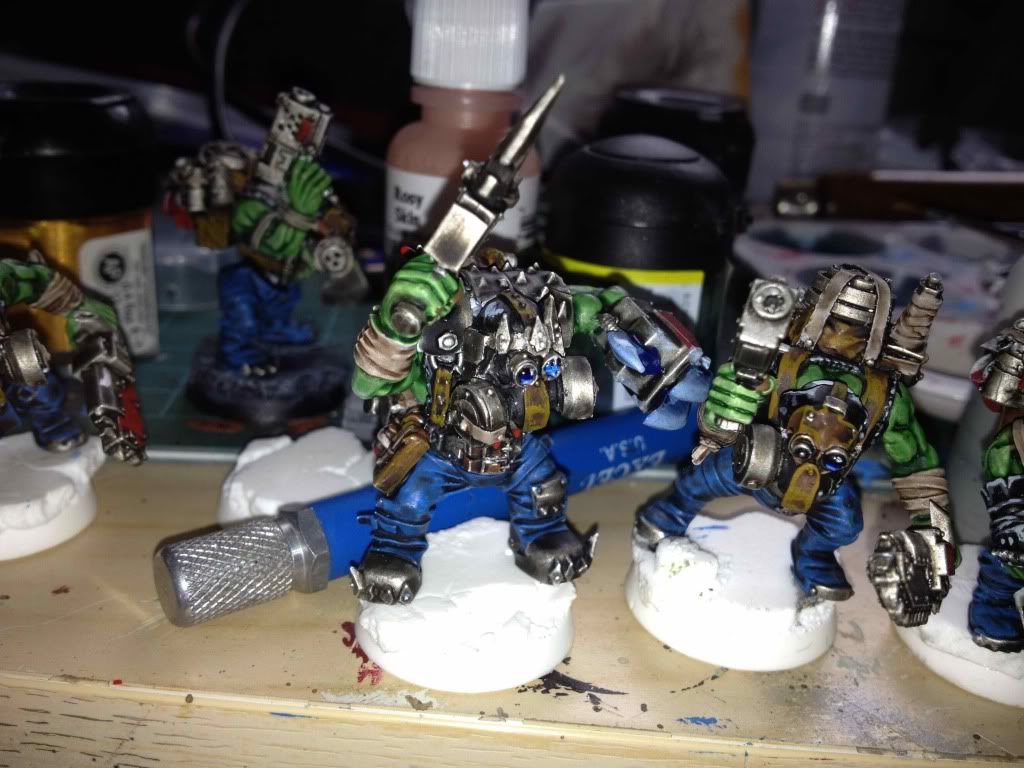 What i am doing here is i apply pledge floor protector on all the lenses, JUST ON THE LENSES. i give it 3-4 coats, which in the end will make them like real lenses round and shineeeey. i lie them down so pledge doesnt run off lenses.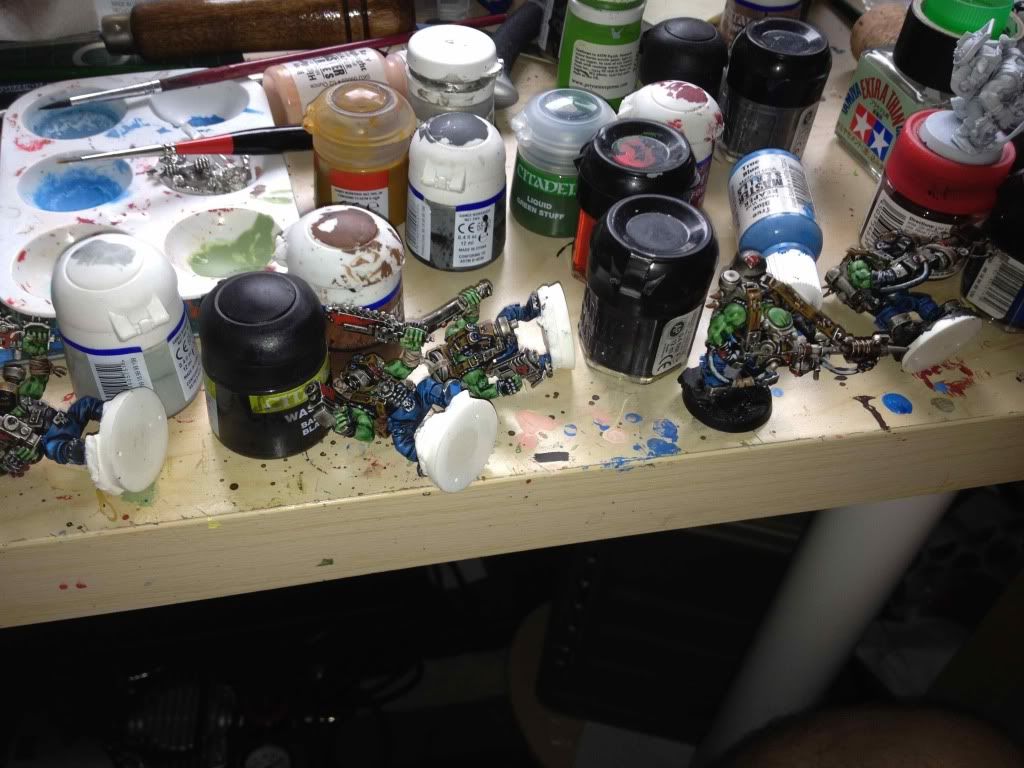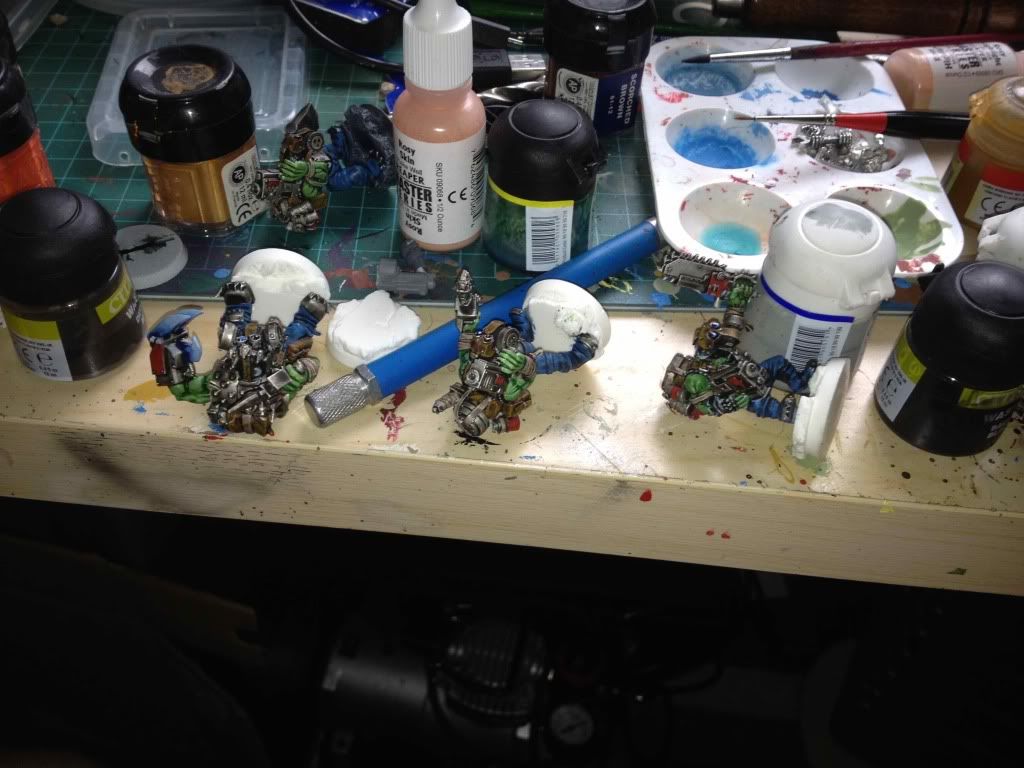 Bases are made like so:
Painted with chaos black
Drybrushed with alot adeptus battlegrey
Drybrushed with little astronomican grey
Drybrushed with just a touch of skull white
Added drybrushing on sand areas with dheneb stone.
Static grass is applied , i like scorched grass on these bases.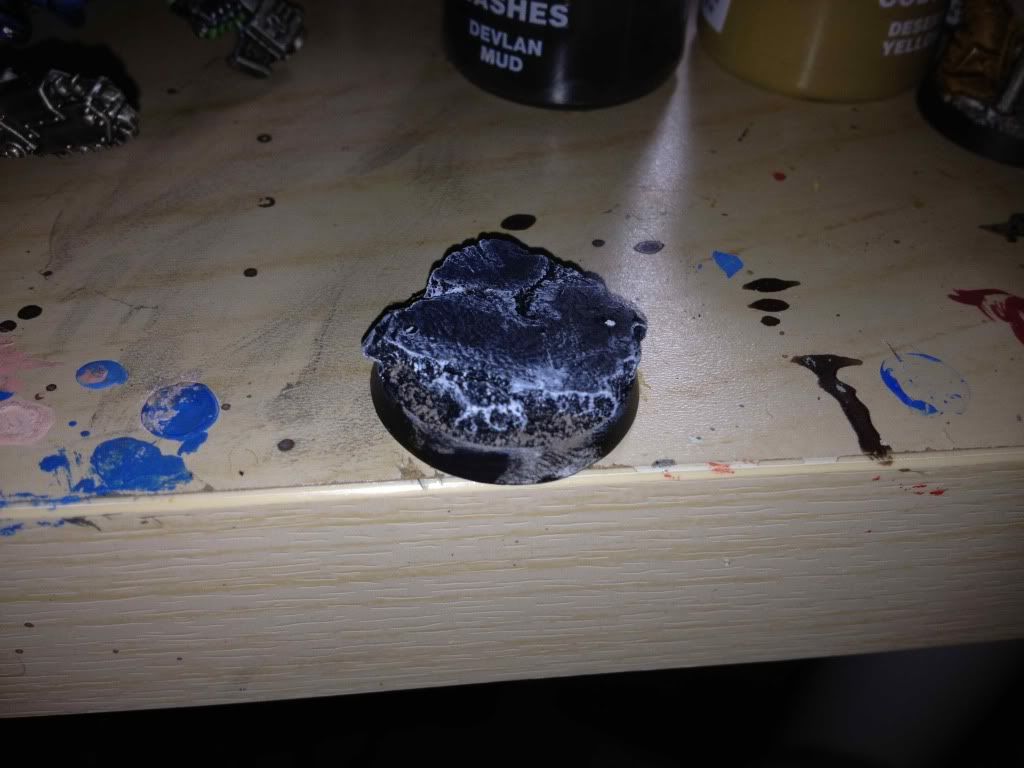 Models are then carefully glued to the bases, aaaaaaaaaaaaaaaaaaaaaaaaaaaaaaaaaaaaand they are done if you want the tabletop level paintjob, but i am going to step it up a notch.
Snikrot is happy to see the addition but their paintjob levels are way far from each other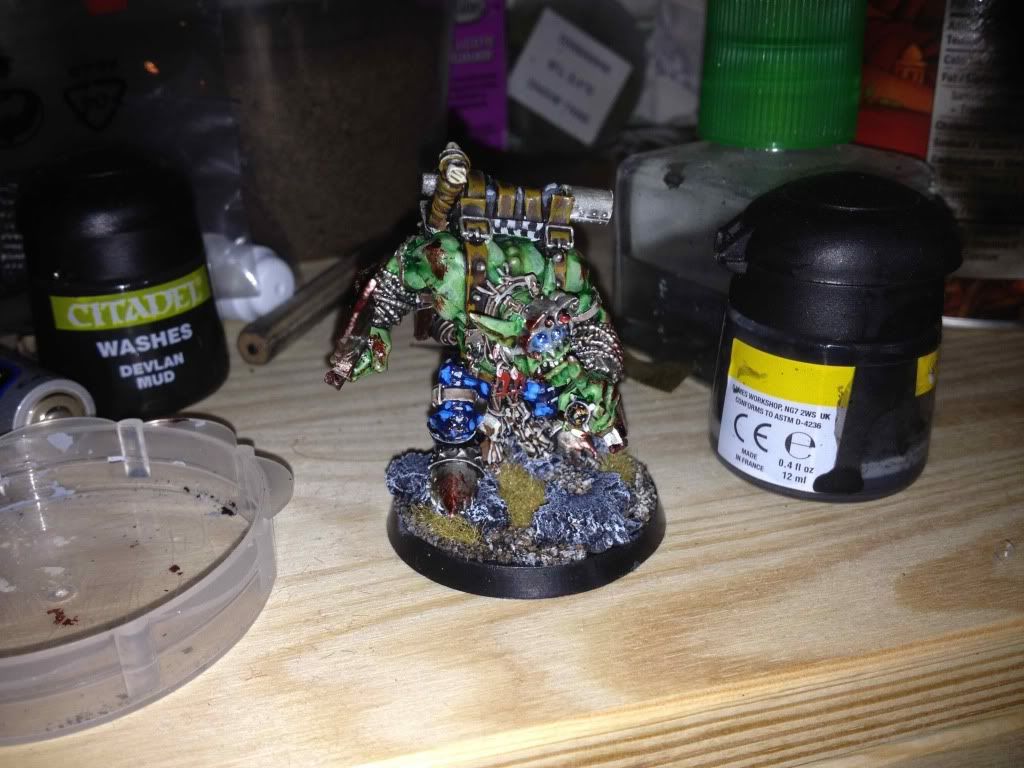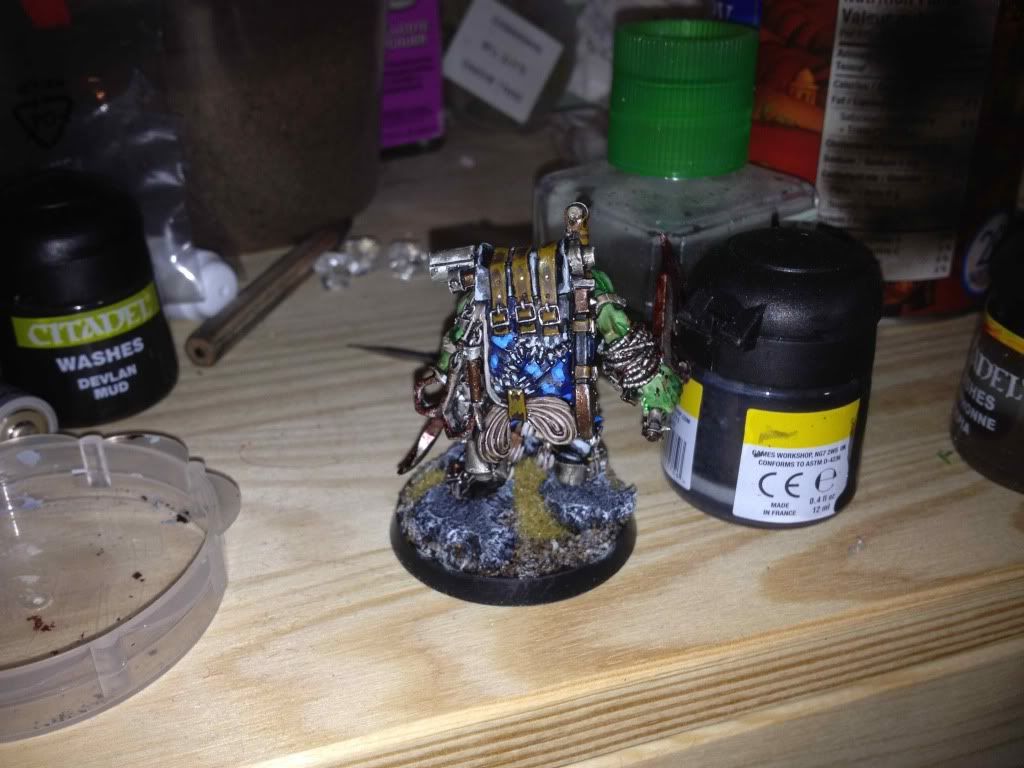 Please note the Kompass on the handle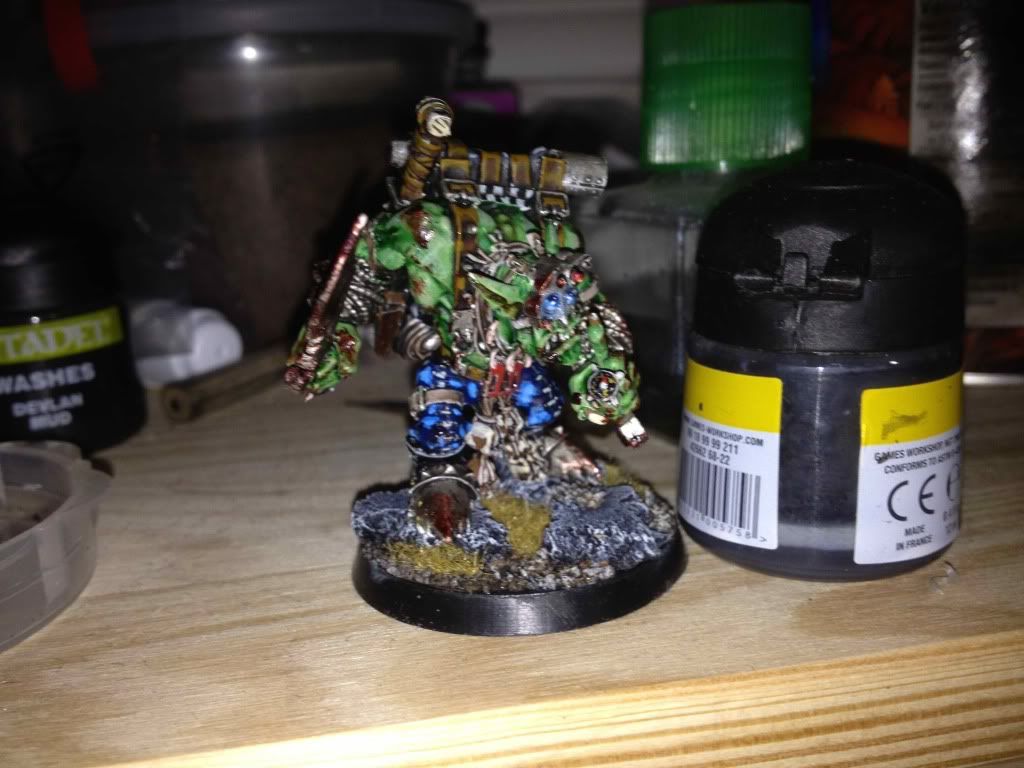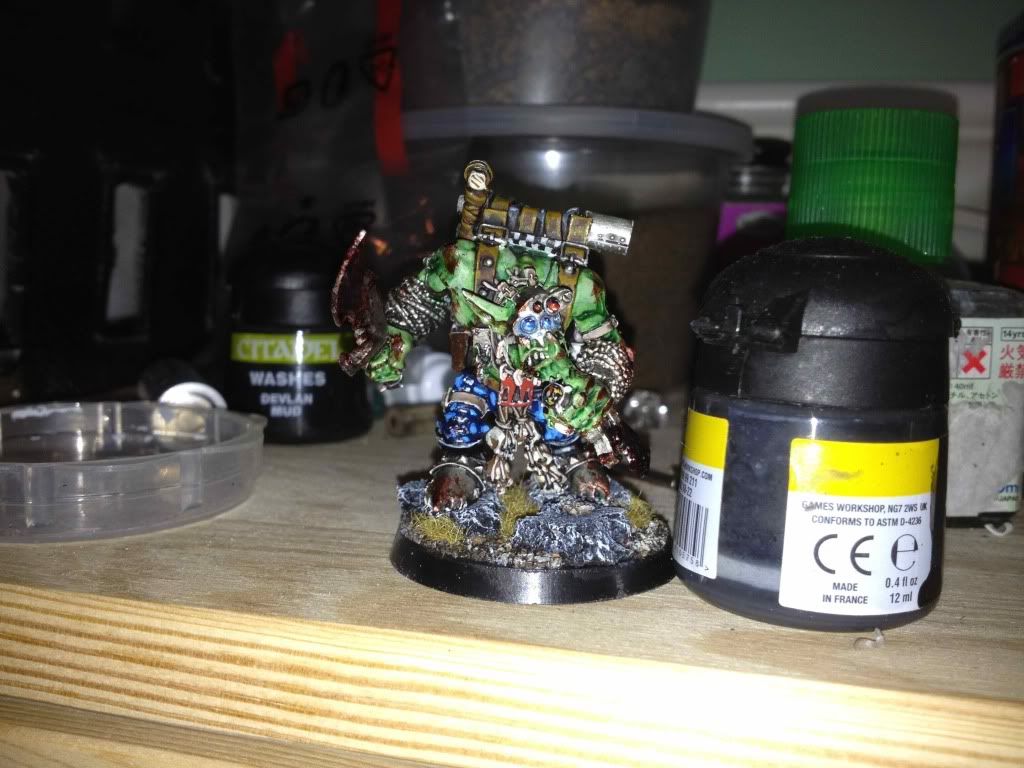 More detail 101. Bleached bone on all bone and nail and teeth areas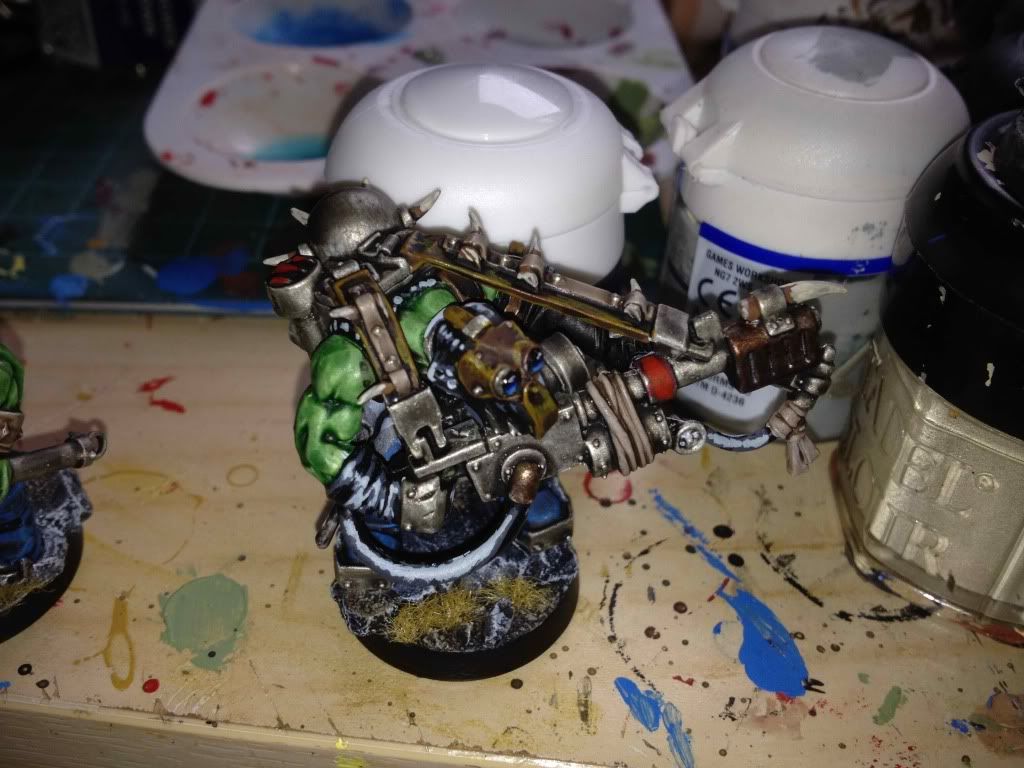 Blood FX tm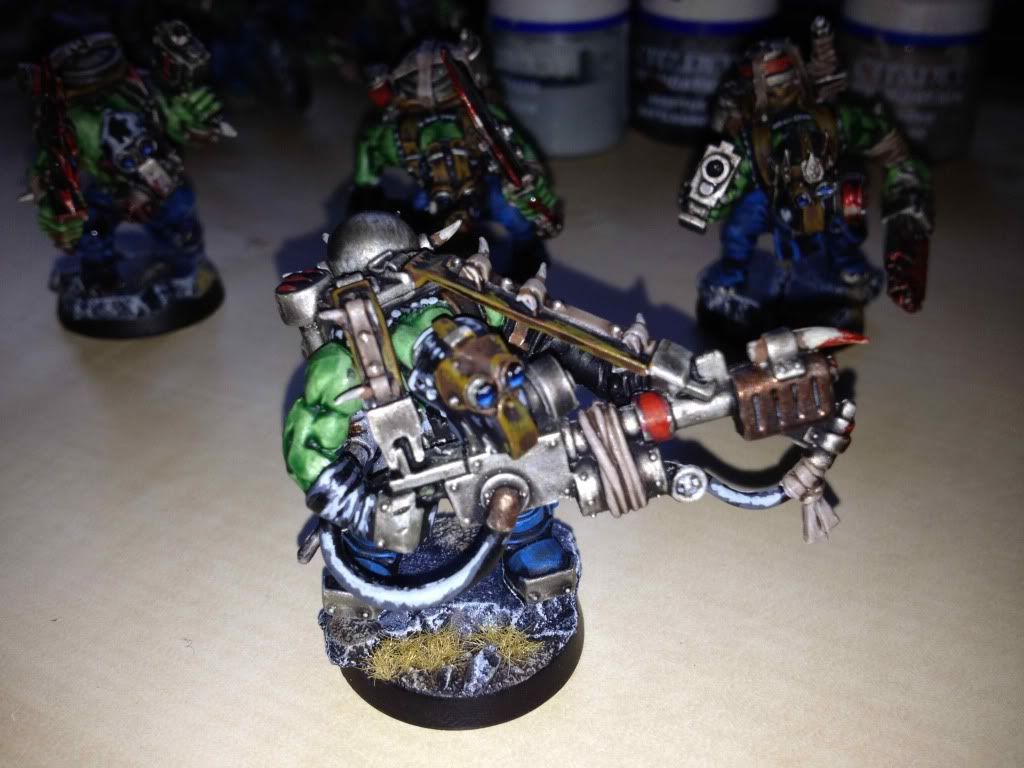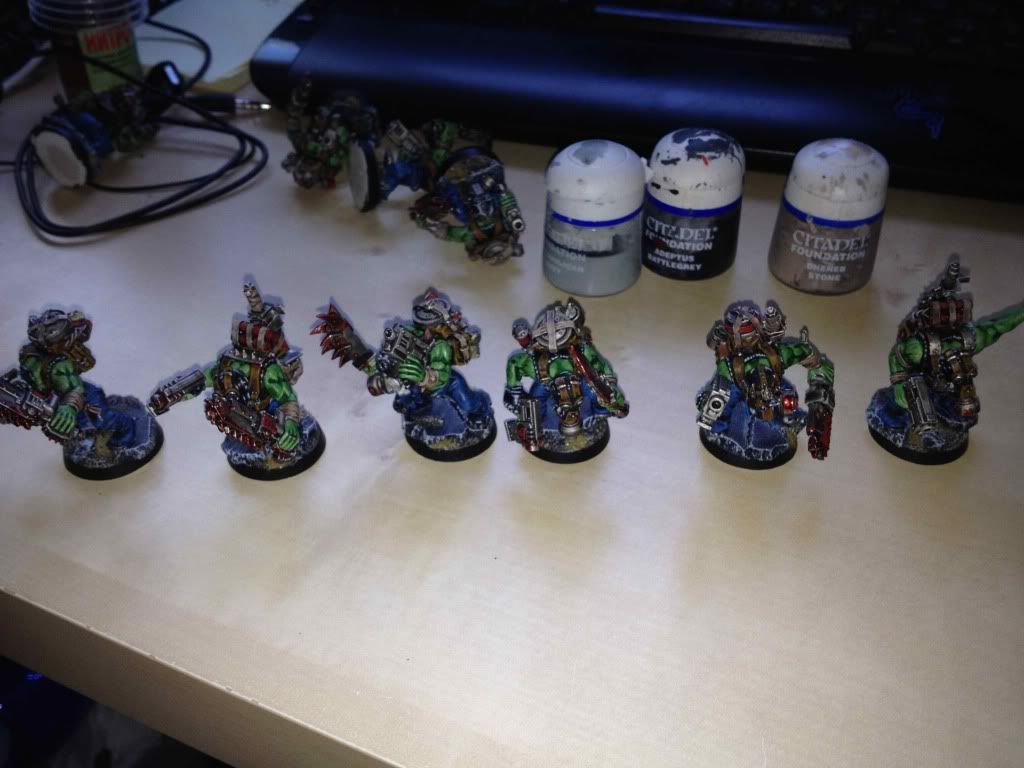 Thank you hope you enjoyed my big tutorial.
Enjoy your orks