Hello Everyone,
This is my Contest Entry for the latest Miniwargaming Contest.
In this article I will provide a Simple Beginner's tutorial of how to paint a Dark Angel Space Marine. Right, let's begin!
To start off, you will need the following paints: Chaos Black, Dark Angels Green, Bestial Brown, Bleached Bone, Mechrite Red, Chainmail, Skull White, Badab Black, and Devlan Mud. You do not have to use these exact colours, but try to use colours similar to these.
Step 1: Start off by Priming the Miniature black. By using black primer, the model looks more sinister like a Dark Angel should!
Step 2: Give the robes a basecoat of Bestial Brown.
Step 3: Next, Give the Marine's armour a basecoat of Dark Angels green. This may take more than one Coat.
Step 4: Now, paint outside portions of the robes bleached bone, and paint the inside portion of the robes Mechrite Red.
Step 5: Now, Paint the Bolter with Mechrite Red and Chainmail.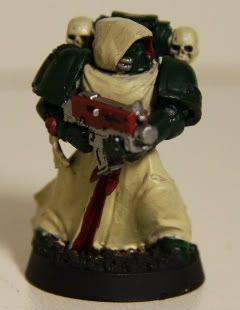 Step 6: Now, Give the robes a wash of Devlan Mud. This will make the robes look more realistic and war torn.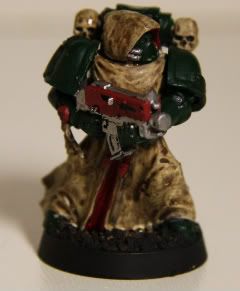 Step 7: Now, give the armour a wash of Badab black, along with painting the crest on the bolter Skull White. Now he is really starting to look like a Dark Angel!
Step 8: Finally, very carefully paint the eyes of the helmet Mechrite Red. Then, very carefully paint small Dots on the eyes using Skull White. By doing this, It looks like the eyes are reflecting light.

There you have it folks, a Dark Angel Marine. Now he is ready to fight the enemies of the Imperium!