Being an Eldar player for as long as I have, there are a lot of models that have been sitting fairly dormant on my shelves... and usually this has less to do with viability in game terms and more about how recently they have been repainted.
Eldar Rangers are among one of the most shelved units I have, although with a recent aquisition (thank you arcticcanandian)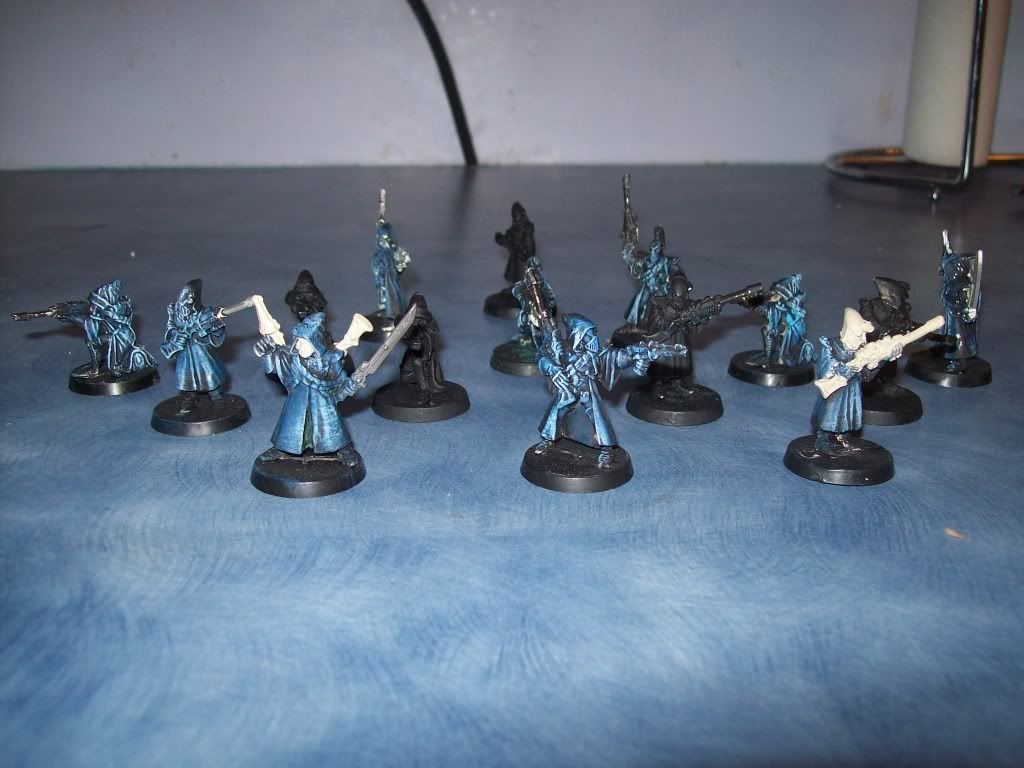 I am excited to change this.
My own Rangers have been through a number of different paint schemes, from a simple Green and Brown to the Yellow and Blue of Iyanden, and there was one home-brew colour combo that I toyed with before that... I remember it involving some Red and Grey, but beyond that, I can't remember.
Last year (possibly earlier) I started a new Craftworld Colour for my Eldar. It satisfied all the needs I had; it is quick, it looks half decent, and it unifies my Eldar as well as sets them apart from the generic colours in the Codex. Don't get me wrong, I love using Codex Colours, they are tried and tested combos that look extremely well. In fact my Marines are Blood Ravens, and except for being maybe a shade or two off, I think they are pretty much right off my computer monitor... I am of course refering to Dawn of War. My Eldar, however, hold a special spot in my heart, so... actually, who am I kidding, I didn't do anything special for them... I just threw the scheme together off the top of my head and it just happened to work out for me. I got lucky, and there is nothing more to it. Back to the point though, I needed something to stay on theme yet look like Rangers.
My scheme is easy and although limited in palette, makes for some quick decisions when working on a new model. I painted up a test model while watching an episode of Dexter... the pilot as it were... it was on sale
.
Being that the green looked a little too dark, I mixed the Orkhide Shade with Dheneb Stone, it is really the only mixing I do any more. I did the same when I found my Dire Avengers were too dark with straight Mordian Blue, and when I wanted a pink for my Banshees. I kept this to a simple 1:1 because honestly, I am not into making show pieces and any more precise of a mix would be a waste of my time
The Change in colour wasn't all that dramatic, but the Wash and Highlight really helped the model out.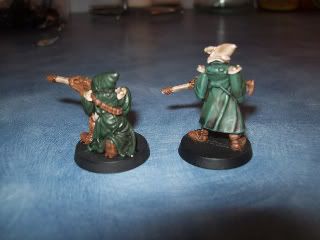 After that, I kept it light on the Gems, which I was lucky with the models, they had very few. Based with my medium Green, Highlight, Lowlight, and reflection points... that's really all there is to it.
Now with me models done, I have to base them some how... I can't wait to get my industrial bases cast... it will make the process a lot easier.
Expect to see these on the field very soon!
Paints used:
Dheneb Stone (Foundation)
Calthan Brown (Foundation)
Orkhide Shade (Foundation)
Graveyard Earth
Scorpion Green
Goblin Green
Dark Angels Green
Skull White
Devlan Mud Wash