In this tutorial we will go over 4 tricks and/or tips for painting
Black Templars. These will be of the following: Painting a smooth
"egg shell" white, highlighting white, highlighting black, and how
to paint the Black Templars seal.

01. Painting a Smooth "egg shell" White.
To do this is very simple but it also takes more time and patients. The first
thing you should do is give the area which you plan on painting white,
a Shadow Grey undercoat. What you must do next, is water down your Skull
White paint, at roughly the consistency of 1(paint) to 3(water). The more water
you add to the mixture the more layers of white you will have to apply. At the
consistency I have used, it has taken 6 layers of watered down Skull White
to get even coverage. Also when painting white, your worst enemy is a very
hot lamp. I know mine being 100watts can really dry out the mixture, so when
doing this step leave your drying Templars out of its rays along with your mixture.
Note you will have to add water to the mixture every once in a while.
02. Highlighting White
The trick to highlighting white is not to highlight the convex parts of
the area, but instead the concave with a darker shade of color. I have
chosen this color to be Shadow Grey. It is much easier to paint the white
around the concave areas leaving them grey instead of trying to paint the
lines after words. I work in small sections of the area to avoid the deadly
rays of my lamp drying it up, working on each model for only about 30
seconds. Only this time the mixture of Skull White and water is only 1 to 1.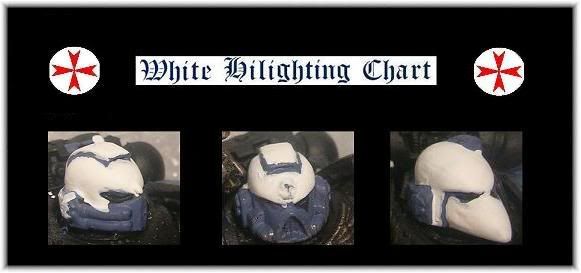 03. Highlighting Black
There are many ways to highlight black. My personal favorite is giving
it a bit of a blue shine, and doing this is very simple. I first paint a
line of Regal Blue on all the areas I feel which light would hit them and
reflect. Then I take my codex grey and paint a thin line that is 1/3 of the
thickness of the Regal Blue line. The blue is supposed to give a sort of
glowing effect to the grey highlight.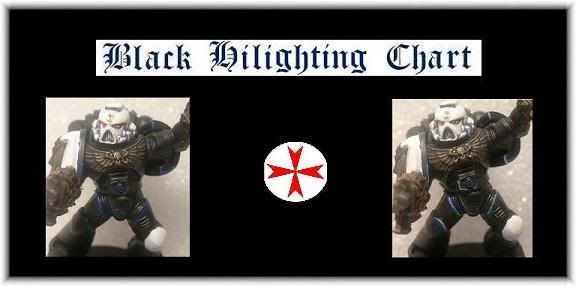 04. Painting a Black Templars Seal
The Black Templars seal can be a very tricky thing to paint freehand,
but if you can paint a strait line then you are in luck. The first
step is to paint an X or + on the center of the shoulder pad. Try your
best to have the lines crossing at 90 degree angles. Also be sure to
leave room for step2. The second step is to draw a right angle on the
tips of each line. The final step is to connect these tips to the center
of the seal and fill in the holes.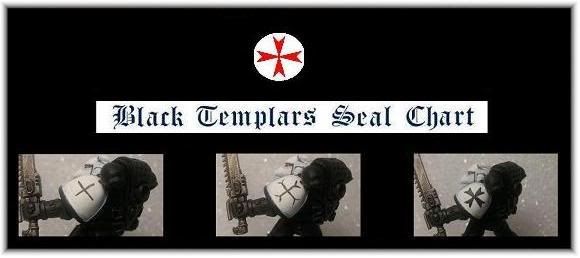 For more pictures of these and other Black Templars,
check out my channel by clicking the following link:
LordofSteel's Channel.