Name: Qandran Corporation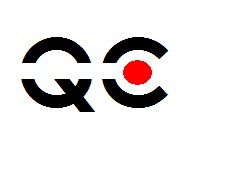 Backstory in nutshell:
used to be an large electronic and machinery manufacturing corporation.
Notes: I wanted the name to be something that actually isn't anything specific (Google will only find the result: Q and Ran), giving proper writers more freedom on the deeper details.
I also made the logo very simple, because it would be nice to be able to paint it on your models, 'cause when you think how small it will eventually be... well let's just say that there are people who would much rather have a simple emblem than complicated one.
As the Qandran Corporation used to involve electronic elements in its past, it will most likely have energy weapons to use currently.
the more accurate background will be added as soon as i have it in publishable form and after a spelling check.
Also i have an suggestion:
couldn't there be more than one corporation in this game?
That way there could be few "pre set" corporations with own logos and colour schemes. And people could make their own just like 40k space marine chapters or imperial regiments. Characteristics would be same for all but atl east you could make variations if you'd want to.
just a suggestion no offence intended.