Commander Name: Brother-Captain Percy the blessed.
Faction: Chaos Space Marines (using Crimson Slaughter Supplement)
Subfaction: Word Bearers 87th host
Alliance: Hosts of the Primordial Truth
Planet Targeted: Kezvo
Game Size Played: 1500
Did your opponent agree this was a fluffy/thematic list? If so, what was the theme they described it to be?: Yes, Word Bearers mechanized list with cultist meatshields. (The guy at the next table accused me of bringing a Khorne army, despite me not having any Khorne marks or units and everything being painted in a Word Bearers colour scheme, luckily he wasn't my opponent
)
Were weather effects used? If so, which one was generated?:N/A
Were character injuries used?:Yes, none taken.
Did you try the Strategic Missions Packet? If so which mission?:N/A
Result: Win
CP Earned: 14 (10 win, 2 fluff, 1 pics, 1 injuries)
Fluff:
With the Eldar closing in on the sector, Ascended Apostle Onoroth-Buhr has taken command of the host and instituted a smash and grab as well as a scorched earth policy, taking as much equipment from Kezvo as possible and destroying anything that can't be shipped off planet.
To this end, he sent Brother-Captain Percy and his 2nd company of the 87th host to extract valuable techno-artifacts from manufactorums in the southern reaches of the Kezvo caverns.
The 2nd company, like most companies of the host is mechanized and has a sizable number of possessed among their ranks, foremost of which is Brother-Captain Percy himself.
Setting out on a lightning raid, they met with resistance from a white scars descendant detachment allied with Ultramarines. The Space Marines immediately launched a counter attack which caught the Word Bearers by surprise. The resilience of the armoured company proved too much however, and even the most elite of the loyalist forces were ripped to bloody shreds by Percy and his possessed forces. Before the local cults could join in, the Space Marines had already signaled a full withdraw.
Despite suffering some losses, the Word Bearers made away with tons of artifacts.
Pics: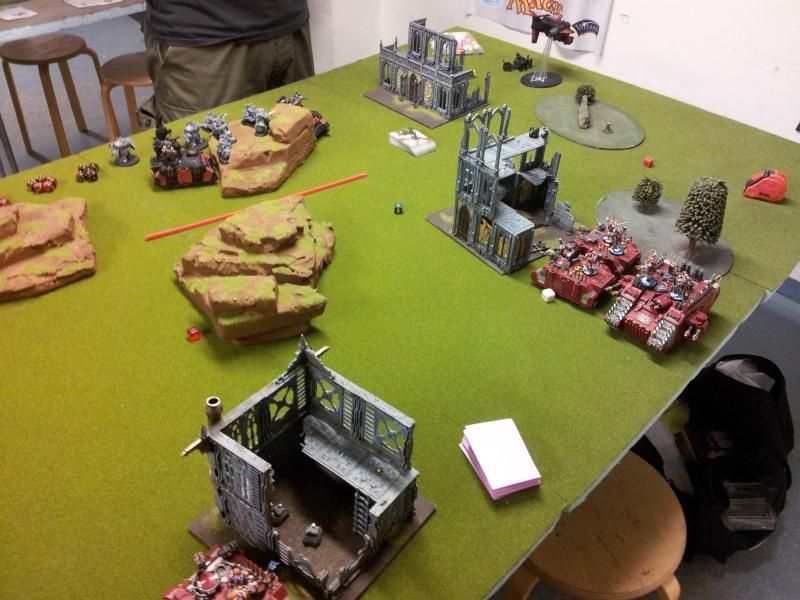 Deployment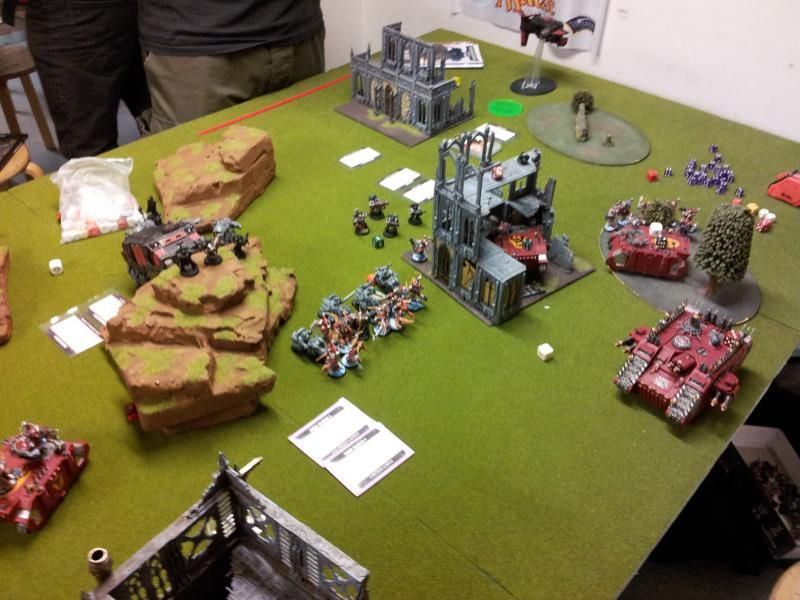 End of Turn 1.
Lists:
WORD BEARERS
HQ:
Brother-Captain Percy the Blessed(Warlord)
Chaos Lord
Plasma Pistol
Blade of the Relentless
Daemonheart
Prophet of the Voices
Slaughterers Horns
Troops:
9 Possessed
10 CSM
9 additional cc weapons
2 flamers
Power Weapon
Meltabomb
Rhino
10 CSM
9 additional cc weapons
2 Meltaguns
Lightning Claw
Meltabomb
Combi-melta
Rhino
20 Cultists
2 Flamers
Elites:
7 Chosen
5 Plasma Guns
Power Weapon
Meltabomb
Draznicht's Ravagers
Rhino
Heavy Support:
Chaos Land Raider
Dirge Caster
Dozer Blades
SPESH MEHRINES
HQ:
Kor-shorro Khan(or whatever his name is)(Warlord)
Moondrakken(or however you spell it)
Command Squad
Bikes
4x Grav gun
4x Storm Shield
Apothecary
Troops:
10 Tacticals
Melta, Multimelta
Rhino
10 Tacticals
Melta, Multimelta
Rhino
Fast Attack:
Stormtalon
Skyhammer missiles
Assault cannon
Heavy Support:
Thunderfire Cannon
ALLIES:
HQ:
Tigerius
Troops:
5 Scouts
Pistol/CC weapon
Meltabomb
Heavy Support:
3 Devastator Centurions
Grav Cannons+Hurricane Bolters
We played Spoils of War because it fits the fluff so well and we hadn't tried it yet. Now this guy usually beats the living daylights out of me with his cheesy netlists(although he is a nice guy, so I don't mind), so it was good to beat the crap out of him with a fluff list for once.
My opponent deployed first and got first turn, Tigerius rolled all telepathy to get invisibility, my warlord trait was the crimson slaughter one that does D6 S3 AP- hits to models in base contact with my Lord at I10 each assault phase(which is not as awesome as it could have been seeing as his models were mostly T5 and few in number).
Turn 1 was uneventful, he immobilized my land raider after 12 grav shots(lost 1 hullpoint) and took a hullpoint off a rhino. My turn 1 saw me shuffling toward objectives, blowing up a rhino, killing scouts with my chosen, despite them being in a forest with a 3+ cover. The rhino explosion took a wound off Khan(double 1s then a 3 for FnP!) and took out 2 of my CSM, so first blood was mine. Percy and his chosen got stuck in with Khan, until my next turn they had a 3++ and rending.(As I an writing this I realize my opponent forgot his hit&run, although it may have been better that he stayed since possessed went into beast mode next turn) The possesed Champion took a wound off Khan with a rending hit and made all his invuls, the Percy killed another biker and so did the possessed, one possessed hit the dust.
Turn 2 saw the storm talon arrive, there was a lot of shooting, but all that happened was one of my rhino's got immobilized by a multi melta and my CSM with melta's went to ground to take cover from Tigerius and his Centurion buddies. The chosen made something like 15 3+ armour saves from the storm talon and thunderfire cannon. nothing happened in the bike/possessed combat thanks to 3++'s everywhere.
My turn 2 had the possessed go into beast mode, which kind of sucked as they were already in combat, but would have been awesome had Khan Hit&Ran. The chosen took out the tactical marines from the exploded rhino, the immobilized rhino tried to self repair and I grabbed a couple of objective points. Then, the unthinkable happened. Khan hit my Possessed Champion 3 times, and wounded 3 times, and I made 3 5+ invul saves(5,5,6) then did 2 hits and 2 wounds in return, Khan fails one, fails his FnP, and loses his last wound. SLAY THE WARLORD! My possessed champion turned into a chaos spawn! And he went to hide in a building next to where they fought. The bikes are reduced to 2 models but stick around.
Turn 3 saw the Centurions moving closer to almost wipe out my chosen, who made 2 6+ go to ground saves, leaving 3 out of 7 alive, then the storm talon and thunderfire cannon finished off the remaining 3, after I fail 7 out of 9 3+ saves(luck has to run out sometime). Percy and the Possessed finish off the last 2 bikes and Percy gets his 3rd kill in, giving him a S5 AP2 weapon. the possessed consolidate closer to the centurions.
My turn 3 saw the cultists fail to show up. My marines in the immobilized rhino disembark and clear a combat squad off objective 4, the spawn reveals itself and pounces the last remaining enemy rhino. The Possessed get a 3++ and rending again and move up to 1" away from Tigerius and the Centurions. The spawn Rips through the rhino with 5 attacks scoring 1 glance and 2 pens, it is wrecked and gets me the blood and guts objective. Tigerius refuses a challenge from Percy and despite invisibility making me hit on 6s, between my hammer of wrath on Percy, his warlord trait and sheer volume of attacks manage to take 3 wounds off the centurions, they run and we fail to catch them.
With me leading objectives 8-4, with nothing but a storm talon 2 combat squads and a thunder fire cannon my opponent concedes.
I wish I could say it was all my brilliant generalship, but dice luck played a huge part in this game. It was good to get a win against this guy for once though.