MiniWarGaming Beginner
Posts: 25
Joined: Fri Apr 06, 2012 11:39 pm
Ribbons Earned:
Location: Missouri
---
Lives, breathes, and eats MiniWarGaming
Posts: 1560
Joined: Mon Mar 21, 2011 8:01 am
Ribbons Earned:
Completed
No pic, well bc Im to lazy and I am going to be painting 3 Tervigons/Tyrannofexs so i will have lots of pics when they are finished next week, My next pledge is painting all 3 of them.
Nids: 14k
DE: 12k
Harlequins: 4k
KDK: 3k
SoB: 3k
---
MiniWarGaming Crazed Zealot
Posts: 797
Joined: Sun Sep 25, 2011 6:59 am
Ribbons Earned:
Location: Dublin, Ireland
---
MiniWarGaming Regular
Posts: 64
Joined: Mon Apr 09, 2012 7:07 pm
Ribbons Earned:
Location: Stoke on-Trent. England
Fantasy: 2400 points Dwarfs P30/W21/D1/L8


6th edition:


Dark Angels: 2000 points P8/W5/D1/L2
---
Madcat87 wrote:

I PLEDGE TO PAINT 5 SQUIGS.
PLEDGE COMPLETE
5 quick little squigs to use with Zogwort.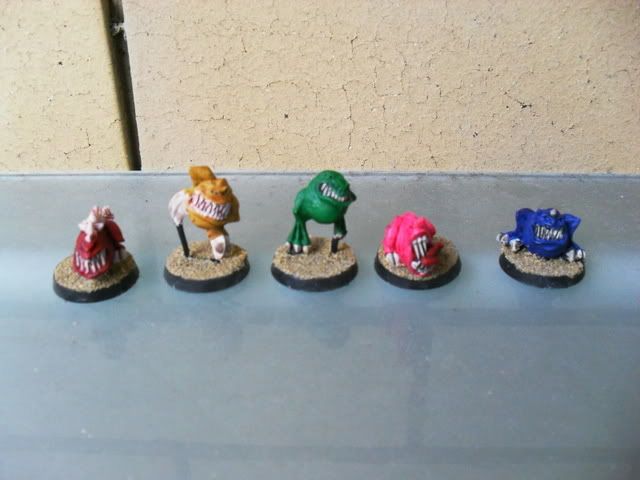 ---
Epic MiniWarGaming Poster, 'nuff said
Posts: 9353
Joined: Mon Jan 30, 2012 10:17 pm
Ribbons Earned:
Location: Tacoma, Washington
nappen wrote:

I will assemble and prime a Venom and a Ravager
Barely made it, but mission complete
---
pledge completed
Lifetime Gold Member going as Nakourou
---
MiniWarGaming Crazed Zealot
Posts: 705
Joined: Wed Jan 19, 2011 2:11 am
Ribbons Earned:
Location: Australia
Contact:
---
Who is online
Users browsing this forum: No registered users and 1 guest