I have had a problem with my minis tipping over when playing on a table with slightly uneven terrain, like small inclines or small rocks and pebbles. I came up with a solution that will add substantial weight to the base.
I made a
Video Tutorial
for this method to help clarify. This is my first tutorial video so any comments you can offer would be greatly appreciated.
This method works with standard 1" troop bases and the 3" bases provided with bikes from Gamesworkshop.
Step 1) You will be gluing a 5/16" washer onto the bottom of the base. The only washers I have found that are readily available are 5/16" washers from Home Depot. You DO NOT want to use the washers sold in bulk packs, they are slightly too large. Use the 5/16" washers sold individually. You need the washers that are stamped with "ABB".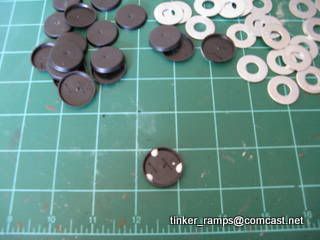 You will notice that I only glue the washer in three locations, this is important. You will fill the opening between the washer and the base with epoxy. If you apply glue 360 degrees around the washer there will not be any room to allow the air to escape as the epoxy flows.
Step 2) Mix up some epoxy and use a popsicle stick to "pour" the epoxy into the opening in the center of the washer. Just put a little bit of epoxy into each base and it will naturally flow, just rotate through your bases adding a little epoxy at a time. Do not use 5 minute epoxy, even though this is what I show in the picture. 30 Minute epoxy will give you more time and superior results.
The procedure for the 3" base is similar, just use 3 washer.
I know the pictures are not the best, sorry. Check out the
Video Tutorial
for better information.