which one do you think looks better?
#1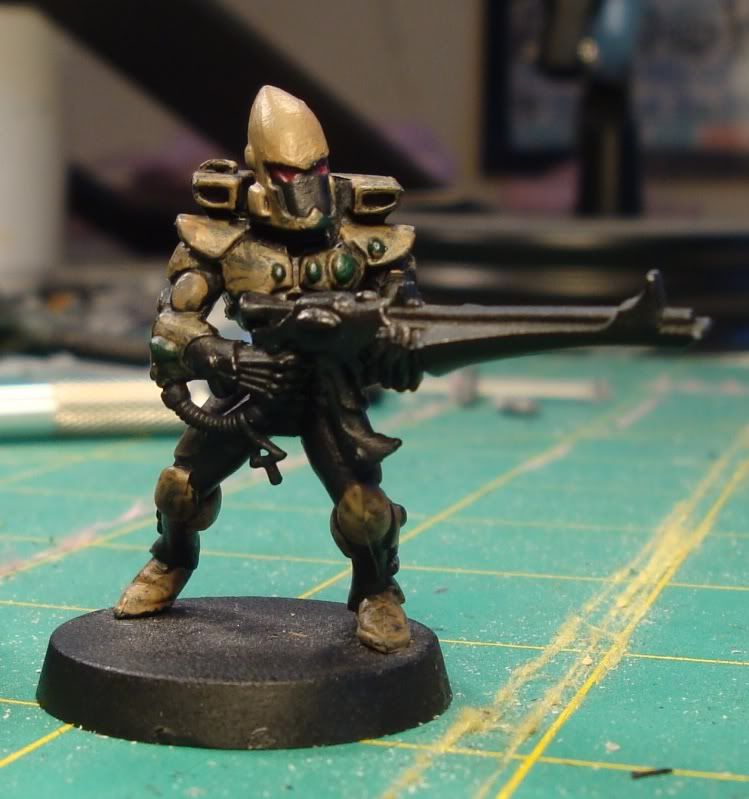 #2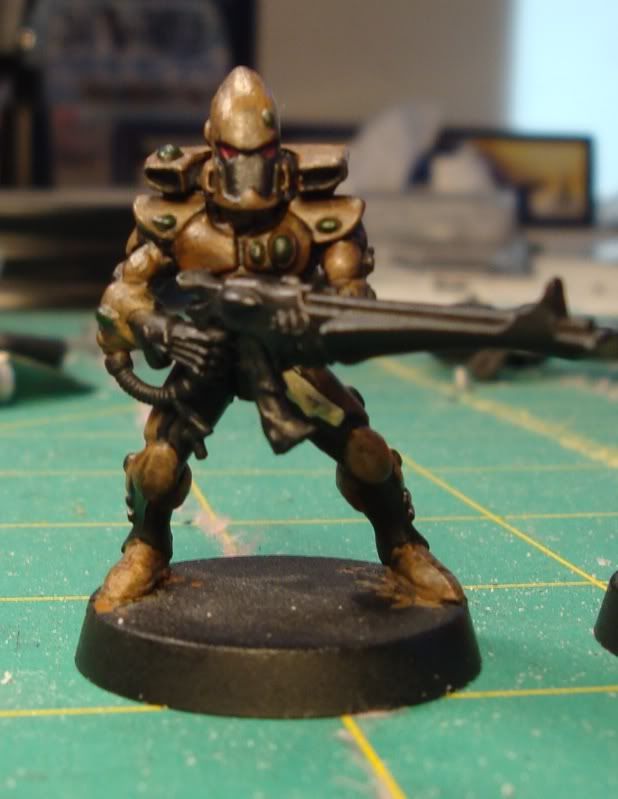 I don't usually post often, but when I do. It's pretty fricken epic.
Stay online my friends.
---
MiniWarGaming Zealot
Posts: 345
Joined: Mon Dec 27, 2010 7:25 pm
Ribbons Earned:
Location: Wichita, KS
Number 2

The first one you can see alot of undercoat thru your top coat, especially on the chest. I would also hightlight the edges of the armor one shade up and maybe make the gems pop more. Looks good tho
IRON WITHIN, IRON WITHOUT
---
the 1st one is just graveyard earth over chaos black

the 2nd one is bestial brown with graveyard earth over top of that and both were washed with badab black

the only problem I have with the 2nd one is that it took a longer time as I am essentially painting the same model twice which sucks especially when you have to do 20 of them starting out

I like the color of graveyard earth but it just doesn't cover well in one go

and also I will paint the guns a different color later on
I don't usually post often, but when I do. It's pretty fricken epic.
Stay online my friends.
---
well perhaps you might want to try starting with a different basecoat so that yuior graveyard earth will show better. Afterall, your badab black wash will help to bring out the details later on so chaos black is not essential in doing upthe shadows. Perhaps a different foundation paint?
As for painting, yes multiple coats can be troublesome and time consuming, but i think you will find that taking the time to do eldar properly is very worth it. I started with eldar and i regret not taking the time to actually paint them nicely.. and now i have a bunch of minis so ugly that i cannot love them..
---
Lives, breathes, and eats MiniWarGaming
Posts: 1965
Joined: Sat Jan 16, 2010 2:18 pm
Ribbons Earned:
Location: Niagara Falls
Contact:
painting taking time?....nooooo
lol
the painting does take a bit of a commitment for time, especially when you are first learning. The painting can be one of the most rewarding aspects of the hobby because of the time, energy and work you put into your mini and there is such a sense of satisfaction at the end.
take your time, make your minis look good. the models aren't cheap so it is almost required that they receive some decent amount of time under the brush lol.
that being said; there are a lot of techniques you can use that will make your painting look good, and also offer a smaller time to paint.
first, invest in the GW foundation paints. You will find similar colours for most of the range (with slight hue differences). These go on and are formulated to cover black nicely. then invest in various wash colours, typically badab black and devlan mud. These will subdue the look of your paint tones, create shadows and pick out detail. Bam. Done. From there you can look into the different wash colours to richen or soften colour tone outside of the basic black/mud.
this is also a great community with a lot of talented painters that are always willing to offer help and advice with painting - not to mention the painting DVDs MWG has put out. Ask, and we will help.
---
Epic MiniWarGaming Poster, 'nuff said
Posts: 6393
Joined: Wed May 14, 2008 11:18 pm
Ribbons Earned:
Location: I sleep on the MWG floor, curled up with my mini's.
I will recommend using a solid colour for Guardians and then throwing in 1 or 2 accents. These guys should be plain and easy to paint, and then base the rest of your army off of them... yeah I know I know... just like every other army.

But picking out different plates like that will just run you into a headache. I have tried that multiple times, and never finished an army... Now I have a simple 1 colour armour for my Guardians and... okay this army isn't finished either, but it's the closest I have come to date.
If you're blue and you don't know
where to go to why don't you go
where fashion sits...
BLOOD FOR THE BLOOD GOD!
And that is why Kharn was cut from the original cast of Puttin' on the Ritz.
Eldar - 8000-ish
Space Marine - 1500+
---
Who is online
Users browsing this forum: No registered users and 1 guest