MiniWarGaming Crazed Zealot
Posts: 614
Joined: Wed Jan 07, 2009 6:18 pm
Ribbons Earned:
well my name hasen't been added to the list but here's month 2
3 MANZ for 120 pts
Orks - 10,000+
Blood Angels- 5,000
---
MiniWarGaming Crazed Zealot
Posts: 792
Joined: Tue Apr 22, 2008 7:56 pm
Ribbons Earned:
Location: St. Catharines, ON
Got my update in my thread
Here for this month.
Definitely a trickier / more time consuming build with the raveners.
Next months pledge will hopefully be an accelerated Dual Malantrhope and Trygon build! All primered with a bit of progress here:
---
Lost in the MiniWarGaming world...
Posts: 3237
Joined: Thu Jan 08, 2009 11:16 pm
Ribbons Earned:
Hm.. I'm pretty sure I used a joker for September.. unless my August submission was for September... Hopefully I won't have to use a joker for this month. This weekend I'll be working hard on my submission!
---
Now we're getting somewhere...
Posts: 4
Joined: Tue Jun 30, 2009 11:13 am
Even though I had painted models last month, I procrastinated too long and didn't get them posted. I'm cutting it close for this month as well . . .
I painted Destroyers last month, and a Destroyer Lord plus two wraiths this month. The picture of the lord and wraiths is very blurry, however, so I'm only posting the Destroyers for this month.
Through these two months, I've realized the importance of watering down my paints, and I've gotten a little better at detailing. However, I really must work on my line highlighting. It's becoming more apparent how much my skills are lacking.
I am also running out of Necrons to paint. I thought I would be getting more, but I have decided to try another army since I don't really know the rules of the game yet, and I've had a tough time with Necrons. I will probably be going the way of Chaos, but Space Wolves look interesting as well. I should have enough Necrons for another month. I'll keep you posted!
---
Lives, breathes, and eats MiniWarGaming
Posts: 1214
Joined: Tue Mar 31, 2009 7:55 pm
Ribbons Earned:
Location: The front line, fighting for the Greater good... And Chaos
I have painted 2 Stealth Suits, a Marker drone and a Gun Drone. I'm having some difficulties with my pictures, but will post some as soon as possible.
3000+ Points of Tau
---
Lost in the MiniWarGaming world...
Posts: 3237
Joined: Thu Jan 08, 2009 11:16 pm
Ribbons Earned:
I've finished painting my Chaos Sorcerer and a standard bearer. Pics: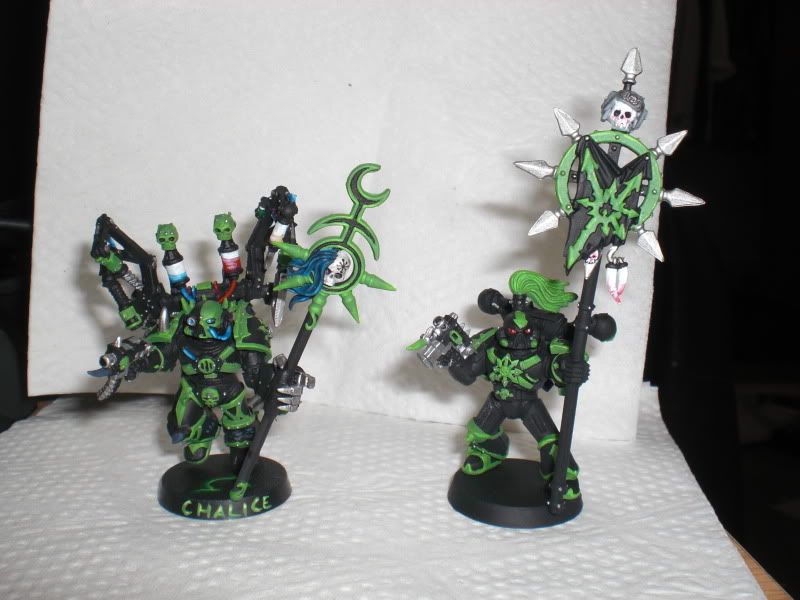 Point value:
-Standard Bearer: 25 points
-Chaos Sorcerer w/ Wings, Mark of Slaanesh, Winds of Chaos, Personal Icon: 155
Total for October: 180 (50 points over goal)
I'm working myself up towards getting an extra joker. With this 180 plus the previous 155 I completed earlier, I'm at 335, 75 points over where I should be.
For side and back views of the sorcerer, go visit my painting journal:
http://www.miniwargaming.com/forum/view ... 8&start=75
---
Silver Vault Member
Posts: 193
Joined: Wed Jun 10, 2009 3:49 pm
Ribbons Earned:
Location: Glasgow, Scotland
When's the November thread going up?
---
Who is online
Users browsing this forum: No registered users and 1 guest