--------------------------------------
This has several different projects, so have decided to put a quick reference here in the first post listing start and completed pages. Updates, will of course, be scattered in between:)
Ruined fountian: Page 1
Badlands inspired Modular Hills: page 1-3
Graveyard Portal: Page 1
Dark Eldar Shrine: Page 2-3
"Just a Wall": Page 3-4
Harlequin Portal: Page 4
Barrels: Page 4
Additional Badlands Spires: Page 5
Train tunnel (by my 9 year old): Page 5
"Just a Hill": Page 5
Craters: Page 5
Relic Terrain Markers: Page 5
Desert Battle Mat: Page 5
Snowfield Battle Mat: Page 6
Lava River Game Board and Terrain: Page 6-7
Lava River Game Board Tutorial Link: Page 7
Two Bridges: Page 7
Modular Walls: Page 7
Modular Walls Tutorial Link: Page 8
Goblin Town Walkways: Page 8
Swampy Ruins: Page 9
Bloody Altar: Page 9
Dark Eldar Arena: Page 9
Trench Board: Page 10, completed 11
Charred GW Trees: Page 11
Tiny Campsite: Page 11
Simple Volcano: Page 12
Venice Board: Page 12
Honored Imperium: Page 13
Desert Buildings: Page 13
Snowy Trees: Page 13
Imperial Strong Point: Page 14
Skyshield Landing Pad: Page 14
3d Printed Well: Page 14
WWP: Page 14
Well of Sorrows: Page 15
Random 3D printed tank traps: Page 15
More on the Venice Board: Page 15-16
Crater with ruins: Page 15
----------------------------------------------------------------------
So, this last group build has really inspired me to take on some modular hills. Before GB 37 I had never worked with foam, made a hill or really done much terrain-I hear the gasps issuing from the Web
So, the plan is to make two or three sets of modular hills. The first will be more basic and will consist of four or five split hills that should give me the ability to make several table configurations. So far I have cut the foam for the first and largest hill.
I can tell you are impressed so far
I also started watching the terrain tutorials in the vault and decided to take a stab at the ruined fountian. Here is where I stand on that one.
Here it is primed in black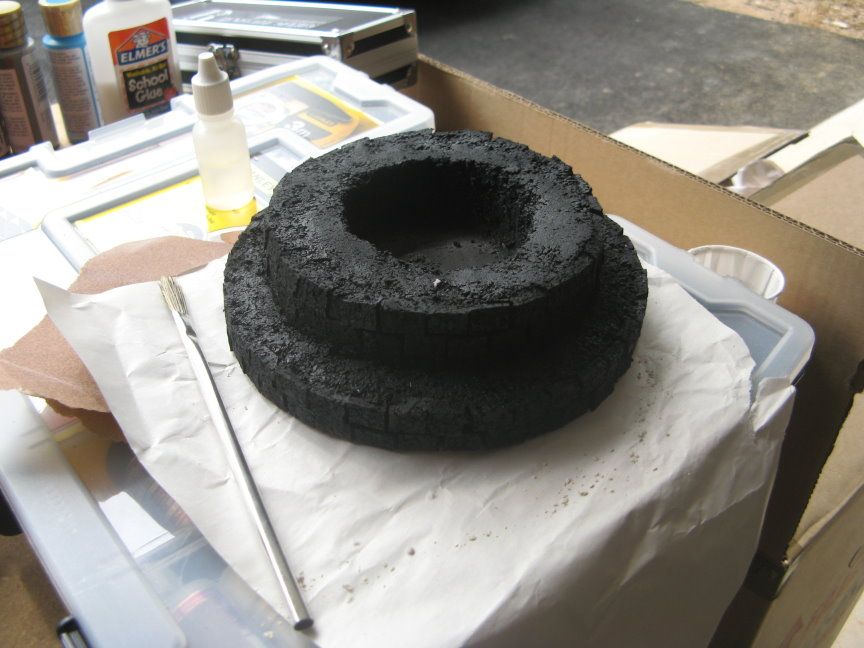 [
And here is the latest progress. Part way through the "decorations." The water is next...My 9 year old and I hope to do that tonight and then finish it up tomorrow.