EREBOR
" Erebor, located in the north of Rhovanion. It is the source of the Celduin River, and the location of the Kingdom Under the Mountain. The town of Dale lies in a vale on its southern slopes. Erebor became a great stronghold where the dwarves became a numerous and prosperous people. The Dwarves of Erebor were at that time well known for making of matchless weapons and armour, and there was great demand for their work by the surrounding peoples."
Please feel free to add your own tactics and c&c is welcome!
Now why would want to play a Erebor army?
Pros
• Very powerfull and medium level heroes
• Generally high fight, very good defense and courage across the board
• Dwarves with spear, yea you heard me right!
• Gorgeous models
Cons
• lack of punching on regular troops
• acess to no bows or range fire units
Final verdict:
9/10
=====================================================
Thror, The Last King Under the Mountain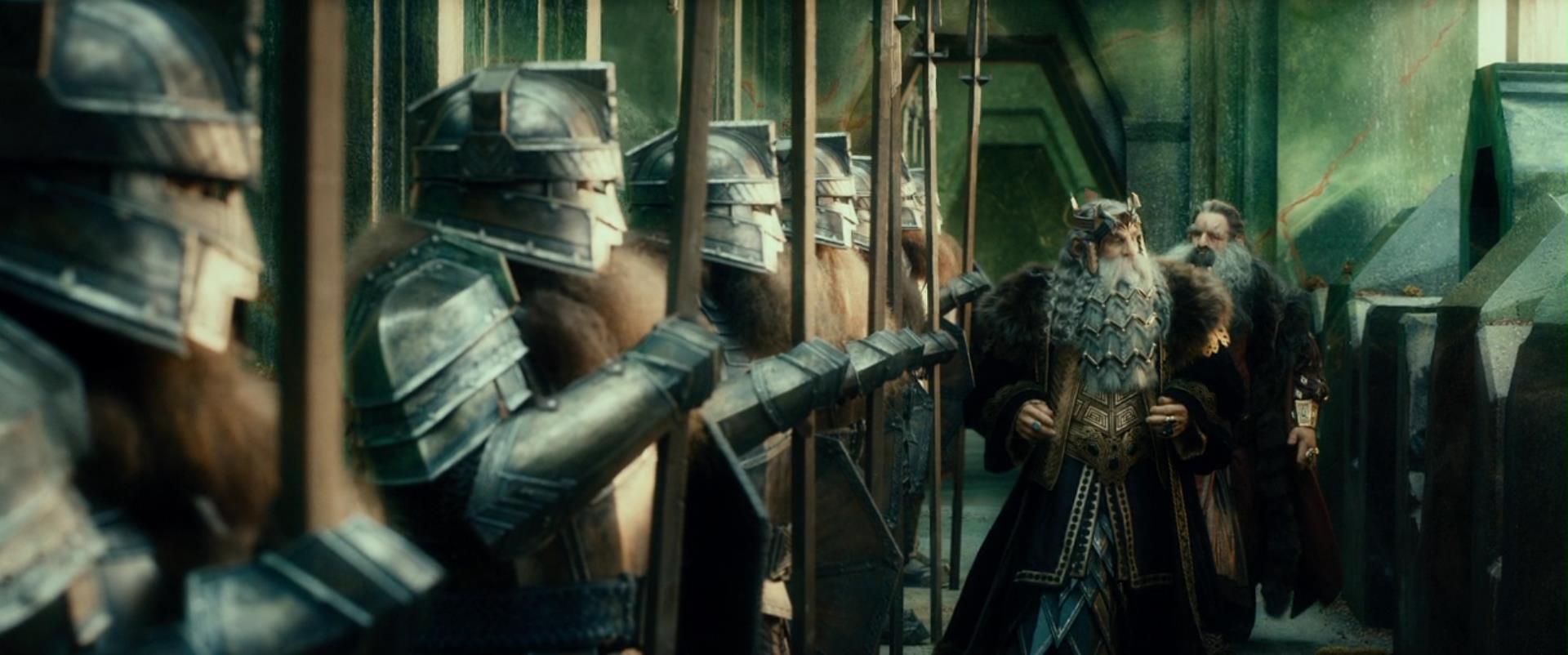 "Thror was the king of the Lonely Mountain at the height of its glory. Possessor of the Arkenstone and a ring of power, he was gold-hungry – a fact that bound him to his eventual fate. In spite of his failings, however, he was a powerful warrior and a goodly king, and as such his kinsmen followed him willingly into battle."
Pros
• Great supply of might/will
• Very good profile stat with huge defence value (its 9) faq corrected
• Arkenstone
• Ring of Thror(hes fearless to the word)
Cons
• Fairly expensive as hes almost at Durin´s level and not with many fighting quality gear
• Only 1 Fate
• Arkenstone(can be tricky sometimes)
Tactics

• Thror is a hero that you want leading the charge and him in the thick of it. Don't be scared of throwing him at nasties that your troops have trouble dealing with as he can go toe to toe with models with a greater fight with the use of a heroic strike.
• All though is it fairly expensive, he synergizes very well with the rest of the army prob as being the greatest sculpt model you wanna fill there, all sense of dwarven royalty on a dwarf right there. Also the only one dwarf king that got a shield...
•The Arkenstone its a great boon to Thror and dont let yourselves fool you by this, that despite he only have 1 Fate point, he pass the test on 3+ which when you roll 4,5 or 6 you use that Fate point for free without depleting the store, so as long you keep rolling 4+ you can absorv a large amount of wounds inflicted.( this can be changed with might and eventually prolong Thror kept in the field of battle. Hes not the hard as nails to kill stuff kind of character cause he got a sword and no fighting abilities like re-rolls to wound or +1 to wound, but hes an awesome model to hold the line.
•Fearless on Thror can be tricky, in a way its awesome to stand fast and immune to fear since he wont flee regardless so in majority of the games or Thror is left alive or dies in the field. the fearless rule however dont allow you to shield, so its a bummer at times when you wanna get 4A just to defend and hold...
Final verdict:
8/10
Thrain, Son of Thror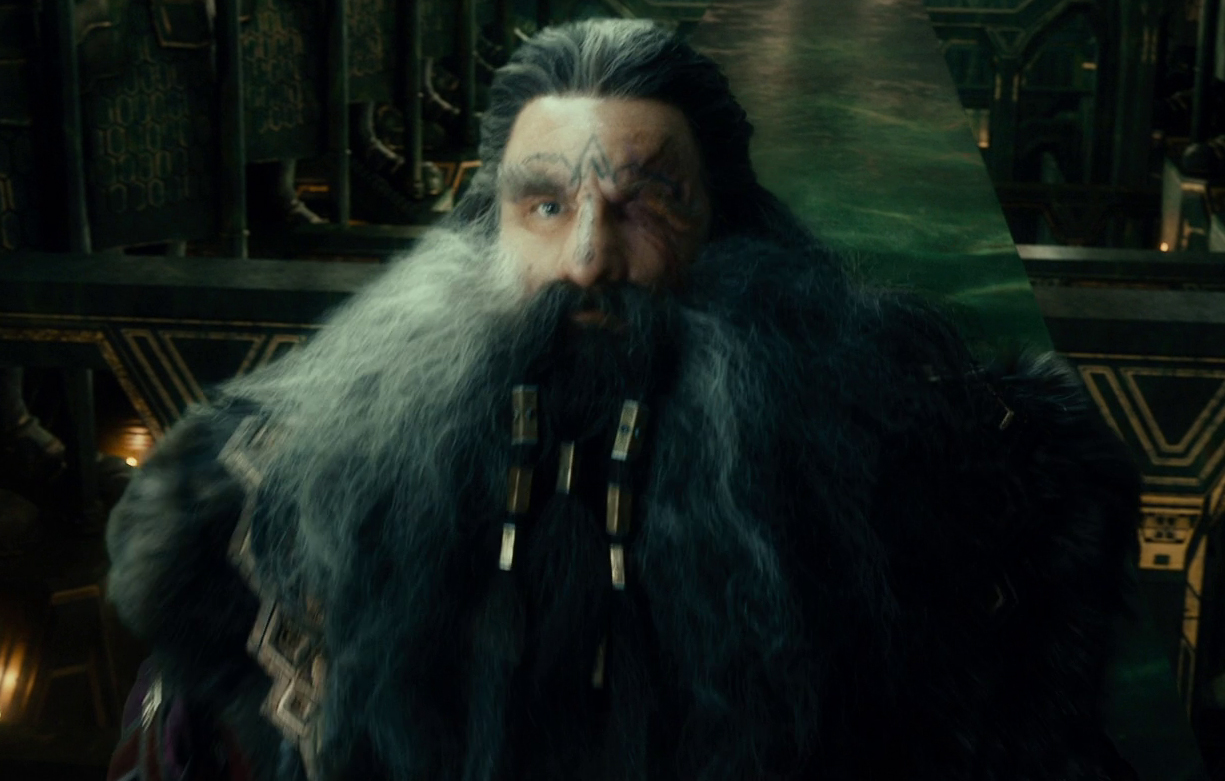 "Thror's heir, Thrain, is a grim warrior who bears the scars of
many hard-fought battles. Stoically loyal to his father, Thrain
commands the army of the Lonely Mountain at his behest.
When Thror was slain in such a humiliating manner by Azog,
Thrain plotted and led a mighty army against him in arguably
the greatest battle in the history of the Dwarves."
Pros
• Great supply of might/will/fate
• Very good profile as a dwarf king but with steroids
• Durin´s heir (a insanely huge benefit)
• Blood Feud
Cons
• Hes sort of expensive as he cost much as much as 2 dwarven kings on Durin´s Folk army list
Tactics

• Thrain is another hero that you want leading the charge and him in the thick of it. He can be a bit more nasty combat wise than Thror since he got an two handed hammer that despite the heroes main purpose is to win combat it doesn´t hurt either when you decide to bash oponents with even nastier swings.
• All though is it fairly expensive, hes a very good king to field. I would even consider taking him for a couple reasons and mainly 1:
- his stand fast covers the entire field, this is absolutely amazing, you just need him to shout and all your army hold the line.
- he got 3 fate so you gamble less than Thror and hes 3x as much durable than a random dwarf king.
- blood feud can be situational, but in case Azog is on the enemy army, carefull cause this dwarf just got mad and his fighting potencial has been increased by alot.
• Sometimes I´ve field both heroes and its very awesome to see father and son side by side bolstering your army greatly, the downside its that alone their are expensive by themselves, combined its 280pts, thats equivalent to alot fully geared warbands
Final verdict:
9/10
Young Thorin
"Thorin Oakenshield™ is a Dwarf of noble birth, the son of kings and the heir to the treasures of Erebor. He is a mighty warrior and a skilled battle leader. "
*for all game purposes, young thorin, balin and dwalin are exactly the same as the thorin model from goblin town*
Pros
• Cheap for a mighty heroe
• Great supply of might/will/fate
• Very good profile even better than Thrain in melee if geared properly
• Orccrist
Cons
• none really
Tactics

• Thorin is even another hero that you want leading the charge and him in the thick of it. He can be even better than Thrain adn Thror in melee specially vs orcs, goblins and uruks, also he get the chance to ride a pony, giving this already beast in melee a cavalry special rule. If you can make him a cav model the better cause get great speed and even more bonus to attacks...
If on foot no biggie hes a mighty heroe on his own and can make sure he will come into victory wherever the fight its thickest...
Final verdict:
10/10
Young Balin
Pros
• Very Cheap and decent heroe to lead the dwarves
• Great source of Fate and very high courage value
• Longbeard special rule
Cons
• weak defence, even on dwarven standarts (defence 5)
• not a dwarf to really go into a fight, he can manage but hes not a killer
Tactics

• Balin is a dwarf that set aside from common dwarf builds, to be expected as an extraordinary warrior, in this case hes rather harmless. Of course underestimate him might be a bad idea cause if given the acess to a pony, Balin can still be sort of annoying, he shares the common traits as regular dwarven fighters with fight 4, but where lies his place in the army its more up to his ability to allow you to re-roll who seize the iniciative and tending in care that dwarves are a more elite army than horde, it can actually make diference here and then to play 1st or second(if you roll for it) and adapt your strategy accordingly..
The other good side of this and mentioned above, is that hes really cheap, even cheaper than regular captains, so if you favour on getting more warriors to bolster your numbers and want some trick out of your sleve, Balin is your choice.
On the field he acts as a sidekick kind of character, he works excelent to stand fast nearby warriors and can help on the fights, however he ain´t ment for the thick of the battle hes just ment to stay nearby..
Final verdict:
8/10
Young Dwalin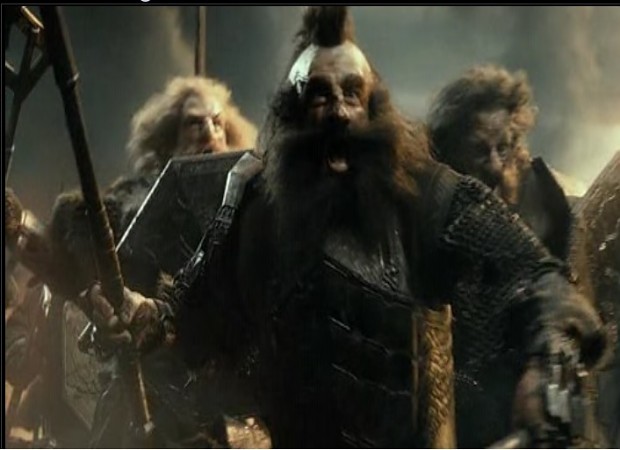 Pros
• Cheap and beasty like dwarf
• Great source of Might/will/fate for the cost
• Very good fight value and awesome, awesome Strength value(the only dwarf with basic S5)
• Burly
• Fearless
• weapon master
• pony
Cons
• none really
Tactics
Another very powerfull dwarf heroe, hes even better than any other dwarf heroe mentioned in the review in terms of killing prowess, you want to chop any foe by the hundred? here´s your dwarf, hes beast considering hes immune to fear, automatically pass stand fast roll, great profile, awesome Strength, hes never considered disarmed regardless(even if hes targetted by black shield shaman disarm spell) he benefit from burly rule (+1 to wound) and never get penalty for two handed wield.
If you want him even more beasty, get a pony and watch him chop stuff with 4A(on charge) S5 hits with +1 to wound...(8A effectivelly if you knock em out)
This dwarf is very likely to kill even powerfull enemies on foot in 1 round with a bit of luck..
This dwarf handle well in the thick of the battle, but never in the front spearheading, leave that for dwarves who are harder to kill like thorin with defence 8, Thrain or Thror, this guy can go right after while dwarves with shield hold line and this 1 do all the chopping job..
Final verdict:
10/10
Grimhammer Captains
Pros
• Decent medium heroe
• Decent fight value and defence for profile without shield
• wide variety of melee weapons and throwing axes
Cons
• costy a bit more than a regular captain but other than this not many..
only the common bad stuff of dwarves overall like movement value..
Tactics
He works exactly like a dwarf captain but with less defence and more weapon methods, hes good if you wanna use alot special strikes like piercing strike or bash and with some luck kill or wound something with throwing axes, good side heroe but not the best to go into the very thick of battles if you can get acess to more powerfull dwarf heroes for that job.
Final verdict:
5/10
Erebor Captains
Pros
• Decent medium heroe
• Decent fight value and defence
• can acess to shield
Cons
• same as any regular durin´s folk captain.
only the common bad stuff of dwarves overall like movement value..
Tactics
He works exactly like a dwarf captain in every turn, hes better at holding line with defence 8 with shield, hes a bit cheaper so spare points for something else.
He can hold a line on his own.
Final verdict:
6/10
Grimhammers
Pros
• gorgeous looking models
• Decent fight value
• wide variety of melee weapons and throwing axes
Cons
• costy compared to cousin´s khazad guard
• lack on defence(defence 6)
• got strength 3
• dont have bodyguard rule
Tactics
Despite being prob the only dwarves people wanna take by many cause of fully armoured dwarves visually, they are quite bad really... they cost the same as khazad guard and only have half of their advantages... as these are suppose to be the elite dwarves in erebor and the king´s guard.
The only good thing to mention about these buggers is like their captain the wide variety of weapons, which means when supporting a powerfull heroe or other units in a fight, their special multiple choices of strikes can come handy...
Final verdict:
4/10
Erebor dwarves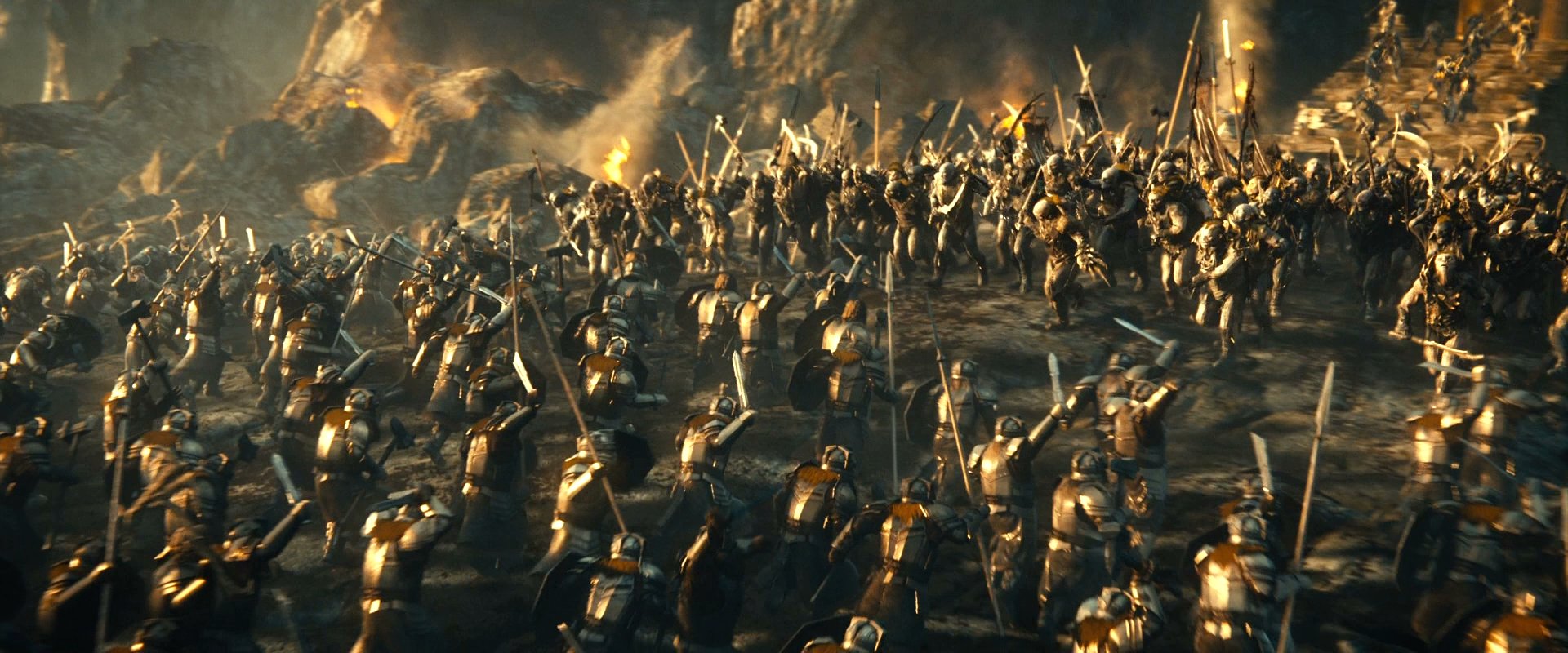 Pros
• gorgeous looking models similar to grimhammers
• Decent fight value
• Acess to spears (yay!)
Cons
• Dont have two handed weapons
• Dont have bows
Tactics
These are the type of dwarves you wanna take the most, they share the same strong points and weaknesses of durin´s folk warriors, but allowing you to carry shields and the addiction of the invaluable spear rank support, these dwarves can fight more effectively than their cousin´s from the army list.
The downside of these warriors is the lack of punching capability (even supported by grimhammers) vs heavily armoured foes like isenguard white hand uruks with shield to name a few. And the essencial bow fire capacity...
Final verdict:
8/10