I've been involved with WH40k for quite a while now, but I expand very slowly. As of now, my army is at 956 points without upgrades. I need to repaint a good portion of it (Termagaunts, Spore Mines, Hormagaunts), and I need to touch up pretty much everything else.
So, without further ado, here is my Tyranid army.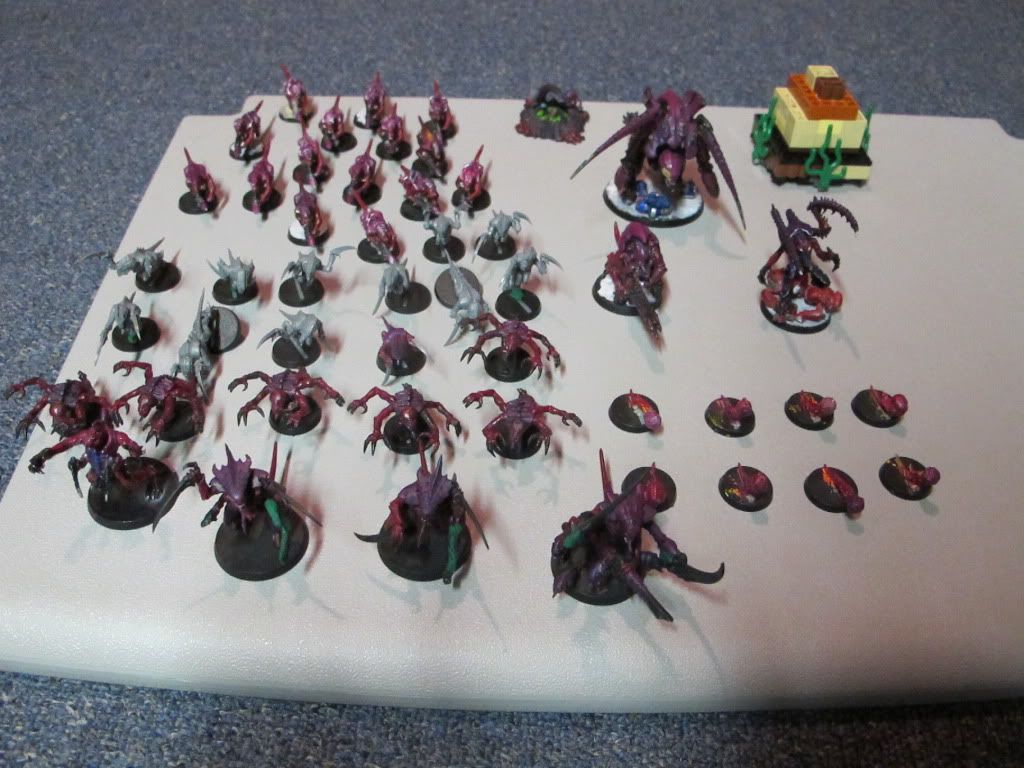 1 Tyranid Prime
3 Warriors (2 actually, one base with no model)
12 Hormagaunts
15 Termagants
6 Genestealers
1 Broodlord
8 Spore Mines
1 Hive Guard
1 Lictor/Deathleaper
1 Carnifex/Old One Eye
1 Mycetic Spore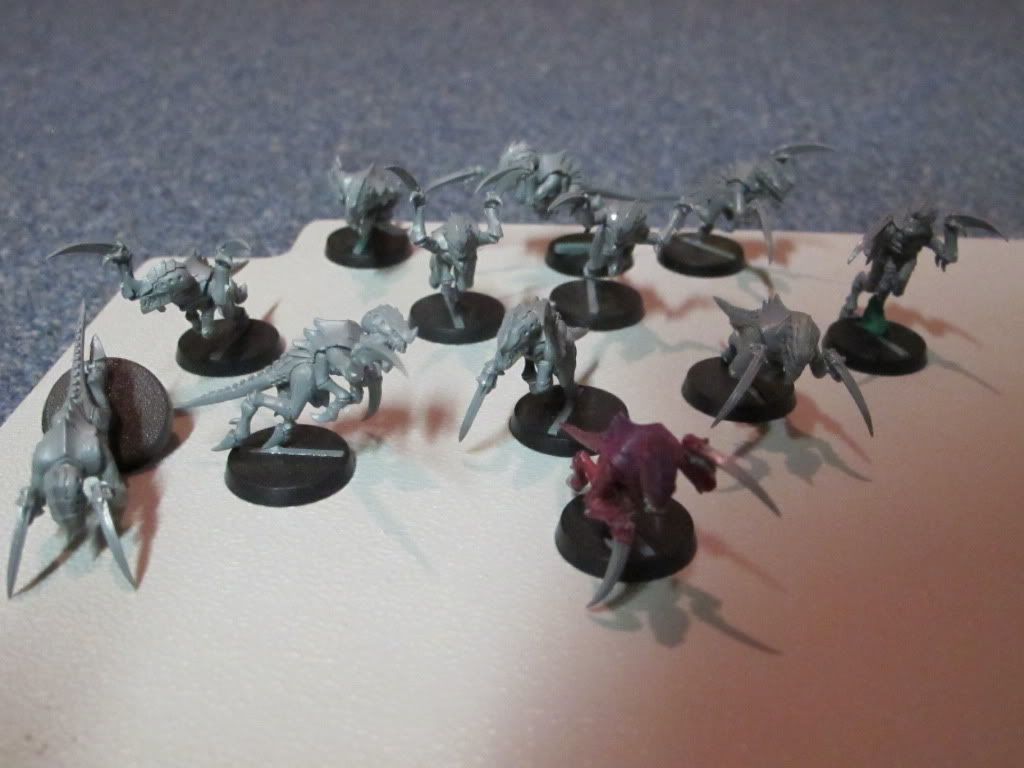 Only 1 is painted, but I'm going to redo it because the plastic isn't painted. I got these last December, but still haven't done much with them.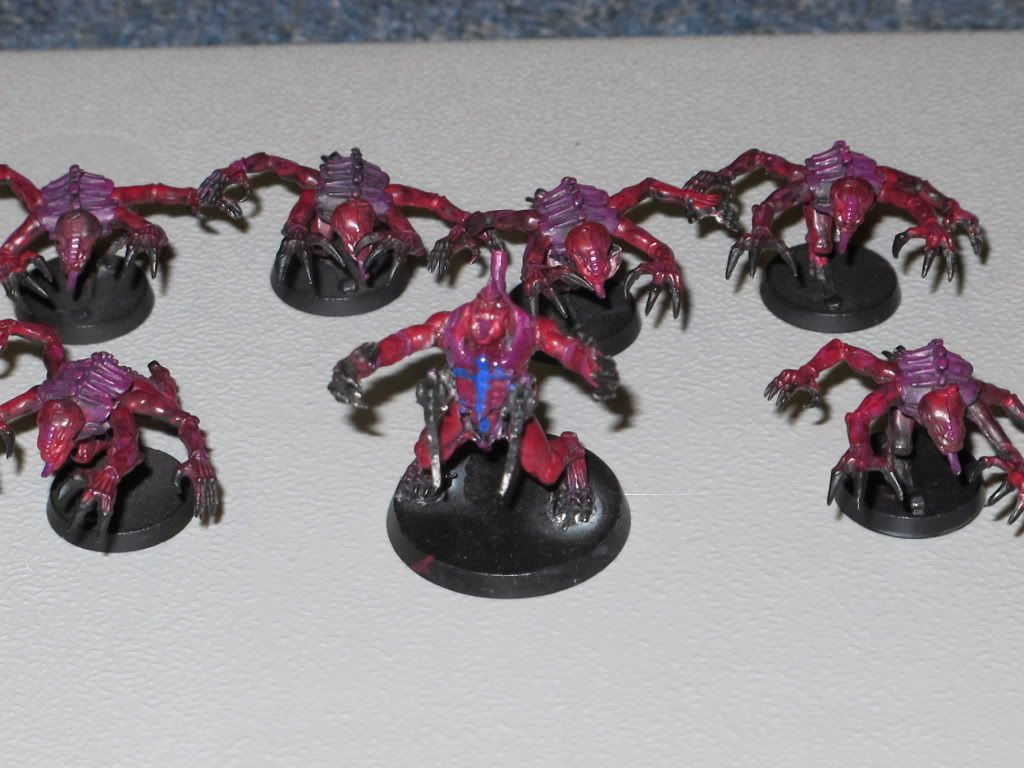 Genestealers and Broodlord. I'm actually happy with these guys. I don't really need to touch them up, except for maybe the teeth and eyes.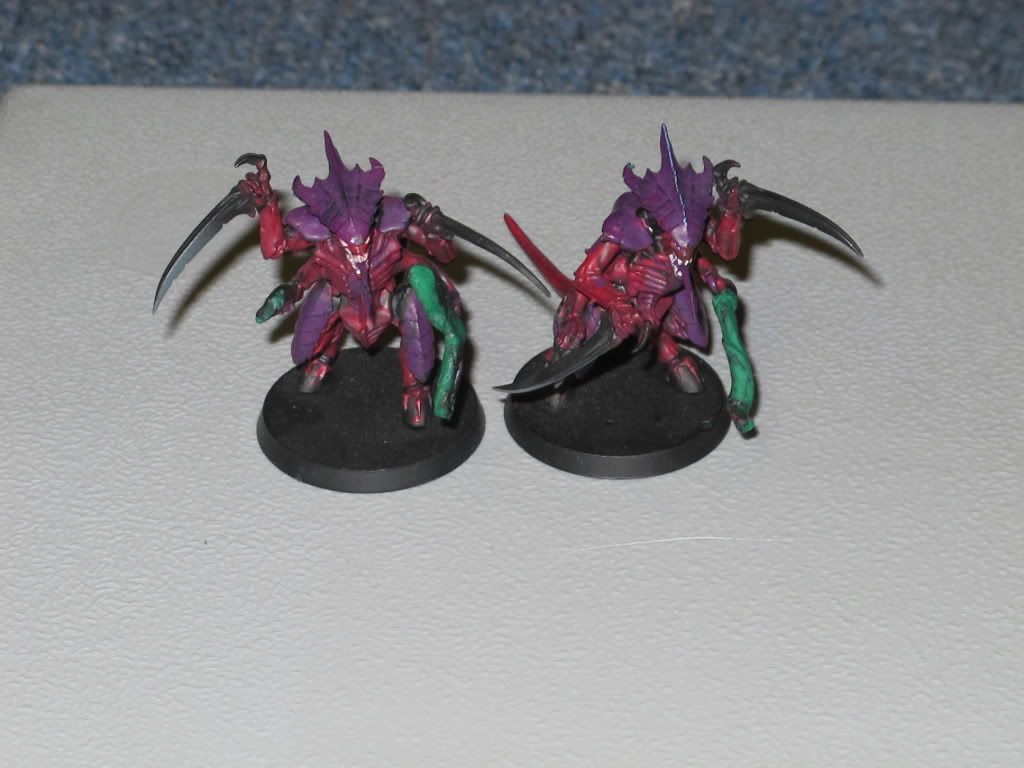 2 Warriors. No Boneswords yet. The third was used as my Prime. I have to finish these guys up as well. The carapace highlights for all synapse creatures are Ice Blue, while the rest of the army will be Skull White.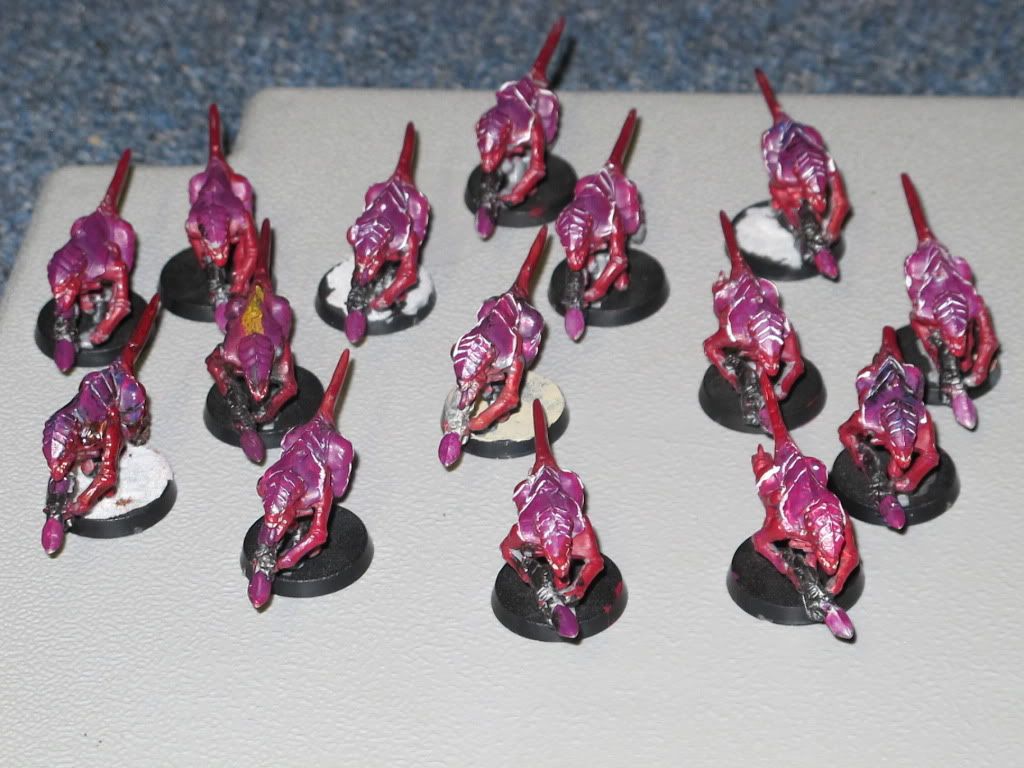 15 Termagants. If you look at their feet, you notice the plastic. These were my first models ever, I wasn't introduced to undercoating until later.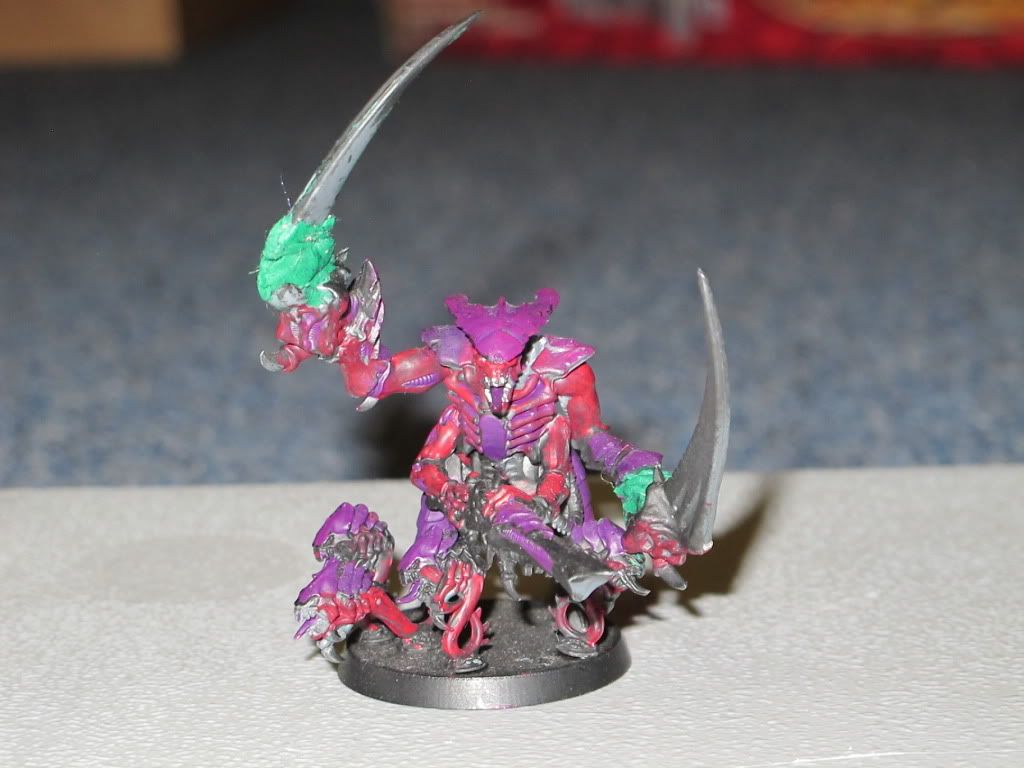 Tyranid Prime. I will definitely need to paint up some parts I missed, along with the Rippers.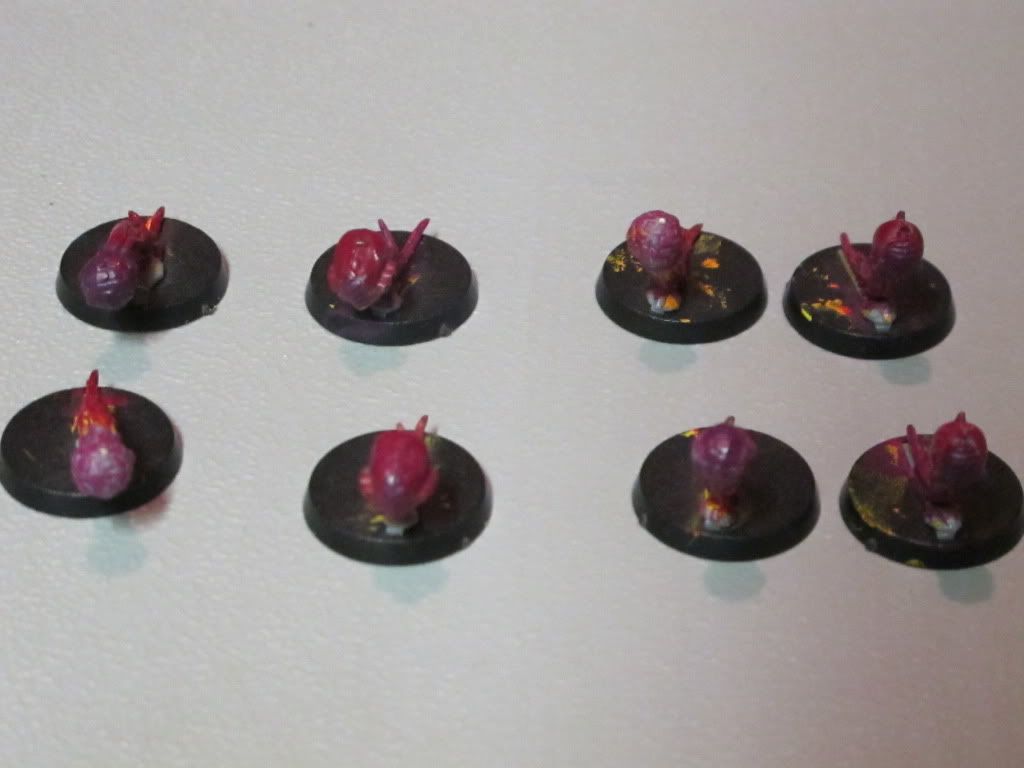 8 Spore Mines. Also not undercoated. I really need to fix these guys up.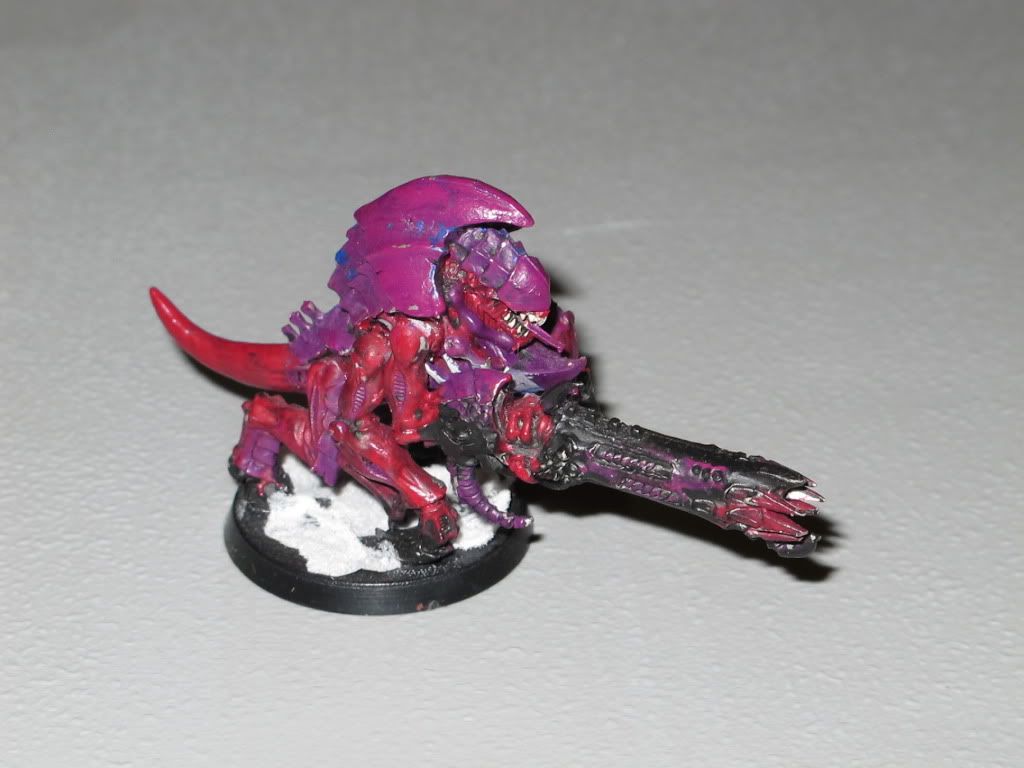 Hive Guard. He actually turned out well, I just need to fix the base. All the snow kept falling off. His arms keep falling off too. I don't know anything about pinning, so any help would be greatly appreciated.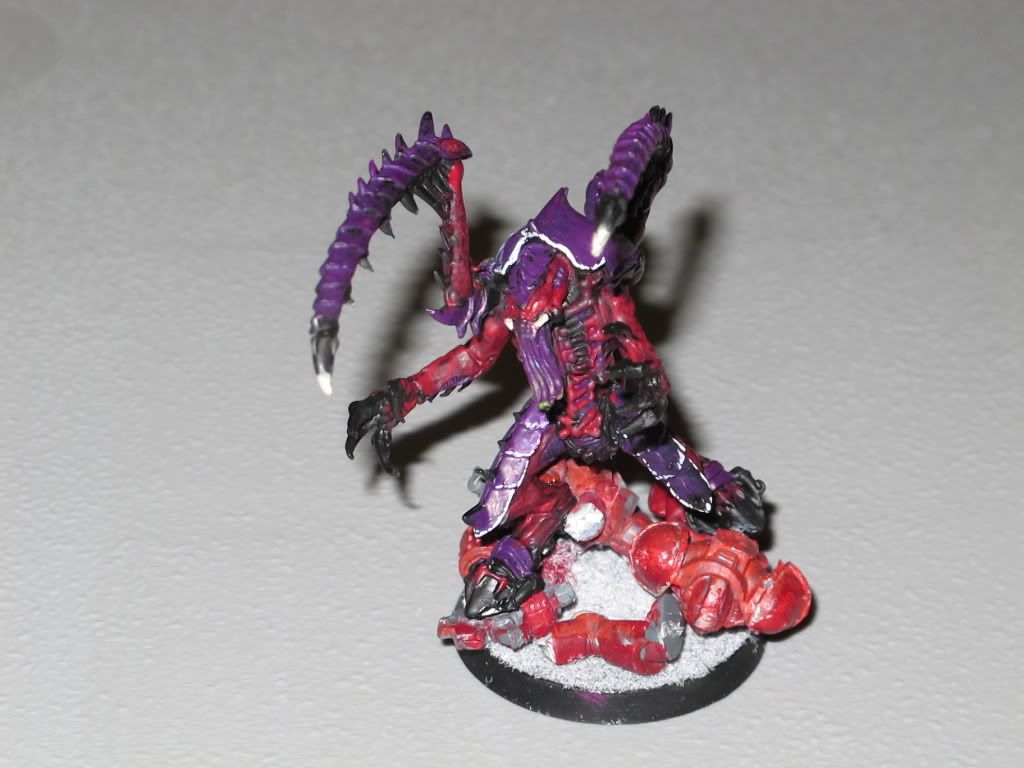 Lictor/Deathleaper. He was "ok", I'll definitely have to revisit him, along with painting the spikes on his chest.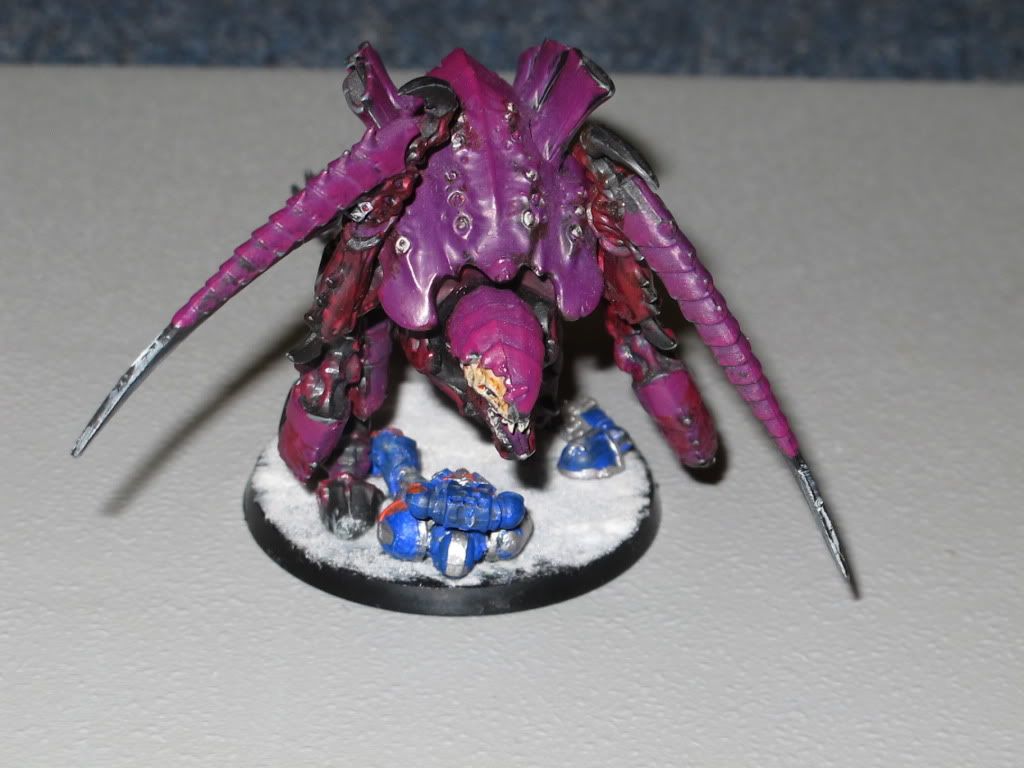 CARNIFEX! Oh boy, is she a beauty. I'm not going to edit her because she's the best one in my entire army! I want to magnetize her, but I don't know how, seeing as she's already glued.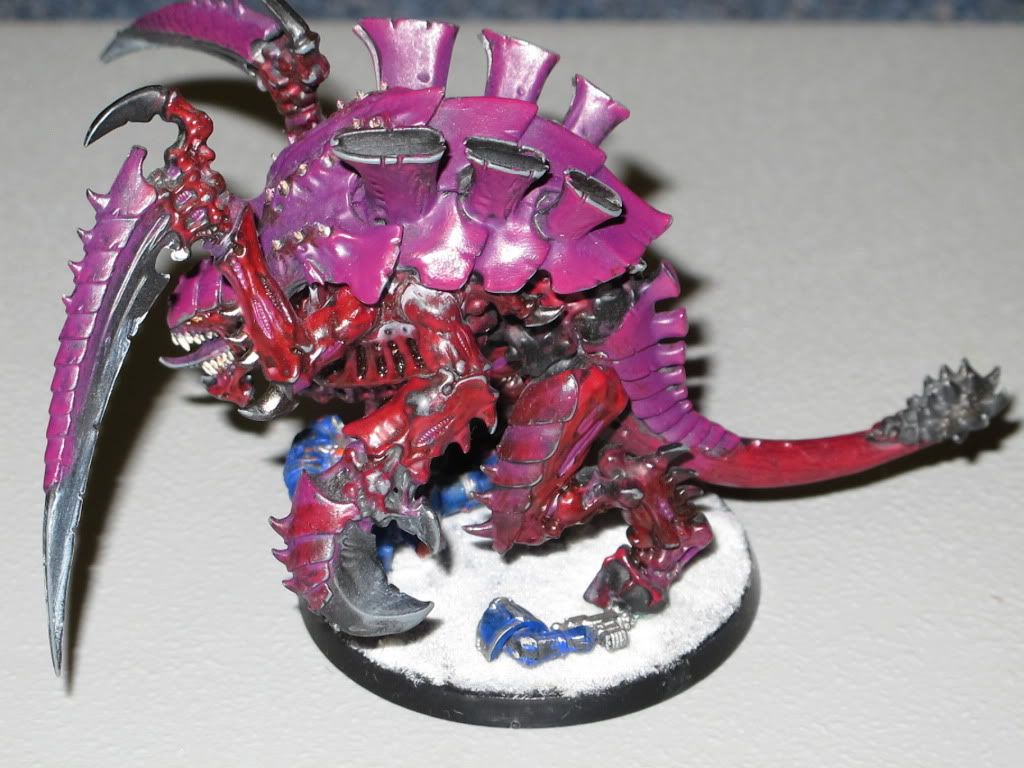 Yep. A Mycetic Spore. A LEGO Mycetic Spore. I found these pieces lying around and I realized that my limited-creativity was enough to make a Myectic Spore. Just look at the awesomeness!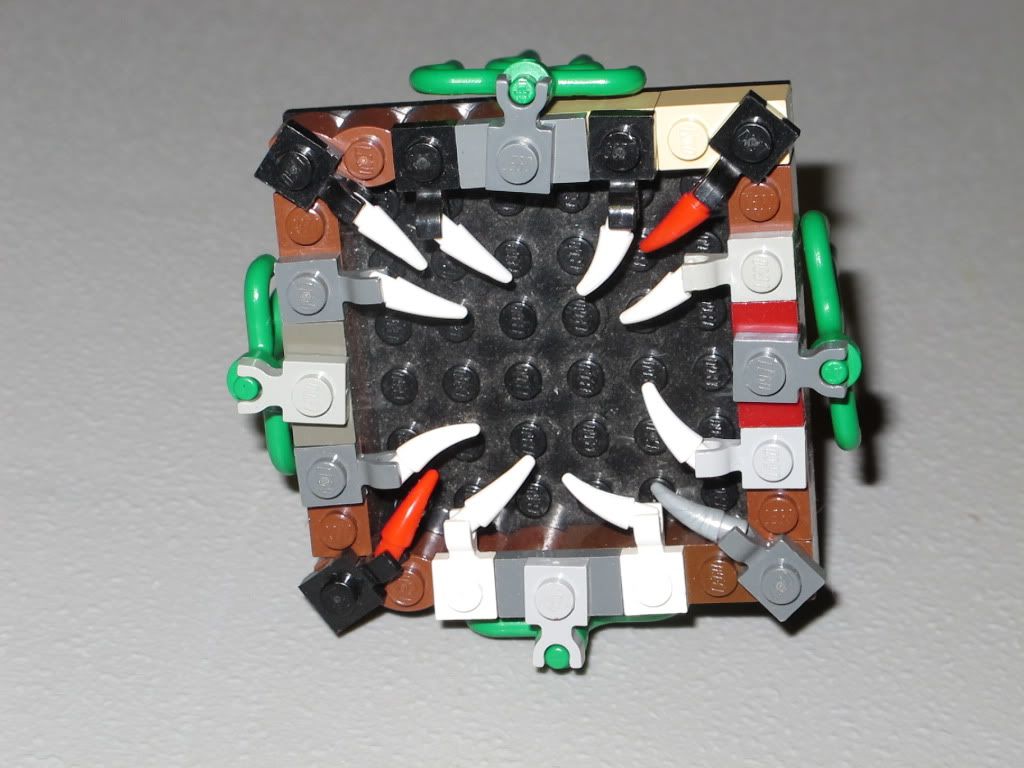 Teeth! I can't get over myself!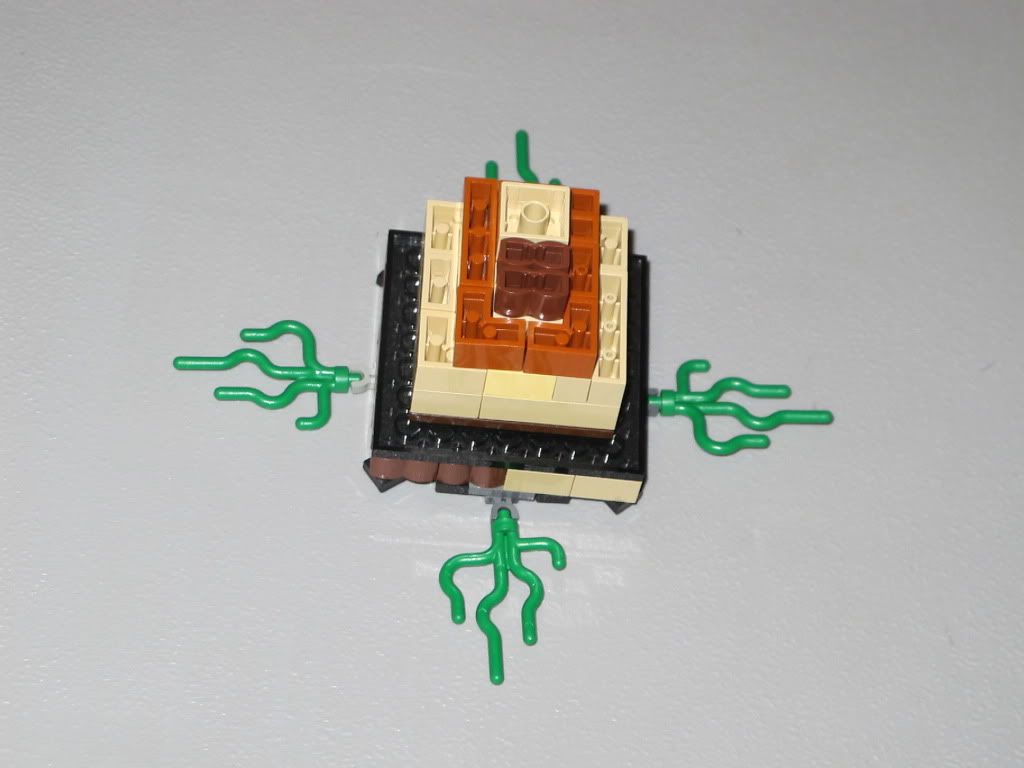 The Tentacles fold down and up! My brilliance in this model really makes me feel proud!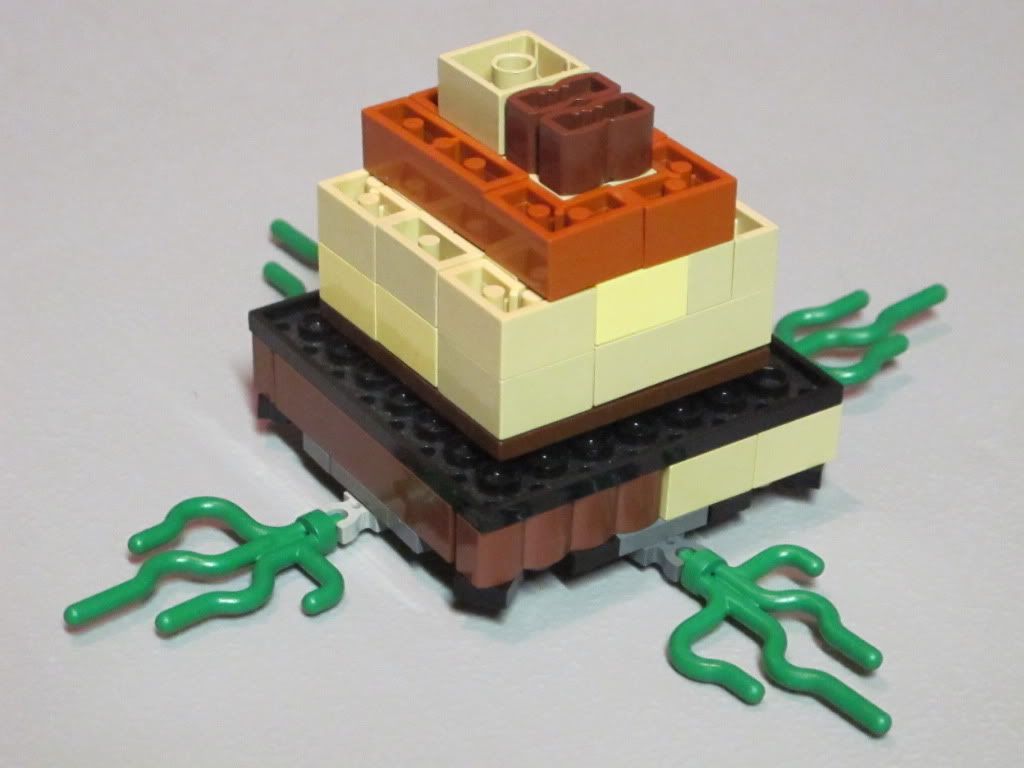 Size Comparison.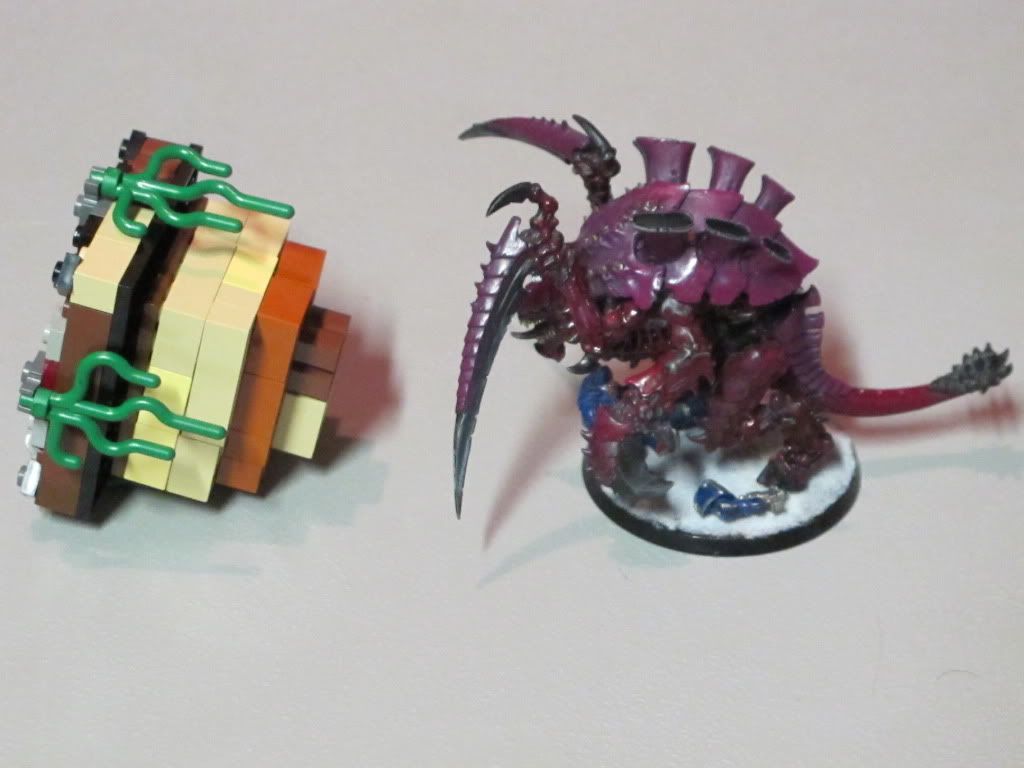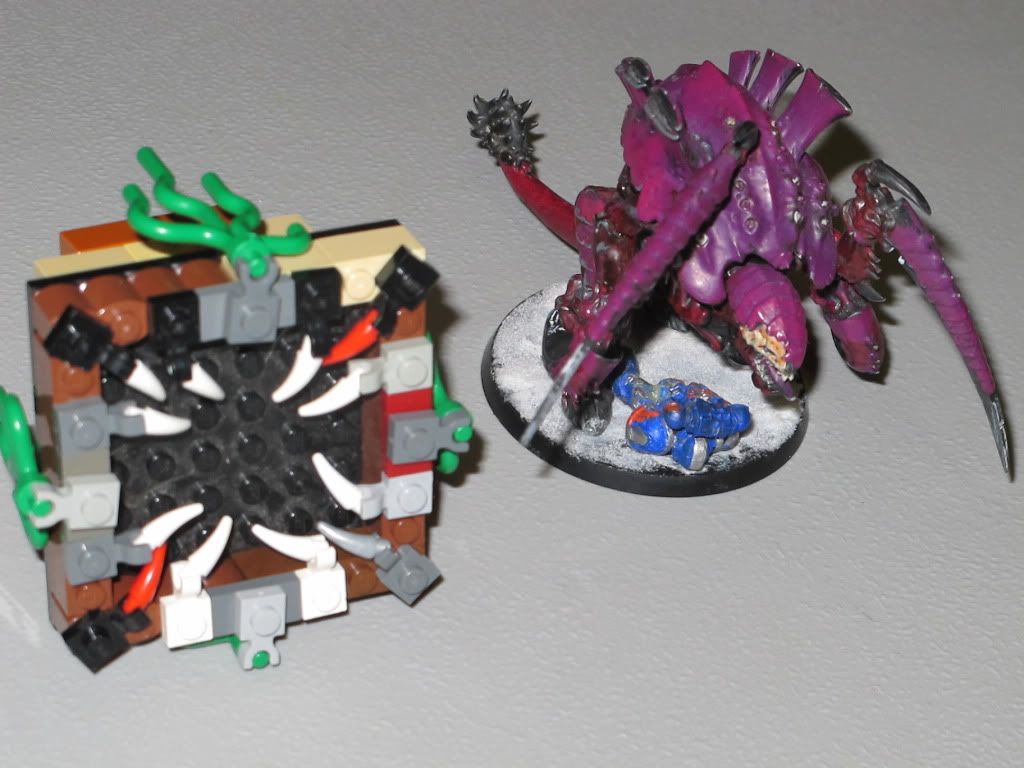 So that's my army. I'll be slowly adding up to this and editing it. I want this army to get to 1500 points with upgrades before I start collecting another. My list to get to 1500: 1 more warrior box, 1 more Hive Guard, and 1 Hive Tyrant.
CF