Hey everyone. I've been painting miniatures for about three months, starting at Christmas. And in that time I've painted almost a Tactical Squad of 40k Space Marines, with another assembled and waiting to be painted. 40k Tyranids with twelve Hormagaunts, three Warriors and a Ripper Base. With ten Termagaunts waiting to be painted.
The Halo Interactive Stategy Game miniatures I'm slowly working on.
And recently about three weeks ago the Mongoose Publishing Starship Troopers game. And plenty more to likely come.
Warhammer 40k:
Space Marines:
-(To note, I didn't know those scrolls were scrolls when I first started painting them. I thought they were medals and painted them as such. I like that look so I'll be keeping it. Sorry for all of you screaming 'Codex flaw!')
-(Also, I haven't highlighted the eyes on the Space Marines yet. Aside from the flamer that is. Though the closeup shot is a prehighlight shot)
Space Marines
- Group Shot (I know the flag sergeant's right eye sucks. Working on it) :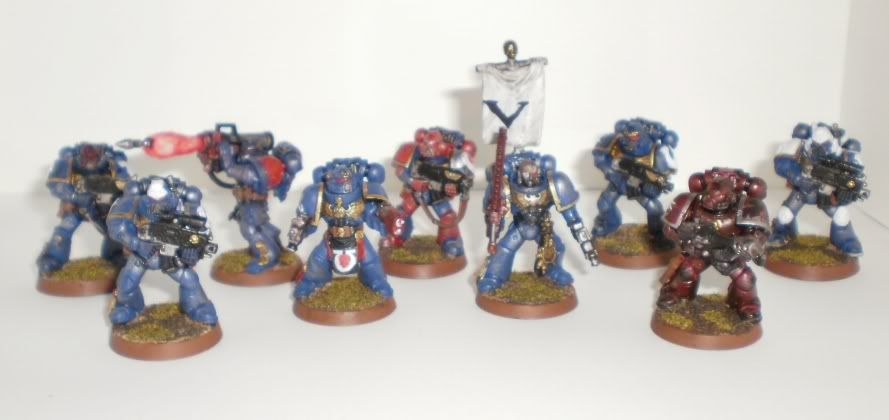 Space Marine
- Sergeant #2:
Space Marine
- Rocket Marine: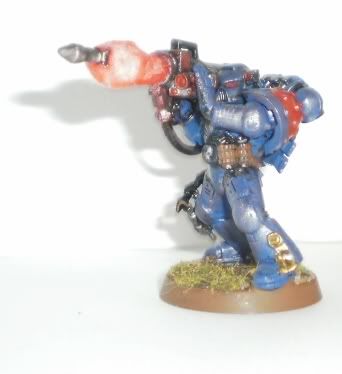 Space Marine
- Flamer: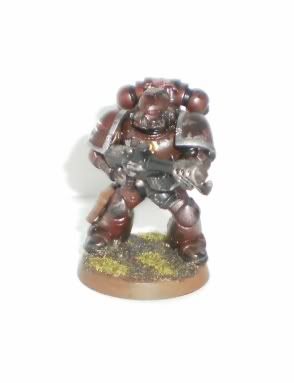 Tyranids:
Tyranids
- Group Shot (Warriors and Rippers awaiting carapace highlights, center Warrior partly finished):
(More shots to come)
Starship Troopers:
Temp Group Shot:
-(For comparison, a Space Marine is exactly the same height of the Cap Trooper)
Mobile Infantry:
Cap Trooper:
-My first highlight model. Fifteen left to paint.
Arachnids:
-(All Arachnid Warrior jaws are custom posed. By default they were all suppose to look the same. In a very boring, neutral mouth closed pose. So I cut off the little 'joining-nubs' and custom posed the jaws)
Standard Warrior Bug (Right) and converted

Tiger

Warrior (Left):
-Upper portion of Tiger bug is highlighted, working on lower portion. Standard Warrior shown to compare conversion. Tiger Warrior was my first greenstuff modified unit (Back red carapace crest). Claw converted with spare leg bits. Four 'Tigers' left to paint.
Standard Warrior:
-Test model. Still awaiting claw/leg lines and highlights. Fourteen left to paint.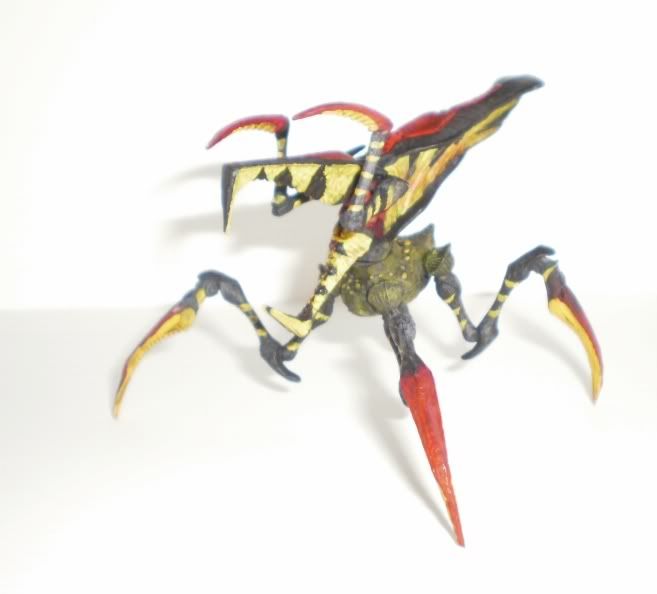 Halo:
Covenant:
Brute and Grunt:
-Test models. Brute color will stay the same. One more for the brute to paint. Grunt color will likely change. Two more for the grunts to paint.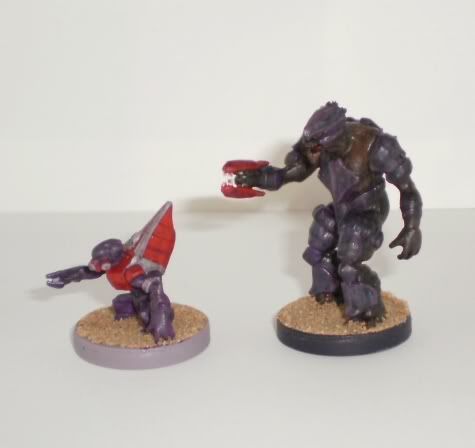 UNSC:
-None at this time. Master Chief in the works.
Terrain:
Starship Troopers Starter Set supplied Cardstock Bunker:
-With thincard base (Warhammer 40k box), sand-based, sand painted and glued on bits. Bits still need to be painted.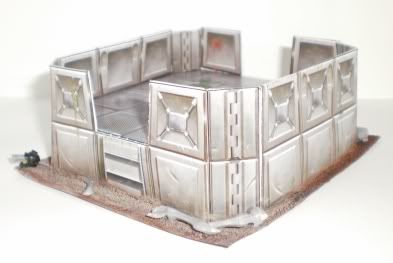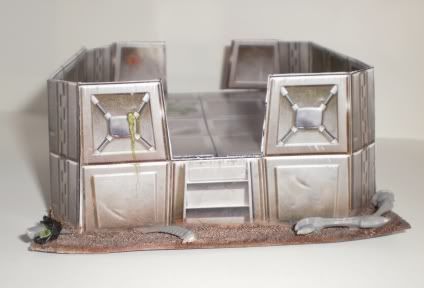 _______________________
Alright! There we go so far! I'll be updating this as I go, though for a while it might just be Starship Troopers. I think I pale in comparison to Epic Duck with his epic minis. (I started highlighting my models when I saw his
Quick & Dirty: 100 Orks in 8 Days
video.) But hey, all a process in learning. Hope you guys like my work!
C&C Welcome.
Waargh!