Hi everyone,
I have put off making this thread until I was finished my deathmatch entry so it is a large first post. At least I included a lot of pictures for everyone's viewing enjoyment.
I started collecting and painting GW minis around October '09 and discovered MWG shortly there after in December. I have some venues to go play but alas they are far away and my time is very limited. So I figured I would concentrate more on painting. It often takes me 15 or more hours to paint one mini and still they're not that good. I still need to learn a lot and most of the time spent painting right now is more or less teaching myself some kind of new technique or idea.
Currently the Tau Empire has my full attention. I like the true sci-fi army feel they portray and have always preferred a 'harder to play', more strategized war-game/army/video game/strategy and feel the Tau fit this roll very well. I'm working towards at least a 1500 point army in this color scheme and then will quickly change to something a little more advanced. I like to push myself when it comes to painting. I've done it since October last year and it hasn't hurt too much yet.
This is every mini I have painted so far in order:
These were my first minis. I speed painted them all at the same time. Primed black with some gray drybrush on the pants and regal/space wolves gray helmets, fortress gray armor with white highlights.
Then I followed them with this skyray. I'm happy with the overall camo scheme. The paint job is horrible though. There are so many thick paint lines all over the hull from the tape I used. Regular blue painters tape.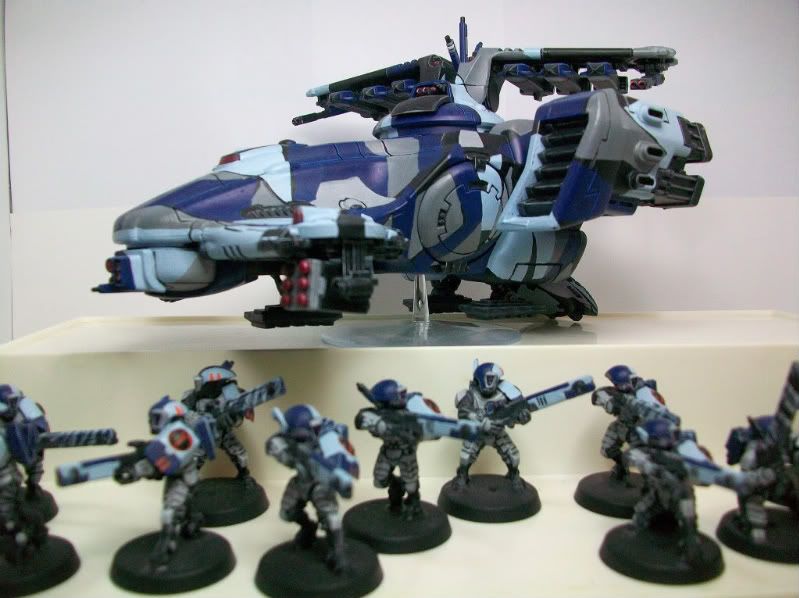 I then went on to paint my pathfinders in the same blue scheme and hated the direction I was going. I dipped them into the pine-sol and let them sit. In the meantime I researched everything I could find and learned a lot, mostly from MWG and all of its great painter's here on this forum. I also decided to use some cheap craft paints for now until I felt more comfortable to use the expensive paints. They worked extremely well I think and I still use them from time to time on my minis. These pathfinders and XV-8 are painted almost entirely with craft store paints. All but the black really.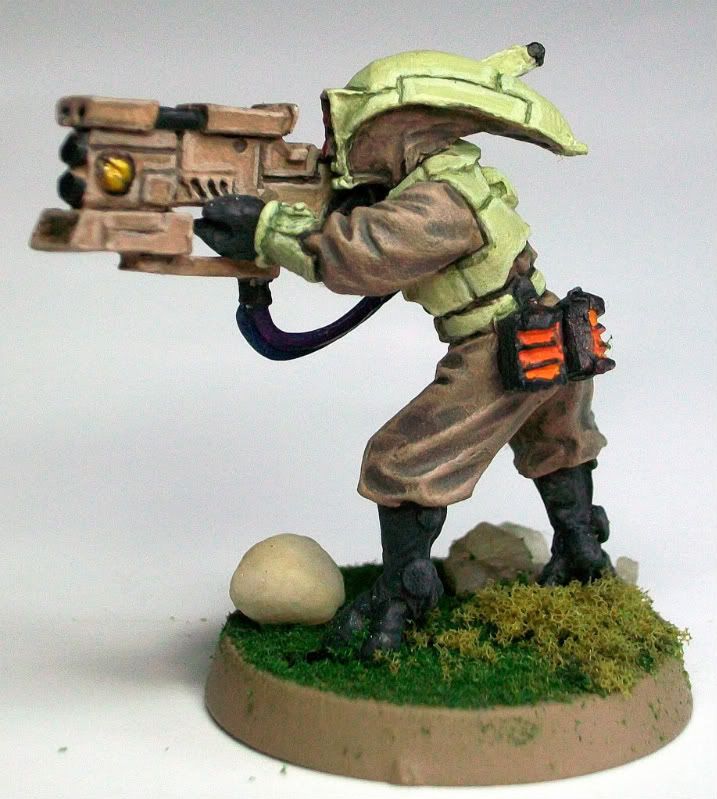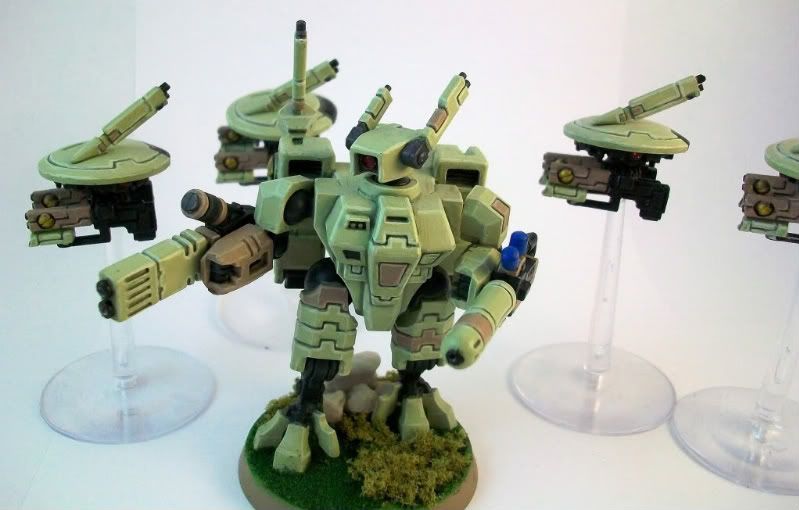 I felt like I learned enough to evolve from those cheaper paints after painting these minis. I went with reaper brand paints for now because I liked the idea of their triad sets of complimentary colors. They work quite well I might add but I think I need some more variation/contrast in my highlights. My minis seem to come out darker than I would like and the pictures are always a bit darker.
He are the first two firewarriors in the newer scheme. This is also my first time feathering and using more than 1 extreme highlight.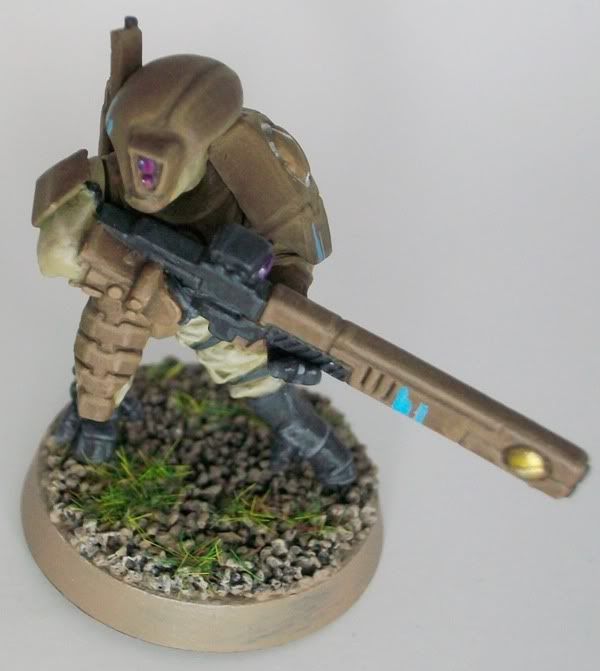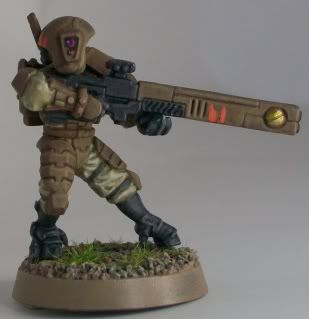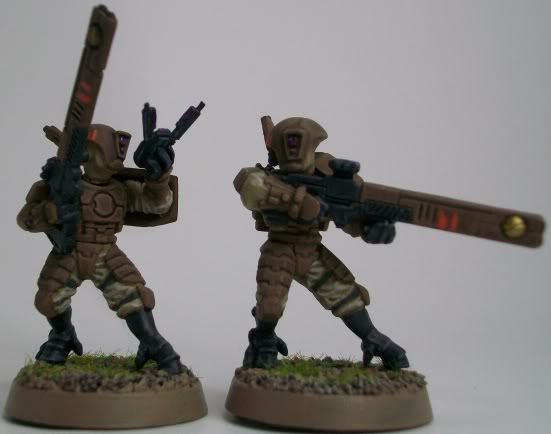 I changed the blue sept marking to orange and they are magnetized. Here is a pic of the alternate weapon magnetized on there.
I have also picked up some pink foamboard and made a small hill simply to get used to working with the stuff. Nothing special but I feel as if it's an accomplishment. I'm also in this month's
Group Build XV
. Doing a
ruined building
for that.
My birthday just passed last Wensday and I am going to order a threesome of xv-88's and some more paints. I would also like to order some new brushes but would like to try a different brand. I currently have mostly GW brushes and an Army Painter brush as well. The Army Painter brush has a nice tip but the Ferrell fell off and the paint on the handle is chipping. I would like to purchase some good quality brushes but not go Windsor Newton expensive. Maybe like a couple of 15-20$ brushes. Anyone have any recommendations from personal use?
I am still learning and teaching myself a lot so any critiques, comments, tips, etc. are extremely welcomed and as always honestly is highly appreciated!
Thanks for taking a look.
…Blue