So this topic has come about as an evolution of a discussion I was having in another thread regarding low AP weapons and how readily available they are now. Throughout the course of the topic it was brought up that those armies such as Tau and Eldar with frail troops that are poor in combat but have wide access to high strength, low AP ranged weapons were too powerful. It's topic I've seen many times over the years. Shooting in 40K can indeed to be quite powerful but it has been my experience that terrain plays a larger part in that aspect of the game than most give it credit. Too often I've seen 40K tables with decent terrain coverage but too limited in type or placement to really impact the game. The trap most fall into is too little terrain in the middle of the board and too much focused around the edges in deployment zones. Here is a perfect example provided by our very own Ronin of her typical terrain set up. It has the many hallmarks of your average 40K table and succumbs to what are in my opinion the same pit falls. Just to make myself clear this is not a personal attack on Ronin or anyone's use of terrain, just a thoughtful article laying out my own personal experience and to start a meaningful discussion regarding the topic. Okay here's the picture.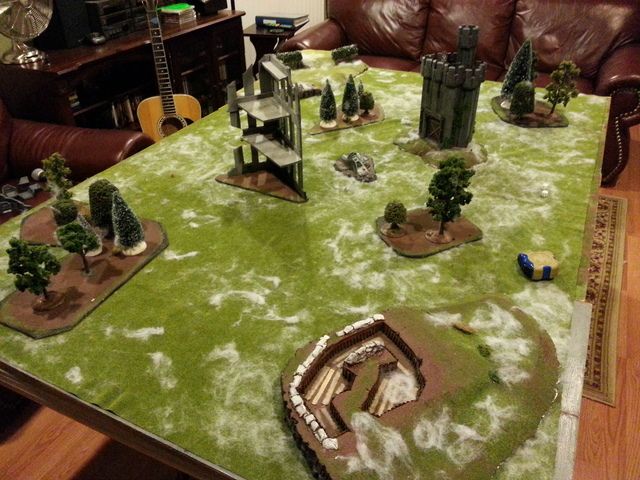 Now I want to break down what I think the issues with this table are. Here's the same image that I've modified to use showcase the Dawn of War deployment type on the table and the terrains position according to that. I chose Dawn of War because it's the most common deployment for pick up games in my experience. Sometimes people just want to slap models down and start shooting. While I seriously advocate always rolling deployment and missions to add much more depth to a game this deployment is the "standard" in my experience. Having said that the same principles as I'm about to point out apply to all deployment types and the key to a good table set up is to keep each deployment type in mind when placing terrain. You don't necessarily know where on the table you'll be deployed so when setting up terrain it's good to look from every possible deployment angle and see if the following principles apply to each one. So moving on.
That's obviously just an approximation of the deployment zones but close enough. Now for the major pit falls. As you can see most of the terrain falls squarely within the respective deployment zones. The common trap of placing a large piece of terrain in each corner can be seen here as well. What this does is encourage players to castle up and gun line in their deployment zone and it means crossing the table for a closer ranged or melee army is very difficult. Notice how only the one building and small piece of the Aquila Lander are all that really sits in no man's land. In my opinion this breeds boring play experiences where both players line up and just roll dice at each other. Any army looking to cross the table is right off the bat at a major disadvantage, especially if they go second and the player going first usually nabs first blood and gains a good head start in the game with their firepower all hitting home right away. You may say but there are cover saves on the board, that is true but what does cover matter if a unit of Fire Warriors is lighting up a Tactical Squad? There needs to be specific types of terrain that provide not just cover but that completely limit or block line of sight. Every enemy model shouldn't be a viable target at all times, cover or not.
Now let me show you a table I set up recently at my local club meeting for a game of 40K and show you what I do different that has such a large impact on the game. I've included a few closer in shot at different angles to give you a better grasp of the scope of the table.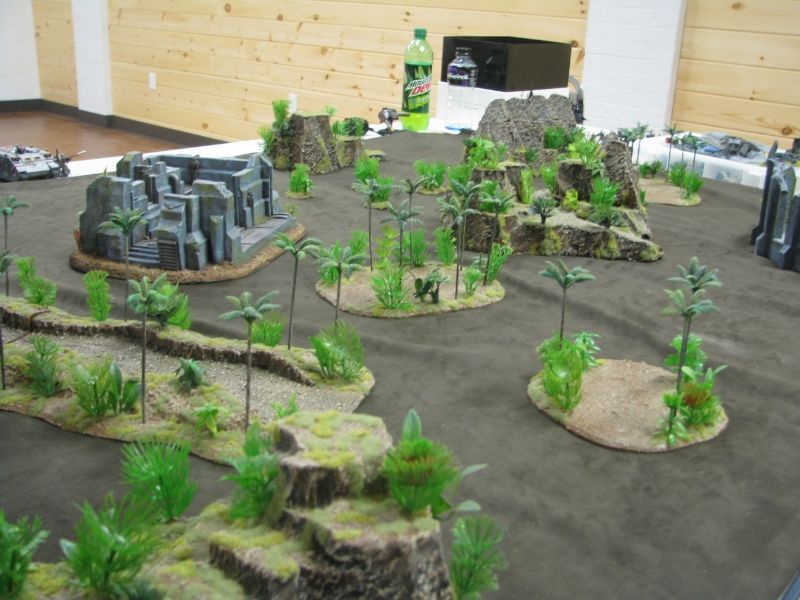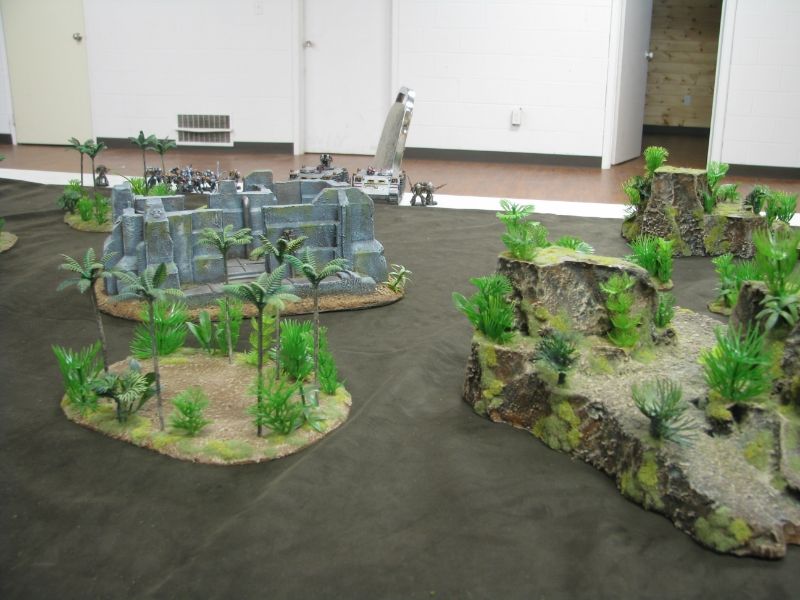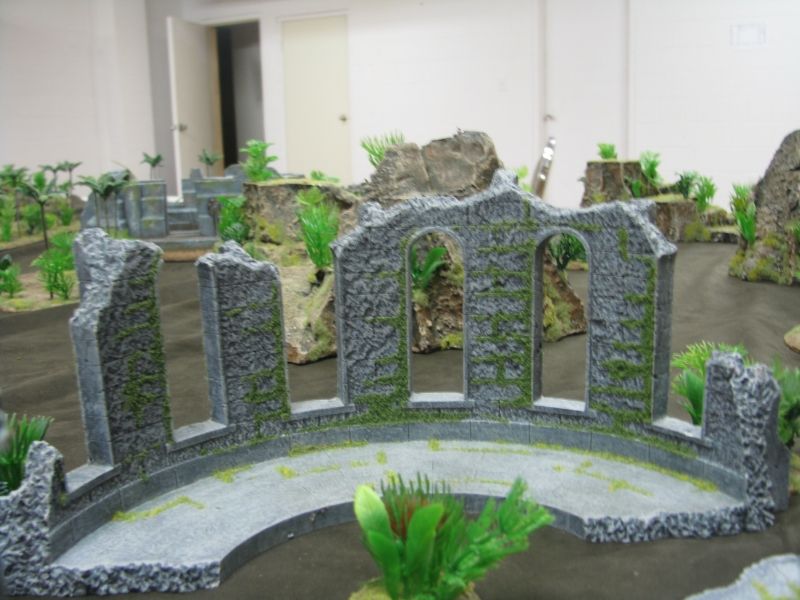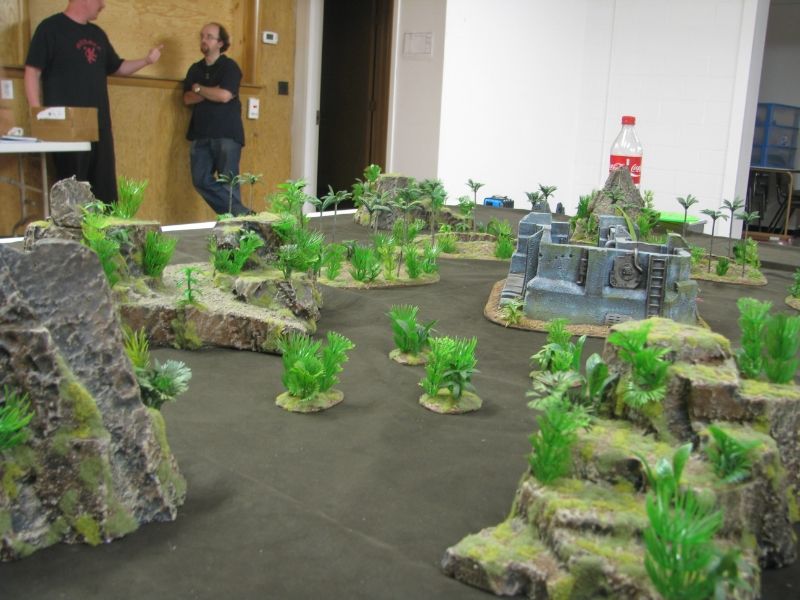 Now immediately you'll notice a major difference in the middle of the table between the prospective deployment zone. There are several large cliffs or structures that will entirely block line of sight from various angles. What this does it give a place for player to hide frail "first blood bait" units in the opening turns and gives spot to hop units from as they close in with the enemy. Now there are still great shooting positions but none of these positions have a completely commanding view of the entire table at all times. There are fire lanes and overlapping cover as armies advance. What this means is you can't just slap down those Broadsides and shoot anything anywhere on the table. They'll still be commanding lines of sight for them but there are still locations on the board the enemy can advance and avoid their fire completely. This means ranged units aren't just roll dice until they're dead, they start to become area denial and objects and advancing army has to manoeuvre to overcome. You know what this does, it makes the game more about moving around, setting up good firing lanes and in general provides a more tactical experience. It's no longer just about rolling dice and telling them to take their saves. Now using this same board I'm going to highlight some good firing positions for your long ranged units and show you their line of sight as it would be in game. Again I'm focusing more on Dawn of War deployment but you can imagine the same principles applied to the other two deployment types as well.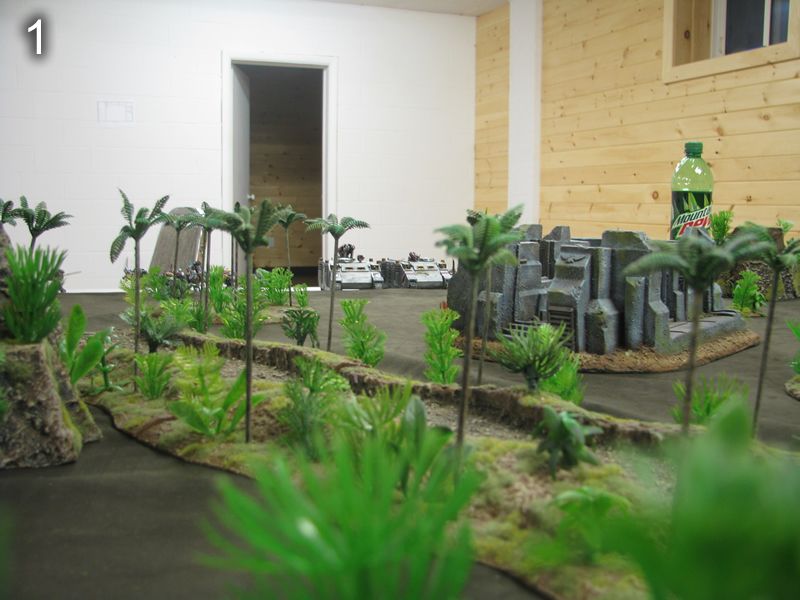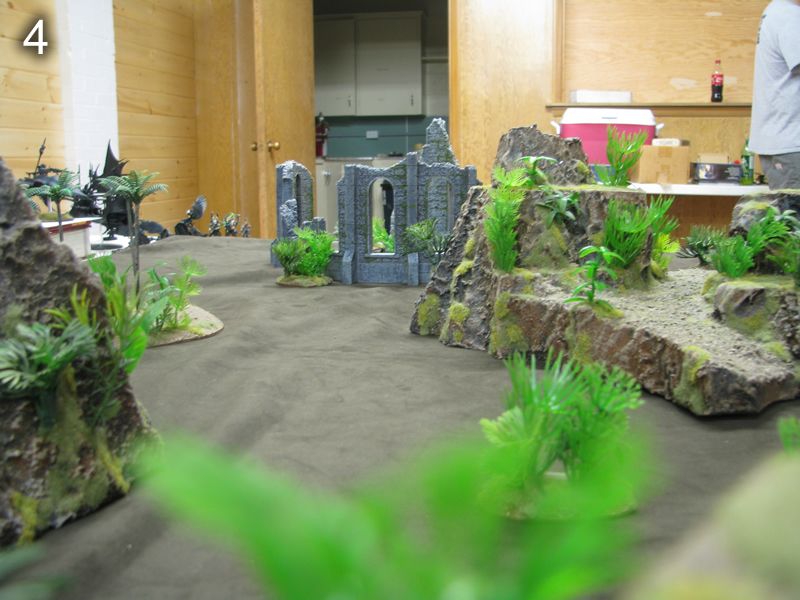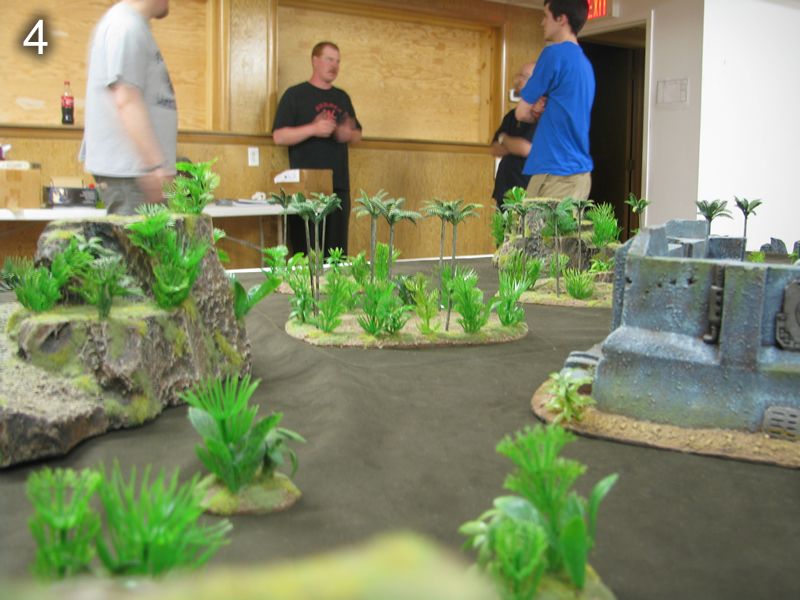 Notice from each of these good firing positions there are plenty of areas of the board they simply cannot see. Now at the same time each one does have good line of sight to other areas of the board. So shooting armies aren't punished, they'll still have good shots lined up all throughout the game but close range and melee armies also have ways to advance without having to take two to three turns of fire with little to be done about it.
So that's where I'm going to leave this for now. At this point I want to open discussion on the topic. What are your thoughts on the matter?