So I've got about 90% of my army painted, the razorbacks still need some hard lining and most of the marines optics and purity seals are un-painted. I think jason's bikers weren't fully painted. So not quite up to our usual all painted standard but we all have to sleep sometime. Anyway, did up a little bit of fluff for the game. Basically some necron-lookin portal thingy appears out of nowhere in some imperial spaceport and both the inquisition and the alpha legion are set on acquiring or destroying it. We decided to make the portal objective "vital" to both sides and as such it would be worth 2 objectives for whoever held it. It was my first time playing marines and I screwed up and forgot the whole drop pod on the first turn thing. My bad.
My speech is a little off because I'm trying as hard as I can not to swear. Anyway, enjoy the battle report.
https://vimeo.com/37932241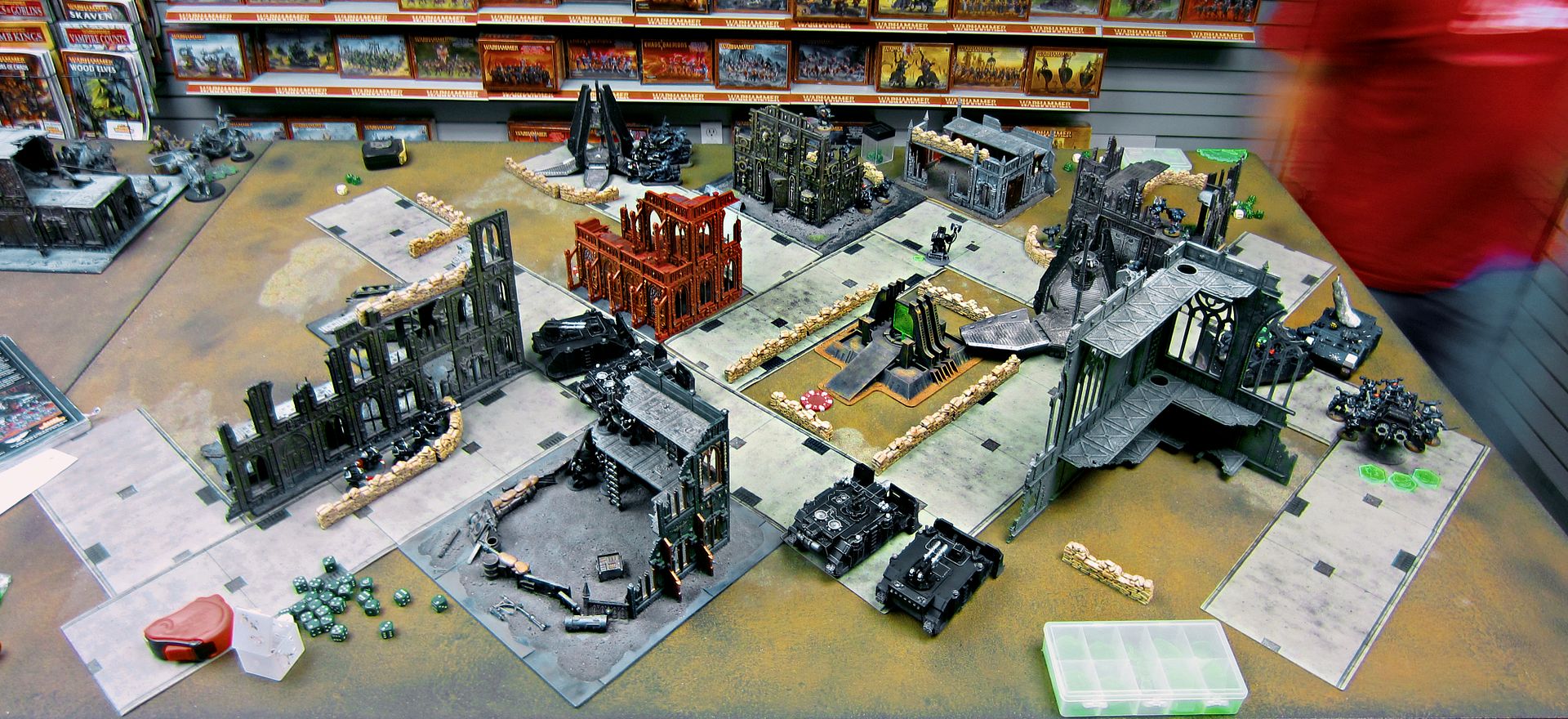 …Priority Theta…
-Astropath: no record found
-Segmentum: Ultima
-Sector: Cyhtheria
-Ordos Xenos Facility: no record found
993.M41
Suspicions long held that the Cytherian sector may contain operational Alpha Legion cells has been confirmed. Interrogation of a suspected chaos operative has yielded some disturbing allegations of an Alpha Legion cell or cells operating in a sector neighbouring Ultramar. A chaos cult with reported ties to an Alpha Legion cell is allegedly planning an insurrection in Cytheria 2's primary spaceport known to locals as Pyramid City.
Last reports dispatched from Pyramid City speak of a gateway of suspected xenos origin materialising in a commercial district to the southern edge of the spaceport. Mass panic gripped the populace as rumours of an impending xenos invasion spread. A mass exodus of imperial citizens was halted as shuttles and freighters prepped to make for orbit suicide bombers hidden amongst imperial refugees detonated explosives and crippled almost a fifth of Pyramid City's spacecraft.
Massive detonations rocked several orbital shipyards greatly reducing access to larger craft capable of warp travel. Rioting and looting perpetrated by cult members disguised as imperial citizens spread across Pyramid City with the intent to thin out arbiter pacification teams and weaken their defensive posture city wide. After approximately 6 hours of clashing with Adeptus Arbites all four precinct houses came under coordinated assault by cult paramilitary forces. Some reports indicated cultists making extensive use of xenos weaponry of a yet to be determined origin. After a brief but destructive battle Pyramid City had fallen to cultist forces.
Inquisition operatives have learned that several xenos craft have made planet fall accompanied by a large orbital lander of pre-heresy design. The craft that have been identified belong to a secretive xenos collective known only as "The Cabal". Pict data recovered from a servo skull revealed some form of massive ceremony in which cultists in the hundreds of thousands swore blood oaths to the Alpha Legion and were presumed to have been subsequently given their marching orders. By most accounts the bulk of the chaos cultist force has retreated off world but not before raiding the remaining high anchor orbital docks to commandeer warp capable star ships. Imperial navy sources have confirmed that cultists have commandeered several imperial warships including 3 frigates, a munitorum troop ship and The Barsharus, a dauntless class light cruiser. After raiding Cyhtherian shipping lanes the cultist fleet is rumoured to have left the system. Traces of warp energy detected in the north east of the sector would later confirm these rumours.
Suspicions are that the cultist fleet is likely hiding somewhere in the Nimbosa sector and an imperial task force is being assembled at Kar Duniash with the intent of purging Nimbosa of any chaos taint. The inquisition has dispatched the militant arm of the Ordos Xenos, the Deathwatch. Talasa Prime has also requested the Ultramarines aid in re-establishing control of the Cyhtherian sector and purging the collective taint of the xenos and heretic prescence.
At 21:17 Terran standard an Ordos Xenos strike cruiser designated –redacted- slipped into the Cyhtherian system undetected and took up position in orbit above Pyramid City. Inquisitor –redacted- dispatched a strike force –redacted- to the south of the port with the intent to secure the Xenotech and if necessary destroy it to prevent it from falling into enemy hands.