Picked my craftworlds codex up this weekend and as I read through it I keep finding neat little synergies. So any fellow eldar players, post your gimmicks, trickery, and other shenanigans here! Also, anything you're particularly happy or unhappy with?
- One of the neat things I'm looking forward to trying out are 10 Swooping Hawks with the Quicken psychic power. Deep strike in, make a grenade attack, quicken to make an additional move - move over an enemy unit and make a second grenade attack, then shoot them with 40 lasblaster shots!
-using the double psychic power range stratagem to prevent enemies from being able to deny a power you cast at them.
And as I mentioned in another thread - a hemlock with horrify, a warlock with embolden, and a farseer with mind war for a potential 8 mortal wounds!
One thing I'm a little unhappy with is the new Autarchs. They are no longer allowed to take most of the weaponry and wargear they had access to before. Gone are the days of having an Autarch accompany a particular aspect unit to support them in some way. Now they seem to be fashioned into a generic beatstick of 3 variants. On foot with a Glaive (no options), in wings with a pistol and sword (no options), or on a bike with a power sword, lance or fusion gun. No banshee masks or Mandiblasters, no Warp Jump pack variant, no reaper launchers, lasblasters, death spinners, chainswords, etc etc etc. They're very bland now. Just imagine how upset you'd be if you had this guy! Nothing on this model is allowed in the game anymore.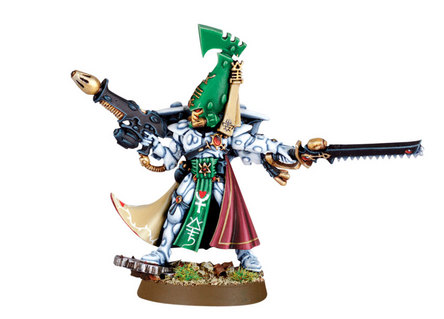 RIP