Hey guys! I would like to first start off by saying thank you for coming to my weekly paint. Let me first start out by saying some stuff about me. Hi, My name is Jacob. I live in upstate New York. I first got into Warhammer about almost 2 years ago. I really liked the game, but painting was hard for me. I am not the best painter, but I like to think I am alright. I stopped painting awhile ago and I just got back into it recently. My first army was Eldar. My paint job was terrible on them. I never finish the Hq I bought (Eldrad Uthran). So when I got back into painting he was the first model I started painting. I really like the way he turned out to be honest. After I didn't like Eldar I wanted to try a new army. I looked and space wolves seemed cool and I really liked their idea, so I started playing them. I only painted half the army. Painting at the time was not fun, all I wanted to do was play the game. I recently started to like painting again so I am going to try and finish them. So mostly after this week I will be posting space wolf units. I will sometimes only post once a week or maybe ever two days. Well that pretty much wraps up all about me. I will let the pictures do the talking lol.
I take the pictures on my phone so sorry if they are not the best quality/lighting. I don't have the most expensive paints/paint brushes so hopefully the models still look good.
All comments, questions, concerns, critique, are all very appreciated. If you have any questions about the model, something about me, or anything else feel free to ask.
Sorry if that was a lot. Without anything else left to say here is Eldrad.
(Front View)
(Right Side View)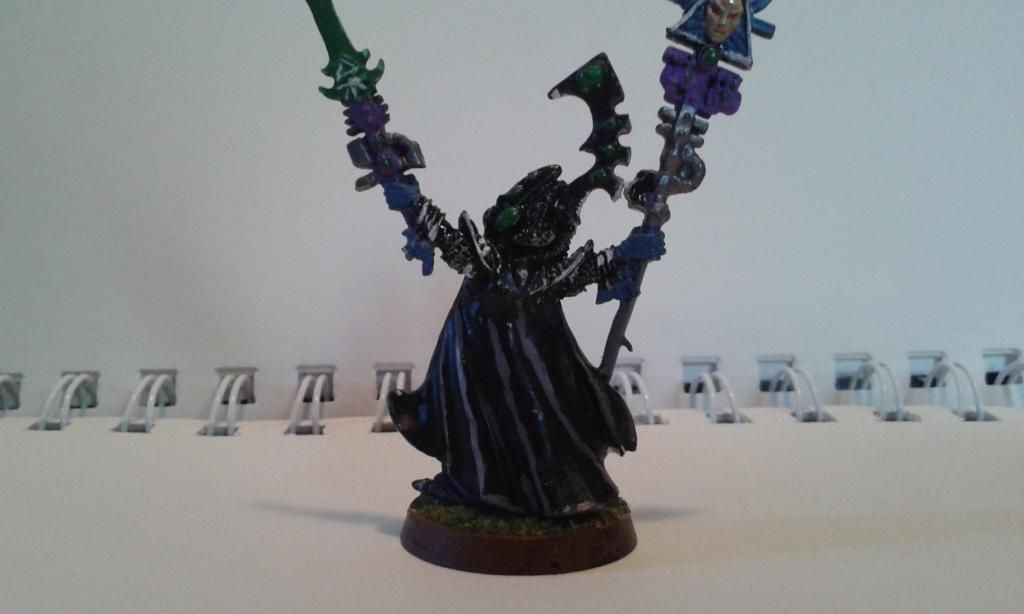 (Backside View)
(Left Side View)
(Another one with a flashlight shined on him)