Roight. So I haven't put paint on a model all week thus far. What I have accomplished is this little thing.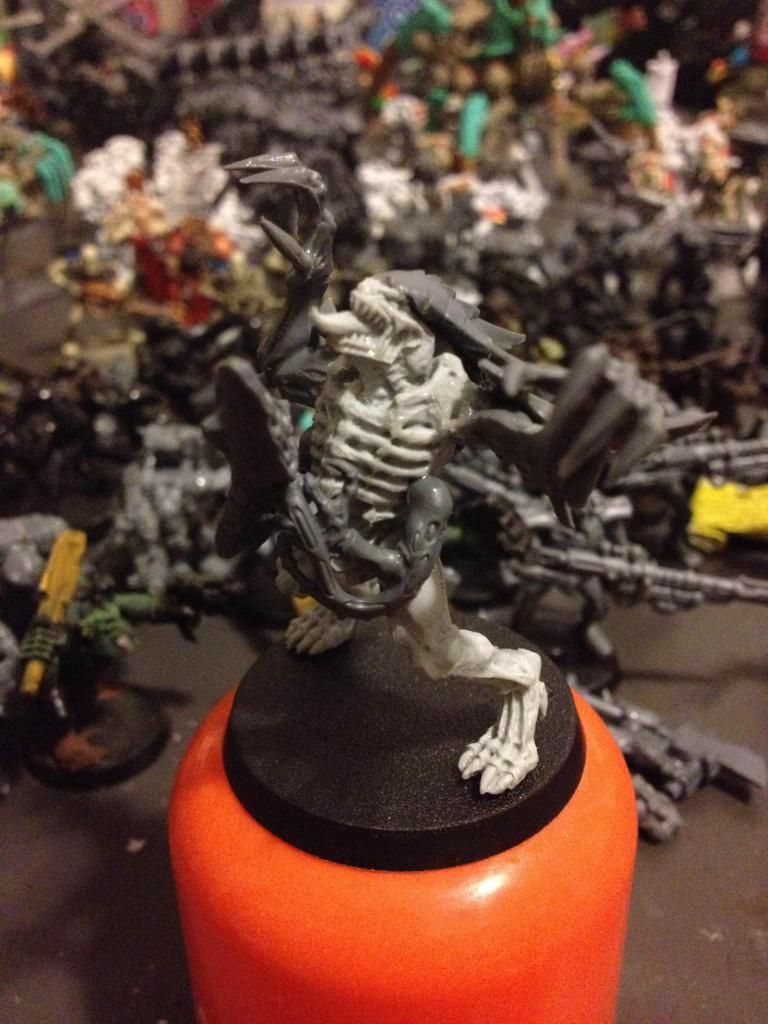 Tyrnaid Prime built out of a Broodlord. Head to toe he stands a little shorter than a Warrior; but toe to end of his hand he's actually a little bit taller. He needs some GSing where the two head parts didn't meet nicely and then around the lower set of shoulders. Or maybe I'll hide those under some chitin... Though not the same 'spike plates' I used on the top shoulders.
It'll be my first "real" sculpting with GS if I go that route. I've used it to fill gaps; vary the 'terrain' of a base, made rocks out of what I had left over but generally I use it and some super glue on metal miniatures. :0 But never to sculpt so to speak.
I'll be organizing my desk some soon... I hope. I got a few dozen stackable container... things. Those Red, Yellow, Green and Blue... tray things. Anyway my work had a bunch of the things sitting out in an old semi trailer and they were just going to toss them out so they're mine now. They just need to be cleaned because they've been sitting on a shelf almost, but not quite, outside for a year or three.
STILL waiting on the teleporter backpacks from bizbarn; oh how I hate ordering things from the US. It's only nine hours away but it takes weeks whereas stuff from Australia arrives within a week. -.-; *grumbles*
I bought some "new in box" jeanstealers off ebay the other day so there's that... and then I'll actually want a Broodlord now that I'ce chopped pieces off of this one. Oh well; I have the arms and back spines so I could just uparmour one into a Broodlord...
Got a couple more projects on the go. Assembled a Fire Warrior and Hormagaunt, each without their respective bases (and removed the slotta guide...thing from the gaunt) and as soon as I get some tiny screw eyes I'll be turning the Fire Warrior into a keychain. The Hormagaunt is entirely too fragile; not to mention pointy, to go in anyones pocket... will probably hang from my rearview mirror... and attempt to maul the fuzzy dice for ever and ever and ever an... Yes fuzzy dice. I have fuzzy dice hanging from my mirror. Because A) DIce; warhammer; haha that's funny. Also B) My previous car was a nineties model Buick. The dice were a requirement. Sadly it has now been a year in the car graveyard... [epic saga detailing the demise of said Buick removed for posterity, also lack of relevance.]