Well I'm going to try my hand at this, though my old digital camera has apparently been lost to the warp storm that is my room so I'm down to a 3DS, Vita, laptop, or my iphone to take pictures on. :/ Okay that's more cameras than I thought I had but you get the point. anyway I have so much stuff that needs painting it's not funny... and more should be arriving shortly.
And EVEN MORE should be getting shipped out... also shortly. Tyranids and some Orks on the way so there's going to be a LOT to do.
Anywho. This week I'll work on my two Necron Lords and my Overlord.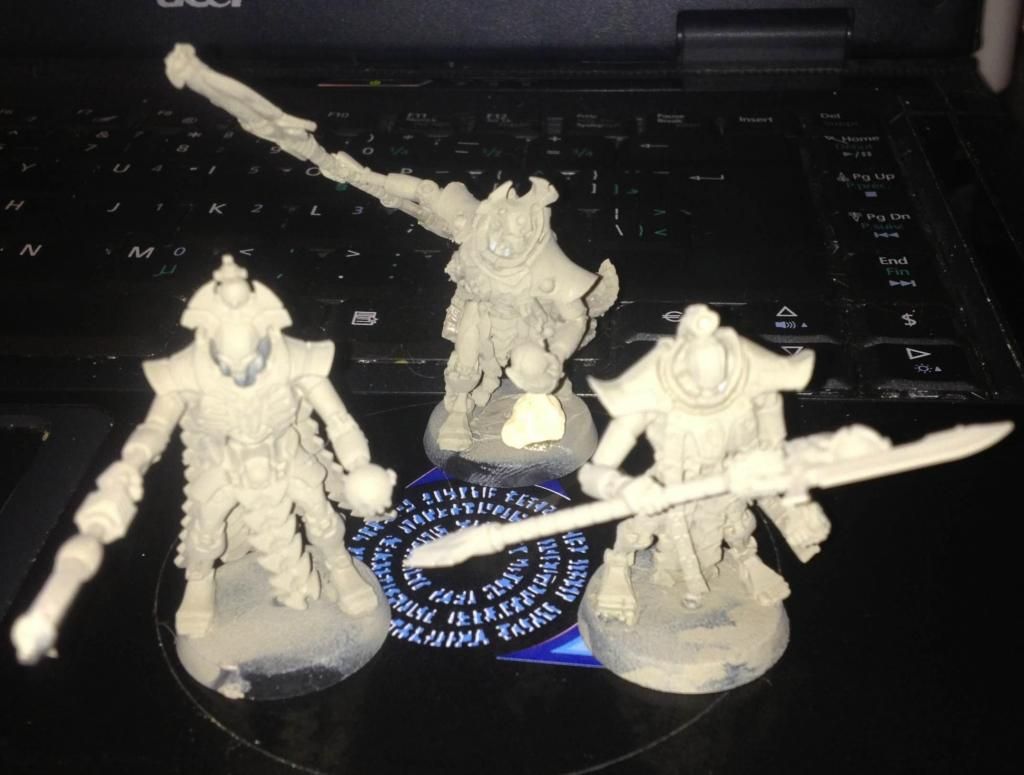 I was all set to ramble on about what I'm doing but yeah. :p While I may have started this thread apparently a day late but I did just spray these Lords yesterday. ;p And boy that angle shows I missed a lot in the one Lord's... inner collar area. I wanted to do some black on the Lords somewhere to help them stand out but apparently I'm out of Chaos Black and it'll have to go on my next shipment if I get more of... whatever they're calling it now. Seriously the only one I know right now is that Ushabti Bone is more or less the same as Bleached bone.
I like to ramble... so I should probably shut up now before this gets really out of hand and I go on about my colour scheme and the painted/not painted ratio of my 'Crons. No point in a rant when, more than likely, the weeks progress photos are going to include shots of stuff int he background. Sinc eI have NEcrons Tau and Space Marines all over my desk atm.
I will apologize now to the diehards; I got impatient and started using a generic brand acrylic turqoise (mixed with flow improver) because GW ships kind of slow from the southern United States to Middle of Nowhere southern Canada.
Flow Improver helps with the "generic brand stuff" which I've found dries a little... grainy or rough feeling. A texture I really don't like but there's been no problems yet. It played well with an experimental Thraka Green wash I put on parts of my Stalker.
Remember what I said about rambling and shutting up? Doing that now.