H
orror and celebration. Every four Terran years in one remote corner of the galaxy, there is horror and celebration. Unbridled fear pumps through the veins of the thousands of prisoners, thousands of mortal souls who at a precise moment cease being slaves and begin being prey. They scatter from the sight of their sadistic controllers and plunge into an alien world daring to hope they'll find sanctuary. But their new environment soon reveals itself for what it is, a nightmarish jungle planet crawling with primal predators and punishing torrential rain storms. Hundreds will die in the first few hours.
Firnin'Ryl, the traditional hunt of the Kabal of the Cutting Web, will soon be underway. When the Dark Eldar discovered the Death World over a century ago they quickly realized it would make for the perfect site for their murderous desires. They had their stage, and from that the game was born. A tradition to be reenacted time and time again, with a single purpose, to spill blood until their black hearts finally satiate. Thousands of captives were to be taken, bought, or traded for in order to give the hunt its due justice. And the prisoners, contrary to Dark Eldar tendency, were rarely abused. Not these captives, they needed to be in utmost health in order to provide the best "sport". They desired strong prey, healthy prey, because those are the victims who truly value and fight for their life. And in that struggle, that grasping for freedom and mercy, the Kabal would drink in ecstasy as they slashed the last spirited breath from their quarry's throats.
Again and again it repeats, and the galaxy never blinks.
----
This is the concept for this 40k rp. The characters will typically be prisoners released on a jungle Death World, who then will be hunted by a Dark Eldar Kabal force. To the Dark Eldar it is a game, in fact this rp is inspired by the short story Most Dangerous Game and the movie Predator. Guns and gear are stripped, so the characters will be forced to improvise to stay alive.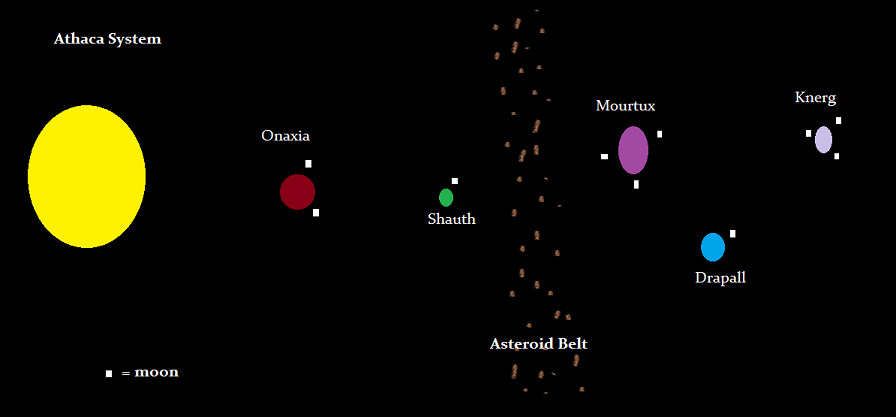 The above is a graphic of the system the game takes place in.
Onaxia
– The first planet of the system has a choking atmosphere of ash and rivers of winding lava that flow over its surface. Towering volcanos would loom in every direction the eye could see if one were to stand on the scorching surface of Onaxia. It's believed to be unoccupied.
Shauth
– A brutal jungle Death World. It's wildlife is thick, sprawling, and typically dangerous. This is the hunting site of the Kabal of the Cutting Web.
Mourtux
– A giant ocean world with pockets of salt marshes. It's waters are hypersaline, nearly 39% salinity. The air is dry and the rain is scarce, but when the rain seasons come the marshes flood completely over. Dry land on the surface of Mourtux is a terribly scarce commodity. It's believed to be unoccupied.
Drapall
– Unknown climate & geography. Intentionally left unidentified in case a player needs a planetary hook into the system for their backstory or future story.
Knerg
(nerg) – A cool, red desert world, whose frequent dry electrical storms keep the planet uninhabitable. It's believed to be unoccupied.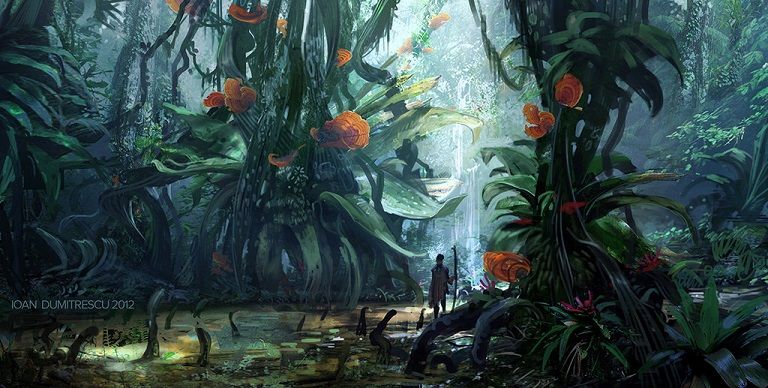 The above is inspirational art of the jungle world (Shauth) that would be the game/hunt's setting.
Another element to the game I'm adding in is the presence of the
Settlers
. These are folk on Shauth who have managed to survive their Dark Eldar Hunt, survive the predators of the jungle, and gather into groups to form settlements. These settlements are designed to avoid detection, detection from the Dark Eldar who return every four years, and detection from new fleeing prisoners who could potentially lead the Hunting DE to them. The Settler's communities vary from village to village, one maybe tucked into a large jungle cave, one maybe constructed and stretch throughout a tree canopy, another maybe hidden inside a mountainous thorn patch. Having survived a Dark Eldar prison, a manhunt, and a Death World for years and years, to say these were hardy and scrappy people would be an understatement.
Settlers will be another opportunity to interact with others during the game, or a possible starting place for new characters if they so desire.
Predators
of Shauth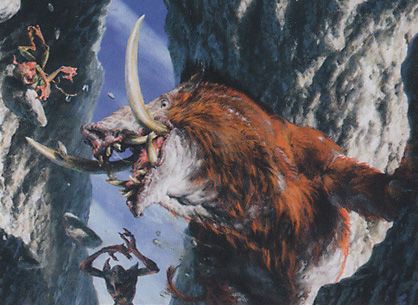 Slaughter Swine
-Hyperaggressive omnivorous hogs. Pack animals, 5-6' feet high at the shoulders, known to relentlessly chase fleshy prey through the brush of the jungle.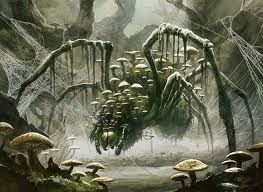 Muck Creeper
-Massive swamp and wetland spiders. Ambush predators, up to 7' feet in length, who use natural camouflage to perfectly blend into their environment. Their venom is a potent nerve toxin that causes pain and disorientation in man sized creatures, it can be fatal but typically its the Creeper's fangs who deliver the kill.
Tergite
-One of the few alpha class predators of Shauth, the average Tergite is 22' feet long and preys on anything its size or smaller. It resembles a hulking centipede and it snakes across the jungle floors searching for its next meal.
These are only a few of the threats waiting for the new comers to Shauth, players are free to create their own nasty creatures.
----
Kabal of the Cutting Web
Archon Syxal Isavuda (female)
Yalek Hierarch - (male) right hand of Archon Isavuda
Dracon Mur'ss - (female) captain
Dracon Zaknyrr - (male) captain
No one enjoys the Firnin'Ryl as much as Archon Isavuda. Her sinister pleasure is hardly attached to the hunt of her captive prey, that's a petty indulgence beneath a ruler of her calliber. No her real interest and activities are watching her flock. She looks for the weak and inept in order to cull them out of her ranks. Those who failure too easily sticks to have no business serving the Kabal. But most importantly, she looks for those within that are a bit too promising. Those Dark Eldar that have the potential to soar through the ranks of the Cutting Web, and inevitably, challenge Archon Isavuda's authority. And so nearly every hunt one unfortunately talented and overly cleaver hunter never makes it back alive. A casualty of the "dangerous jungle". A game within a game, as a spider feasts on spiders.