I met club member Doug this evening a the MWG headquarters for his first Heavy Gear Blitz game. We each used a GP Squad with a couple of weapon upgrades per side. The South's Command Jager had a Medium Autocannon and another Jager had a Light Bazooka, while my Headhunter had a Medium Auctocannon and another Hunter had a Snubcannon. The rest had standard layouts.
Doug starts moving his gear during the opening turn.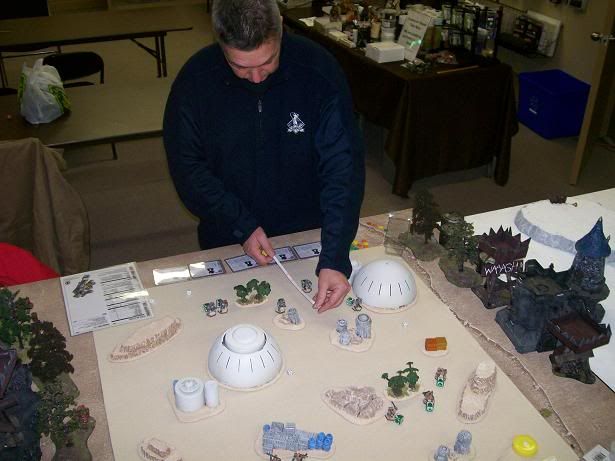 After my loss to Ryan, I told my Hunters to shape up or ship out!
Our gears closed in on eachother very quickly and things turned bloody. I scored the first kill by taking out Doug's Command Jager, while he returned fire with a light bazooka, destroying my Snubcannon armed Hunter.
The other side of the board saw two sections taking pot shots at each other from medium range.
If you are going to stop moving, it had better be in partial solid cover. Stone Heads do the trick.
After 5 turns, Doug out shot me destroying all but my Head Hunter, while his remaining 3 gears captured the Badlands Oasis.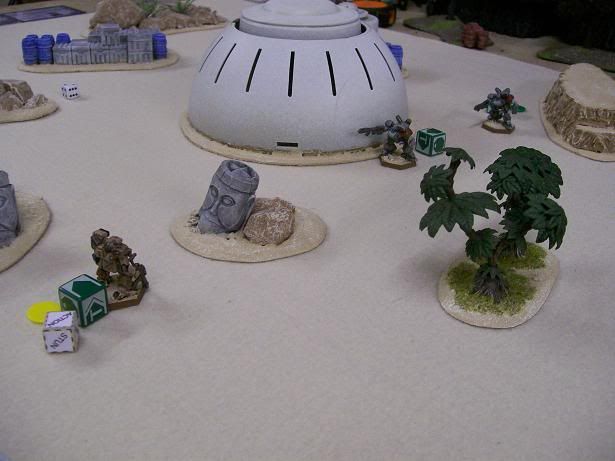 Again, loads of fun! We saw a few hand grenades soar through the air this game and loads of Rocket Pod fire. Doug enjoyed the game and said he was 'Hooked!'
I can't wait to bring in some big gears for future demos.