I got my order from Dream Pod 9 yesterday (4 days from time of order to door...Wooo Hooo!)
Assembly of the figures is a bit daunting at first, but I was able to assemble two squads in about 2 hours. I did not pin them (I wish I had a small enough bit), but I may have to in the future. Lets see how the glue holds up.
There are assembly instructions on the dp9 webpsite.
http://www.dp9.com/index.php?option=com ... Itemid=135
It is best to read through the rulebook and use the free force generator called Gear Garage
https://www.assembla.com/spaces/GearGarage/documents
before you start assembling your squads.
Northern GP Squad
Southern GP Cadre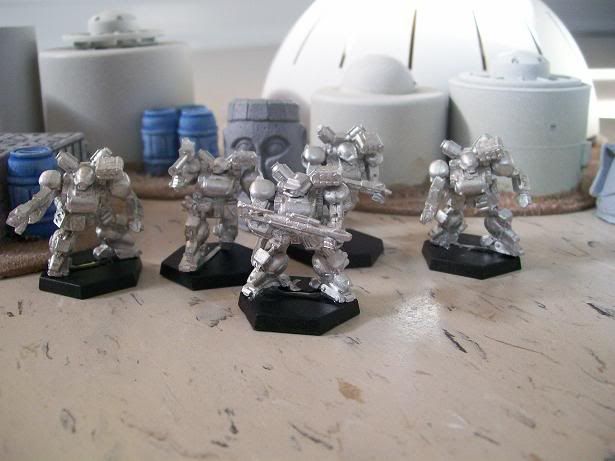 Figures and Demo Table Terrain
Next I have to build a 4'x3' demo table and paint the figures.
As for the Rule book, I read through some of it last night. The Rulebook contains 5 basic army lists covering Northern, Southern, Peace River, Port Arthur and Leagueless armies. The Northern and Southern armies can be further broken down to 4 Northern and 5 Southern List variants covering the various states in each alliance. There are 6 different Leagueless factions, so that gives you 17 different army lists that you can field from the basic rule book (Take that GW!)
The Rules are 22 pages long (yup thats it!), are very indepth and actually involve hi tech warfare concepts like Electronic Warfare, Sensors, Forward Observation and Communications.
The book also includes 18 pages of Scenario, campaign, league play and tournament rules.
Then there is 133 pages of army lists, background fluff, quick reference sheets, time lines, data cards, information on all the gears, striders, tanks, apcs and infantry used by the above mentioned army lists, and painting guides. (whew!)
200+ pages, well designed and illustrated.
More pics to come.